Book Launch "Who Cares? COVID-19 Social Protection Response in Southeast Asia"
June 2 @ 5:30 pm

-

7:30 pm
Event Background
The book "Who Cares? COVID-19 Social Protection Response in Southeast Asia" to be launched at SEA Junction on 2 June at 5.30 – 7.30 pm documents how the pandemic in Southeast Asia laid bare the entrenched wealth and welfare inequities in society and their diverse implications for the well-being and safety of the various segments of the population as well as the social protection responses to the crises.
In mainland Southeast Asia, the human toll was initially limited compared to peninsular Southeast Asia and to global figures. Nevertheless, throughout the region, the socioeconomic damage of COVID-19 and the drastic measures taken to impede its spread have been huge and inequitably distributed. Taken aback by the scale of the crisis, societies were challenged to protect the most vulnerable in their midst. This book records the region's social protection responses and governmental efforts to revive their economies and provide public relief, allocating an unprecedented level of resources to meet the increased needs of the population and to reach previously overlooked groups. In the process, however, not all goals were fully achieved. Questions remain as to the extent that social protection policies and programs have managed to address the pandemic's disproportionate health and economic impacts on disadvantaged people from the perspectives and experiences of the (intended) beneficiaries. The title "Who Cares?" somewhat provocatively asks: have decisions on governing the pandemic been oriented to the common good and was enough done to ensure the welfare of those marginalized in our societies—the poor and the socially excluded?
The book is based on a regional research during the COVID-19 pandemic in 2021-2022, which was funded by the National Research Council of Thailand (NRCT) under the Integrated Strategic Research Program on Social Sciences: Khon Thai 4.0. and conducted by the Institute for Population and Social Research (IPSR) of Mahidol University. Edited by our Director, Rosalia Sciortino, who also led the research and authored a number of chapters, the book consists of a regional overview and six country chapters as follows:
Who Cares? An Introduction
Rosalia Sciortino
Chapter 1: The Paradox of Social Protection in Southeast Asia: A Regional Overview of the Health and Socioeconomic Impacts of COVID-19 and Responses
Rosalia Sciortino
Chapter 2: Crisis and Inequality: Social Protection Gaps in Pandemic Singapore
Stephanie Chok and Isaac Neo
Chapter 3: Social Protection and Voices from Below during the COVID-19 Pandemic in Malaysia
Heong Hong Por
Chapter 4: "Left Behind" in Thailand's Pursuit of Economic Recovery
Teeranong Sakulsri, Rapeepun Jommaroeng, and Rosalia Sciortino
Chapter 5: Economic Imperatives and Implementation Biases Inhibit the COVID-19 Response in Indonesia
Johanna Debora Imelda, Bagus Aryo and Rosalia Sciortino
Chapter 6: Aid, Work, and Resilience: Social Protection as Viewed by the Metropolitan Poor in the Philippines
Melissa Quetulio-Navarra, Jose Jowel Canuday and Jessica Sandra Claudio
Chapter 7: Social Vulnerability and Exclusion during the Fourth Wave of the COVID-19 Pandemic in Vietnam
Nguyen Thi Thai Lan, Bui Thanh Minh, Dang Kim Khanh Ly, Fabio Saini, Mai Tuyet Hanh and Luong Bich Thuy
At the event, selected chapters will be presented. For those interested in the book, published by Silkworm Books and illustrated with 47 photos by leading Southeast Asian photographers, the book will be available from the end of May at https://silkwormbooks.com/collections/frontpage/products/who-cares-covid-19. It's important to note that the first 30 participants at the launch will receive free copies!
Launch Program
Welcoming Remarks
Representative National Research Council of Thailand (TBC)
Mingsarn Kaosa-ard, Program Chair Khon Thai 4.0.
Aree Jampaklay, Director IPSR, Mahidol University
Panel Speakers
Rosalia Sciortino, Associate Professor IPSR and Director SEA Junction
Book editor, author regional chapter, co-author Thailand and Indonesia chapters
Stephanie Chok, Indipendent researcher
Co-author Singapore chapter
Rapeepun Jommaroeng, lecturer at the Department of Community Health, Faculty of Public Health, Mahidol University
Co-author Thailand chapter
Benjamin Harkins, Technical Officer at International Labour Organization (ILO)
Commentator
Moderator (TBC)
Speakers' Profiles
Rosalia Sciortino Sumaryono is an associate professor at the Institute for Population and Social Research, Mahidol University; Visiting Professor at the Master in International Development Studies (MAIDS), Chulalongkorn University; and Director of SEA Junction (seajunction.org). She has served as IDRC Regional Director for Southeast and East Asia (2010–2014), Senior Adviser to AusAID in Indonesia (2009–2010), and Regional Director for Southeast Asia of the Rockefeller Foundation (2000–2007). Rosalia Sciortino Sumaryono also served as a program officer at the Indonesia and Philippines offices of the Ford Foundation (1993–2000). She received her doctoral degree cum laude from the Vrije Universiteit in Amsterdam and has published widely on development issues in Southeast Asia. In November 2017, she received a medal from the Vietnamese Association of Social Sciences for her contributing to social sciences in Vietnam.
Stephanie Chok is an independent researcher who received her PhD from Murdoch University, Western Australia. Her doctorate focused on the precariousness of low-paid temporary migrant workers in Singapore, and her thesis was runner-up in the 2015 Asian Studies Association of Australia President's Prize for Best Thesis on Asia. For the last ten years, she has volunteered and worked in non-governmental organizations. She has been involved in multiple research and advocacy projects, including reports on wage theft, forced labor, income inequality, and food insecurity.
Rapeepun Jommaroeng is a lecturer at the Department of Community Health, Faculty of Public Health, Mahidol University, teaching health economics, research methodology, global health, sexual orientation, and gender identity. He is also an LGBTIQ+ activist with Rainbow Sky Association of Thailand since 2002 and a board member of the Thai National AIDS Foundation, advocating for effective domestic HIV financing. He has a PhD in demography with a visiting research fellowship at the Johns Hopkins Bloomberg School of Public Health in Baltimore, USA. He has five master's degrees in population and reproductive health research, mass communications, public health, public administration, and business administration. His published works include HIV-associated risk behaviors, universal health coverage in Thailand, targeted healthcare system development, and program evaluation among vulnerable populations. He has received funding from the British Embassy, Bangkok, and the Thai Health Fund to study social determinants of health and to pilot the first targeted health services on non-communicable diseases for lesbian, gay men, and transgender people in Thailand.
Benjamin Harkins is ILO Technical Adviser for the Ship to Shore Rights South-East Asia programme and previously held a similar function for the Tripartite Action to Enhance the Contribution of Labour Migration to Growth and Development in ASEAN (TRIANGLE II project). Besides working with the ILO Regional Office for Asia and the Pacific, he worked within Southeast Asia on a broad range of social issues, including as Senior Program Manager for the Livelihoods and Food Security (LIFT) Fund in Myanmar, as Independent Evaluator for the International Organization for Migration, Senior Researcher for the Asian Research Center for Migration, Migration Programme Advisor for the Mekong Institute and Coordination Officer for Première Urgence Internationale. He holds a BA in Cultural Studies from the New College of California and a MA in International Development Studies from Chulalongkorn University.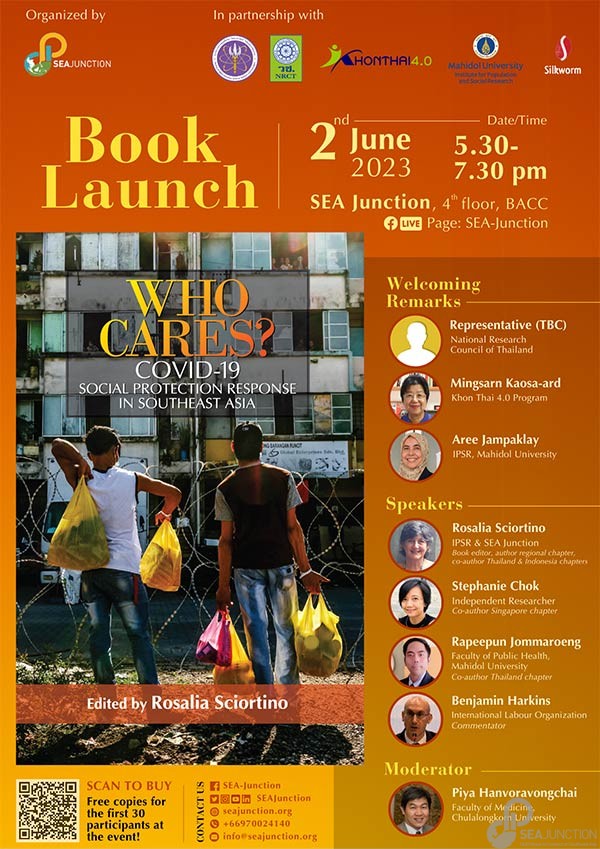 For more information, please email: info@seajunction.org or phone/wa: +66970024140
NB: SEA Junction Events are free, but donation most welcome!
Organizer:
SEA Junction
SEA Junction, established under the Thai non-profit organization Foundation for Southeast Asia Studies (ForSEA), aims to foster understanding and appreciation of Southeast Asia in all its socio-cultural dimensions, from arts and lifestyles to economy and development. Conveniently located at Room 407-8 of the Bangkok Arts and Culture Center or BACC (across MBK, BTS National Stadium), SEA Junction facilitates public access to knowledge resources and exchanges among students, practitioners and Southeast Asia lovers. For more information, see www.seajunction.org, join the Facebook group: http://www.facebook.com/groups/1693058870976440/ and follow us on Twitter and Instagram @seajunction