Class on Health and Health Care in Southeast Asia for Master Program Students in Social Innovation & Sustainability, School of Global Studies, Thammasat University (Closed Event)
March 8 @ 10:00 am

-

1:00 pm
Over the past decade, most ASEAN countries have enjoyed relatively rapid economic development which was accompanied by significant poverty reduction, a comprehensive improvement in education system, and an increase in life expectancy. The progress in population health statistics, however, lack behind with much slower improvement in some health targets such as maternal mortality or tuberculosis incidence. Disparities among the countries persist and internal disparities even increased in some countries due to uneven socio-economic and health development. Women 's unique health needs are poorly addressed and access to health care for vulnerable populations such as migrants or stateless populations remains a major challenge.
These conditions are increasingly affected by regional integration processes unleashed by the ASEAN Economic Community (AEC). Although not many in the region are aware, health care is one of the 11 prioritized sectors for accelerated liberalization being viewed as highly attractive for business. Still-to-be-implemented harmonization measures are meant to free up the cross-border flows of health products and services.
In this rapidly changing context, questions about the distribution of financial and human resources in health among counties and groups in the region become more pressing to ensure adequate health protection and promotion for all and, as promised by the Sustainable Development Goals (SDGs) Agenda, no-one is left behind. On 8 March at 10 am, SEA Junction Director, Dr. Rosalia Sciortino, will teach a class about "Health and Health Care in Southeast Asia" to students who are taking the course Contemporary Sustainability Issues, which is offered under the Master of Social Innovation and Sustainability, School of Global Studies, Thammasat University.
Lecturer
Dr. Rosalia (Lia) Sciortino Sumaryono, a cultural anthropologist and development sociologist by training, earned her doctorate at the Vrije Universities, Amsterdam with honors. Currently, she is Associate Professor at the Institute for Population and Social Research, Mahidol University and Visiting Professor at the Master in International Development Studies (MAIDS), Chulalongkorn University in Thailand. She is also the Founder and Director of SEA Junction.
Most recently, she was IDRC Regional Director for Southeast and East Asia in Singapore (2010-2014), Senior Adviser for the Health Program to the Australian Agency for International Development in Indonesia (2009-2010), and Regional Director for Asia of the Rockefeller Foundation (2000-2007) establishing during her tenure the Foundations Southeast Asia Office in Bangkok. Prior to that, she was program officer Gender, Human Development and Reproductive Health at the Indonesia and Philippines offices of the Ford Foundation from 1993 to 2000.
Dr. Sciortino acts as a consultant for international and regional organizations, as an adviser for academic and international development institutions, and is a member of scientific and institutional boards. She has published widely on development issues in Southeast Asia, in particular public health, gender and regional integration in the Greater Mekong Sub-region and ASEAN. A Dutch national native of Palermo, Italy, she fluently speaks Italian, English, Indonesian and Dutch. On 25 November 2017, she received a medal from the Vietnamese Academy of Social Sciences for contribution to social sciences in Vietnam.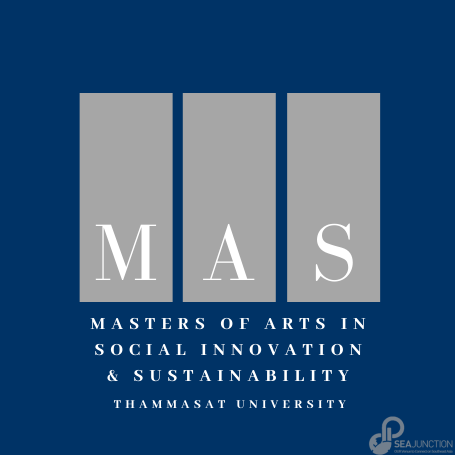 Organizers:
SEA-Junction, Our Venue to Connect on Southeast Asia
SEA Junction, established under the Thai non-profit Foundation for Southeast Asia Studies (ForSEA), aims to foster understanding and appreciation of Southeast Asia in all its socio-cultural dimensions- from arts and lifestyles to economy and development. Conveniently located at Room 408 of the Bangkok Arts and Culture Center or BACC (across MBK, BTS National Stadium), SEA Junction facilitates public access to knowledge resources and exchanges among students, practitioners and Southeast Asia lovers. For more information see www.seajunction.org, join the Facebook group: http://www.facebook.com/groups/1693058870976440/ and follow us on twitter and Instagram @seajunction
School of Global Studies, Thammasat University
The School of Global studies is a new and innovative academic initiative within Thammasat University and a front runner in global health and social innovation within Thailand, Southeast Asia and beyond with a track record of excellent research on determinants of the public's health, student centered teaching, and academic service relevant to community needs. The School enjoys a unique position of being a national, regional and global focal point for global studies, human security and wellbeing with collaborative relationships with academic and professional communities.