Creating Inclusive Education in Thailand
4 December, 2019 @ 6:00 pm

-

8:00 pm
Today, in Thailand, there is an estimated 400,000 migrant youth below the age of 16 years-old living in the country. Of those numbers, approximately 150,000 youth are in Thai public schools, with an additional 30,000 receiving education from Migrant Learning Centers. However, this leaves over 200,000 school-aged youth without access to education.
For the past decades, tremendous efforts have been made to create both formal and informal learning opportunities for these youth. This year, a culmination of grassroot efforts paid off with the establishment of a cross-border education working group consisting of members of the Ministries of Education from both Thailand and Myanmar.
Together with support from both governments, community-based organizations and Migrant Learning Centers are continuing their journey to create inclusive education systems for migrant youth in Thailand. However, there are many challenges that must be overcome before an effective system is in place – and many opportunities for groundbreaking-solutions!
Organized by students of the Master of Social Innovation and Sustainability of the School of Global Studies, Thammasat University, the event on 4 December at 6.00 PM at SEA Junction aims to explore the situation of education for migrant youth in Thailand and its importance through film, group discussions and conversations with frontline leaders and with organizations supporting them.
Speakers' Bios
Kyaw Kyaw Min Htut
Kyaw Kyaw Min Htut is a President and co-founder of the BEAM Education Foundation. He is the senior committee member and network coordinator of the Migrant Education Integration Initiative which reaches thousands of migrant teachers and students throughout Thailand. Currently, he is collaborating with the Ministry of Education Myanmar, Ministry of Education Thailand and other partners to develop a cross-border education equivalency framework for migrant children.
Amanda Mowry
Amanda is a Program Manager for Partners Asia, Thailand. With her last 7-year experiences in Asia with the INGO, public and non-profit sectors as a researcher, grant manager and project coordinator, Amanda has learned a lot from local leaders about the challenges facing their villages and the possible solutions.
Naw Su Yadanar (Hsu Hsu)
Hsu Hsu is a Bachelor student of Global Studies and Social Entrepreneurship program at the School of Global Studies, Thammasat University. She is originally from Karen state in Myanmar and has always been passionate about education. In the past, she volunteered as a teacher at a school in refugee camp and interned at an education foundation in Chiang Mai.
Saw Dar Bo (Jeff)
Jeff is also a Bachelor student of Global Studies and Social Entrepreneurship program at the School of Global Studies, Thammasat University. He is passionate about working on education and interested in searching for alternative ways for young people who lack access to quality education.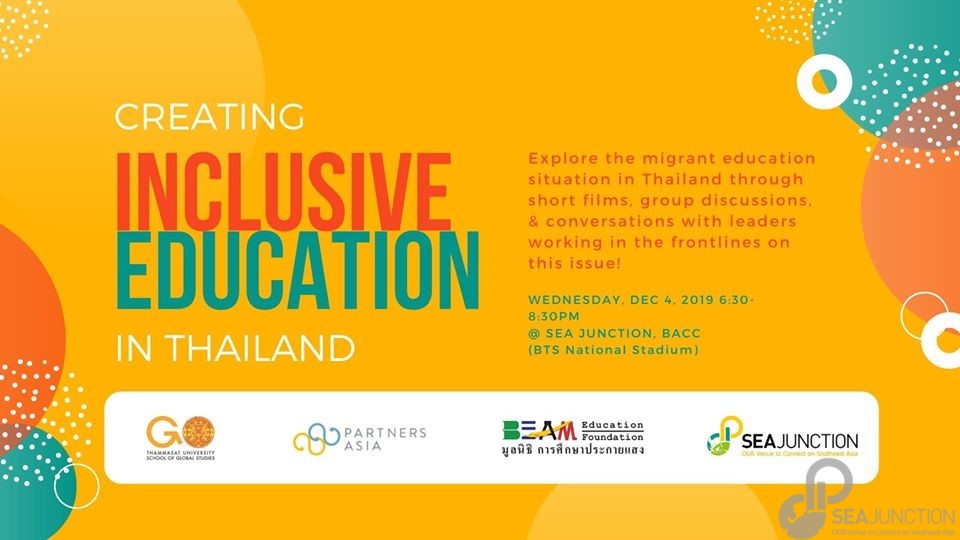 For information/reservation for our events please email southeastasiajunction@gmail.com or phone/wa+66970024140
NB: Events are free, but donation most welcome!
Organizers
School of Global Studies, Thammasat University
The School of Global Studies is a new and innovative academic initiative within Thammasat University and a front runner in global health and social innovation within Thailand, Southeast Asia and beyond with a track record of excellent research on determinants of the public's health student centered teaching, and academic service relevant to community need. For more information, see https://sgs.tu.ac.th/
Partners Asia
Partners Asia works to improve the lives of the most vulnerable people in Myanmar and along its borders: ethnic minorities, displaced populations, women, children, LGBTQIs, students. For more information, see https://partnersasia.org/
BEAM Education Foundation
BEAM Education Foundation is a nonprofit organization that enables sustainable social change through education. We serve and empower migrants and underprivileged learners from Myanmar. For more information, see https://beamedu.org/welcome-to-beam-education-foundation/
SEA Junction, OUR Venue to Connect on Southeast Asia
SEA Junction aims to foster understanding and appreciation of Southeast Asia in all its socio-cultural dimensions – from arts and lifestyles to economy and development. Conveniently located at Room 408 of the Bangkok Arts and Culture Centre or BACC (across MBK, BTS National Stadium) SEA Junction facilitates public access to knowledge resources and exchanges among students, practitioners and Southeast Asia lovers. For more information see www.seajunction.org and join the Facebook group https://www.facebook.com/groups/1693055870976440/
Related Events