Dialogue Forum 3: Ending Wildlife Trade and Habitat Exploitation in Post COVID-19 Our Wild, Our Climate (in Thai)
30 June, 2020 @ 1:00 pm

-

3:30 pm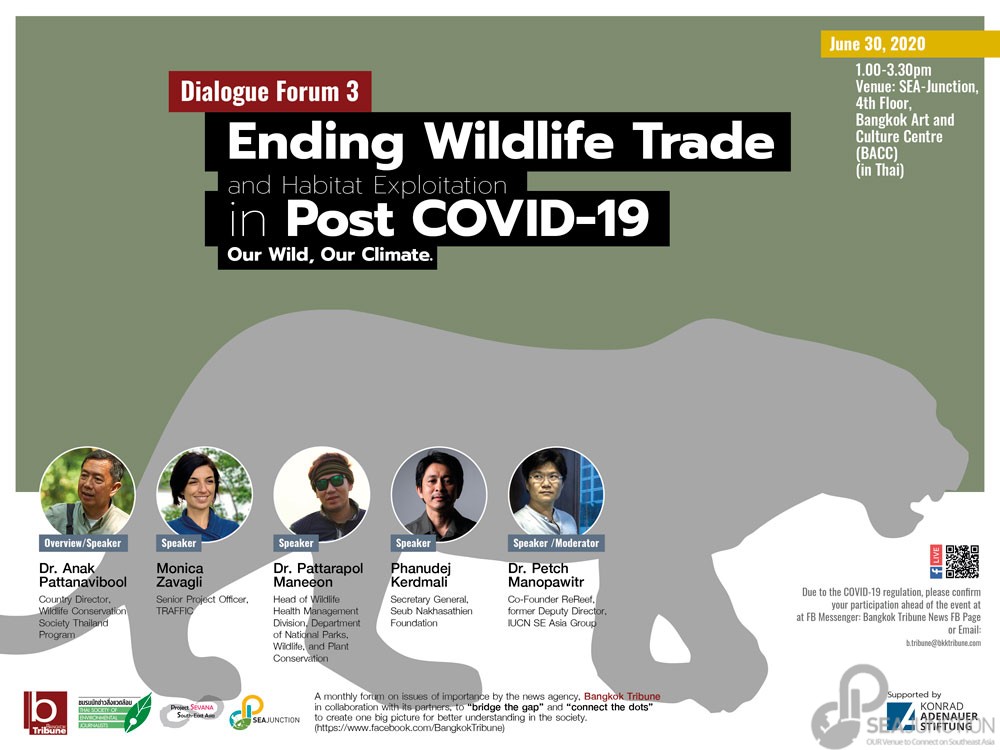 During the Coronavirus pandemic, what has become clear in sight is the improved state of the environment worldwide.
Since the governments have imposed restriction as well as lockdown measures in several parts of the world, the state of the environment in many areas, from the air to the oceans and to our forests, has improved significantly in the absence of human beings. Though temporary, this has suggested the way people can do for the environment, which deeply interconnects with their economy and lifestyle.
Scientists as well as economists worldwide have started to explore such the new path that leads to a more sustainable lifestyle and economy, and the ending of wildlife trade and habitat exploitation and One Health concept are strongly being called for, along with climate and green new deals.
Whether humans can turn this crisis into a golden chance to live in harmony with the nature again is thus challenging and worth exploring here and worldwide.
The Dialogue Forum, a monthly forum by Bangkok Tribune and its partners to "bridge the gap" and "connect the dots" of different views and opinions as well as bits of information on social and environmental issues to create one big picture for better understanding in society, would cordially like to invite you to participate to explore the new proposals together in its Dialogue Forum 3: Ending Wildlife Trade and Habitat Exploitation in Post COVID-19, Our Wild, Our Climate (Green Post COVID-19 Theme).
Contact: southeastasiajunction@gmail.com
Bangkok Tribune coordinator: Piya Wong @089 920 8027/ Bangkok Tribune News FB Messenger
**In accordance with the COVID-19 regulation, please confirm your participation ahead of the event (limited seats available).
***You can also watch the event live at FB Live: Bangkok Tribune News FB Page
Objectives
To develop and introduce a new body of knowledge and innovation in regard to an independent, in-depth media to the public (Indie & In-depth)
To empower public members to be able to keep up with any developments as well as repercussions in the society, as well as the role of the media in helping shape the society (Empowering)
To promote participation in development of such the innovative and independent media so that it can remain opened and accessible to all (Open & Accessible)
Partners
Thai Society of Environmental Journalists
Project SEVANA South-East Asia
SEA-Junction
Bangkok Tribune News Agency
Supported by: Konrad-Adenauer-Stiftung (Thailand Office)
Programme
Dialogue Forum 3 (in Thai)
Ending Wildlife Trade and Habitat Exploitation in Post COVID-19
Our Wild, Our Climate
Venue: SEA-Junction, 4th Floor, Bangkok Art and Culture Centre
Time: June 30, 1-3.30 pm
| | |
| --- | --- |
| 1:00 pm | Registration |
| 1.25 pm | Brief introduction of the topic of the forum |
| 1.30 pm | Overview: The state of wildlife trade, biodiversity loss and habitat exploitation before the COVID-19 pandemic. Dr. Anak Pattanavibool, Country Director, Wildlife Conservation Society Thailand Program |
| 1.40 pm | Forum discussion: Ending Wildlife Trade and Habitat Exploitation in Post COVID-19 |
Speakers:
Dr. Anak Pattanavibool, Country Director, Wildlife Conservation Society Thailand Program
Monica Zavagli, Senior Project Officer, TRAFFIC
Dr. Pattarapol Maneeon (Mor Lotte), Head of Wildlife Health Management Division, Department of National Parks, Wildlife, and Plant Conservation
Phanudej Kerdmali, Secretary General, Seub Nakhasathien Foundation
Dr. Petch Manopawitr, Co-Founder ReReef, former Deputy Director, IUCN SE Asia Group (/moderator)
| | |
| --- | --- |
| 2.40 pm | Q&A session |
| 3.30 pm | Wrap-up and closing of the forum |
Related Events