Film Screening and Discussion on the Lives of Migrant Domestic Workers
8 December, 2022 @ 5:30 pm

-

7:30 pm
"We don't dance fore nothing" is a photo-montage love letter to the Filipina Domestic Workers of Hong Kong. This visual recreation of true memories shared by this community of 400,000 women (millions globally) follows one woman's plan to run away. Captured on Super-16 amidst the Hong Kong Protests, stills blend with motion to highlight the passionate Street Dancing of these women, and touch upon LGBTQ+ themes, issues of Workers' Rights, and Hong Kong's changing political landscape. From Chinese – Greek – American director Stefanos Tai, the film has been described as "La Jetée" meets "La La Land", and its use of stills vs. motion represent a bold new method of filmmaking: one which invites the viewer to viscerally experience the entrapment felt by these women, and their release into freedom when they dance. Among saturated and staid media coverage of these women, WDDFN paints these heroes beyond their job descriptions, as people full of talent, joy, and grace.
The film will be screened on 8 December 2022, 5.30-7.30 pm at SEA Junction, 4th floor, BACC. The screening will be followed by a discussion on the lives of migrant domestic workers with the speakers listed below, organized by USAID Asia CTIP, Winrock International, and SEA Junction.
Speakers:
Stefanos Tai, Film Director
Poonsap Tulaphan, HomeNet Thailand
Nawin Santikarn, The Remedy Project
Moderator: Sara Piazzano, Chief of Party, USAID Asia CTIP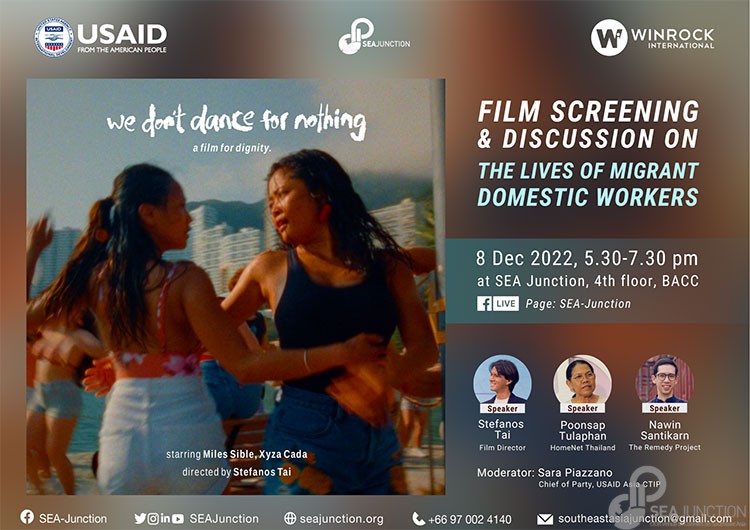 For information/reservation for our events, please email southeastasiajunction@gmail.com or phone: +66970024140.
Organizers:
USAID Asia Counter Trafficking in Persons program (USAID Asia CTIP) brings together governments, civil society, and businesses to support regional initiatives to combat trafficking in persons. By strengthening collaboration between source and destination countries and by developing tools and systems to prevent and combat human trafficking, USAID Asia CTIP is supporting the Presidential Executive Order on Enforcing Federal Law with Respect to Transnational Criminal Organizations and Preventing International Trafficking. For more information, please see https://www.usaid.gov/asia-regional/fact-sheets/usaid-asia-counter-trafficking-persons.
Winrock International is a recognized leader in U.S. and international development, providing solutions to some of the world's most complex social, agricultural and environmental challenges. Winrock's mission is to empower the disadvantaged, increase economic opportunity and sustain natural resources. Winrock is a nonprofit organization that implements a portfolio of more than 100 agriculture, environment and social development projects in over 40 countries. Winrock combines technical expertise with entrepreneurial innovation to improve lives around the globe. For more information, please see https://winrock.org/.
SEA Junction, established under the Thai non-profit organization Foundation for Southeast Asia Studies (ForSEA), aims to foster understanding and appreciation of Southeast Asia in all its socio-cultural dimensions, from arts and lifestyles to economy and development. Conveniently located at Room 408 of the Bangkok Arts and Culture Center or BACC (across MBK, BTS National Stadium), SEA Junction facilitates public access to knowledge resources and exchanges among students, practitioners and Southeast Asia lovers. For more information, see www.seajunction.org, join the Facebook group: http://www.facebook.com/groups/1693058870976440/ and follow us on Twitter and Instagram @seajunction
Related Events