Launch of Painting Exhibition "Universe of Colors"
4 December, 2022 @ 5:30 pm

-

7:00 pm
The painting exhibition "Universe of Colors" will be officially launched on 4 December 2022, 5.30 pm at SEA Junction, 4th floor, Bangkok Art and Culture Centre (BACC). The opening remarks will be delivered by H.E. Mr. Rachmat Budiman, Ambassador of the Embassy of Indonesia in Bangkok; Adulaya Hoontrakul, Director of BACC; and exhibiting artist Erica Hestu Wahyuni. A Selamatan, Indonesian thanksgiving celebration, will also take place following the opening.
The exhibition is on view on the curved wall, 4th floor of BACC until 11 December 2022. It includes her newly created pieces as well as her recently exhibited pieces as part of the Bridge of Colors: Indonesian Painting Exhibition at the National Gallery of Thailand.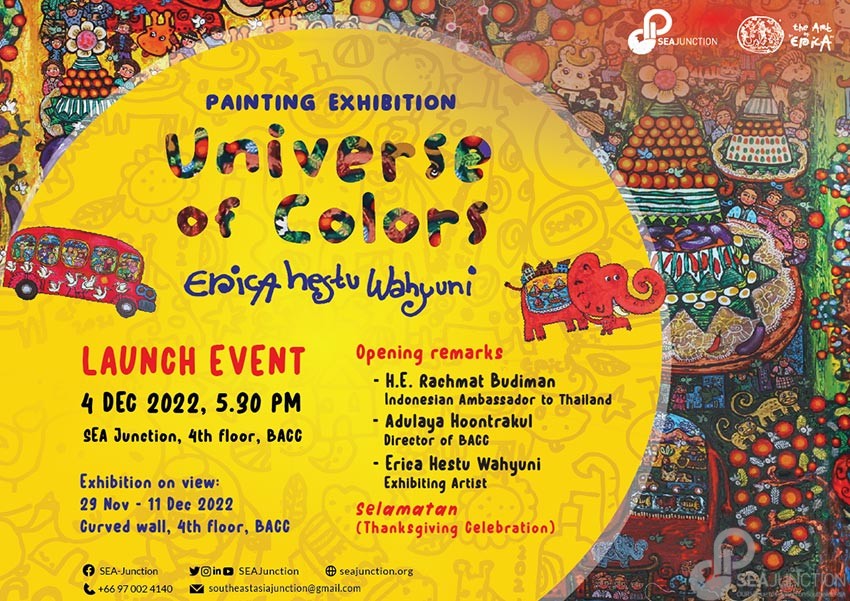 Exhibition description
Born in Jogjakarta, Indonesia in 1971, Erica started painting in primary school, joining a children's drawing club (Sanggar Katamsi), which was taught by Suharto PR and Herry Wibowo – both established painters. Later she studied painting at the Indonesian Fine Art Institute in Jogjakarta and Surikov Institute of Art, Russia. In 1993, her work was selected for the International Triennale Competition of Painting in Osaka, Japan.
Erica held her first solo exhibition at the Purna Budaya in 1995, officiated by the Sultan of Yogyakarta. Since then, she has exposed all over the world. Erica's naive, playful renditions have ascertained her reputation as one of the most sought-after contemporary artists in Southeast Asia. Each work contains interesting narrative qualities, which reveal the worldview of the artist.
Typically, Erica depicts her experiences in scenes with main characters (human and animals, especially elephants) in extraordinary environments. She takes an interest in the scenes' surroundings, painting them with great detail. Her paintings draw from Indonesian heritage and from daily life and create an ideal universe where nature and humanity are in harmony. An invitation to all to create a better and more sustainable world.
Organizer
SEA Junction, established under the Thai non-profit organization Foundation for Southeast Asia Studies (ForSEA), aims to foster understanding and appreciation of Southeast Asia in all its socio-cultural dimensions- from arts and lifestyles to economy and development. Conveniently located at Room 408 of the Bangkok Arts and Culture Center or BACC (across MBK, BTS National Stadium), SEA Junction facilitates public access to knowledge resources and exchanges among students, practitioners and Southeast Asia lovers. For more information see www.seajunction.org, join the Facebook group: http://www.facebook.com/groups/1693058870976440/ and follow us on twitter and Instagram @seajunction
Related Events