Lecture by Rosalia Sciortino on "Gender, Peace and Security" for International Institute of Peace and Development Studies (IIPDS) – Closed event
March 3 @ 10:00 am

-

12:00 pm
Since its debut in 2005, the annual peace studies programs have empowered a network of community leaders, activists and scholars from across the world. The School of Peace Studies and Conflict Transformation focuses on understanding peace and conflict in local, regional and international contexts, conflict analysis, its positive transformation, violence prevention. Participants will gain skills relevant to peace-building and creative peace advocacy and actions from grassroots, national and international levels.
The International Institute of Peace and Development Studies is holding the School of Peace Studies and Conflict Transformation Course for peace activists, community development workers and scholars, journalists, youth, women and religious leaders for its next. The two-weeks course will take place in Bangkok, Thailand, from February 22nd – March 5th, 2020 in Nong Chok, Bangkok. It will include workshops, lectures and exposure visits to local communities and peace initiatives.
On 3rd March, from 10 AM – 12 PM, SEA Junction Director, Rosalia Sciortino, will provide a lecture class on "Gender, Peace and Security" for about 15 participants who will attend the two-weeks course on 20th edition of the School of Peace Studies and Conflict Transformation 2020 at SEA Junction. To illustrate how the necessary gender-sensitive approach to peace and conflict resolution is often lacking (in spite of rhetoric) she will use examples from Southeast Asia.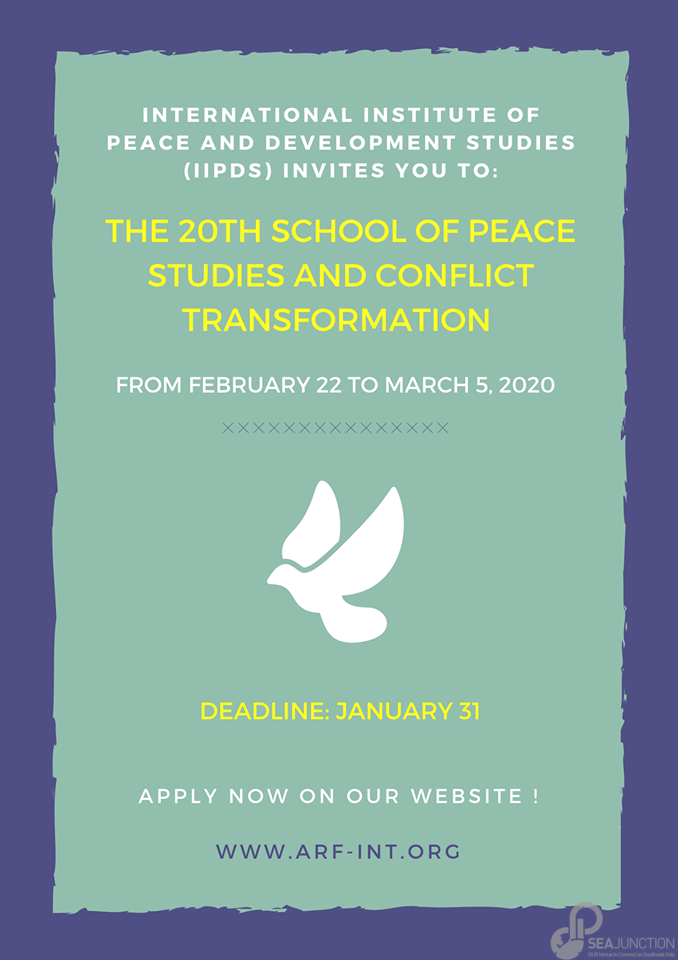 Organizer
SEA Junction, Our venue to connect on Southeast Asia.
SEA Junction, established under the Thai non-profit organization Foundation for Southeast Asia Studies (ForSEA), aims to foster understanding and appreciation of Southeast Asia in all its socio-cultural dimensions- from arts and lifestyles to economy and development. Conveniently located at Room 408 of the Bangkok Arts and Culture Center or BACC (across MBK, BTS National Stadium), SEA Junction facilitates public access to knowledge resources and exchanges among students, practitioners and Southeast Asia lovers. For more information see www.seajunction.org, join the Facebook group: http://www.facebook.com/groups/1693058870976440/ and follow us on twitter and Instagram @seajunction.
The International Institute of Peace and Development Studies (IIPDS), cohosted by AMAN and Asia Resource Foundation, offers courses and runs workshops across Asia on peace-building, healing, negotiation and reconciliation. It also hosts interfaith forums and dialogue exchange in order to create practical solutions to pressing social issues.