[CANCELED] Lecture on Philanthropy and Funding of Civil Society in Southeast Asia for Master Program Students in Social Innovation & Sustainability, School of Global Studies, Thammasat University (closed event)
April 5 @ 10:00 am

-

5:00 pm
On 5 April SEA Junction Director, Dr. Rosalia Sciortino, will hold two interrelated classes on philanthropy and funding of civil society as part of the course Contemporary Sustainability Issues under the Master of Social Innovation and Sustainability, School of Global Studies, Thammasat University.
The lecture will present an overview of the evolving state of philanthropy in Southeast Asia, driven by global and local stimuli and shaped by often conflicting notions of charity, development, and business. Despite the lack of a strong enabling environment, new, home-grown foundations and local forms of institutionalized giving continue to emerge. At the same time, changes in the donor landscape and shifts in philanthropic paradigms towards business-like and technocratic approaches affect how development causes are funded. In the process, gaps have begun to appear in how work by civil society organizations on human rights and social justice is funded; this may jeopardize more equitable and inclusive development. The lecture will draw on the following articles:
https://www.researchgate.net/publication/287260464_Learning_Across_Boundaries_Grantmaking_Activism_in_the_Greater_Mekong_Subregion
https://www.ssoar.info/ssoar/bitstream/handle/document/62684/ssoar-aseas-2017-2-sciortino-Philanthropy_in_Southeast_Asia_between.pdf;jsessionid=A9353E5B3EBC55D449F5DFE8D13BD1B3?sequence=1
https://www.ssoar.info/ssoar/bitstream/handle/document/62836/ssoar-aseas-2017-2-sciortino-Philanthropy_Giving_and_Development_in.pdf?sequence=1
https://www.newmandala.org/weilding-purse-strings/
Lecturer
Dr. Rosalia (Lia) Sciortino Sumaryono, a cultural anthropologist and development sociologist by training, earned her doctorate at the Vrije Universities, Amsterdam with honors. Currently, she is Associate Professor at the Institute for Population and Social Research, Mahidol University and Visiting Professor at the Master in International Development Studies (MAIDS), Chulalongkorn University in Thailand. She is also the Founder and Director of SEA Junction.
Most recently, she was IDRC Regional Director for Southeast and East Asia in Singapore (2010-2014), Senior Adviser for the Health Program to the Australian Agency for International Development in Indonesia (2009-2010), and Regional Director for Asia of the Rockefeller Foundation (2000-2007) establishing during her tenure the Foundations Southeast Asia Office in Bangkok. Prior to that, she was program officer Gender, Human Development and Reproductive Health at the Indonesia and Philippines offices of the Ford Foundation from 1993 to 2000.
Dr. Sciortino acts as a consultant for international and regional organizations, as an adviser for academic and international development institutions, and is a member of scientific and institutional boards. She has published widely on development issues in Southeast Asia, in particular public health, gender and regional integration in the Greater Mekong Sub-region and ASEAN. A Dutch national native of Palermo, Italy, she fluently speaks Italian, English, Indonesian and Dutch. On 25 November 2017, she received a medal from the Vietnamese Academy of Social Sciences for contribution to social sciences in Vietnam.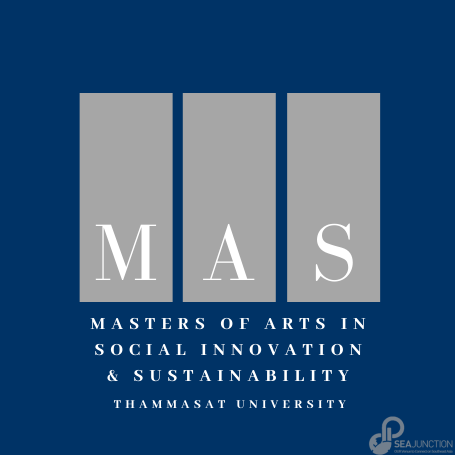 Organizers:
SEA-Junction, Our Venue to Connect on Southeast Asia
SEA Junction, established under the Thai non-profit Foundation for Southeast Asia Studies (ForSEA), aims to foster understanding and appreciation of Southeast Asia in all its socio-cultural dimensions- from arts and lifestyles to economy and development. Conveniently located at Room 408 of the Bangkok Arts and Culture Center or BACC (across MBK, BTS National Stadium), SEA Junction facilitates public access to knowledge resources and exchanges among students, practitioners and Southeast Asia lovers. For more information see www.seajunction.org, join the Facebook group: http://www.facebook.com/groups/1693058870976440/ and follow us on twitter and Instagram @seajunction
School of Global Studies, Thammasat University
The School of Global studies is a new and innovative academic initiative within Thammasat University and a front runner in global health and social innovation within Thailand, Southeast Asia and beyond with a track record of excellent research on determinants of the public's health, student centered teaching, and academic service relevant to community needs. The School enjoys a unique position of being a national, regional and global focal point for global studies, human security and wellbeing with collaborative relationships with academic and professional communities.