New Migrant Worker Precarity under Covid-19, Repatriation
November 25 @ 9:00 am

-

12:00 pm
Speakers:
Iweng Karsiwen, Ketua Keluarga Besar Buruh Migran Indonesia (Kabar Bumi)
Joanna Concepcion, Migrante International
Adisorn Kerdmongkol, Migrant Working GroupEnglish, Thai, Chinese, Indonesian
Language:
English, Thai, Chinese, Indonesian
Sponsor:
Host: Institute for Population and Social Research at Mahidol University, Taichung University with supported from Graduate Studies at Mahidol University, International Center for Cultural Studies at National Chiao Tung University, School of Education at Hanyang University, and the Consortium of Humanities Centers and Institutes (CHCI) and the Andrew W. Mellon Foundation.

Co-organized by Sudarat Musikawong, Institute for Population and Social Research Mahidol University; Tammy Ko Robinson, School of Education, Hanyang University; Kenzi Chen, former National Chiao Tung University post-doctoral fellow and postdoctoral fellow at Taichung University; SEA Junction
Registration required: https://tinyurl.com/MWPrecarityNov25
Migrant workers and the Covid pandemic, repatriation is part of an ongoing 2020-2021 series: "Migration, Logistics and Unequal Citizens in Contemporary Global Context." The main objective of the webinar will be to join with workers, researchers, activists, policymakers, civil society organizations, journalists and GHI participants to highlight and address the urgency of ASEAN migrant worker justice in Asia under the Covid-19 crisis.
Join us for an active webinar with breakout sessions to brainstorm new developments in juridical research and migrant worker justice, migration research practices, and national legislation and regional solutions.
Digital Care & Safety
Presentations within the session may be recorded by the organizer with the consent of the main speakers. Otherwise, do not record or screenshot any session without notification or consent. We hope to make translations (including ASL interpretation) of the webinar or its transcript available as a future resource.
There will be a breakout-session component; Mute yourself when you are not speaking.
We will provide English captioning for any pre-recorded or prepared presentations.
Simultaneous Thai-English interpretation will be provided for the presentation portions of the webinar.
Though this is a closed seminar, know that most virtual spaces are not private including Zoom. Zoom makes a record of meetings you join based on your IP address, which is not deleted when you delete your account.
While you are asked to sign in using the email you registered with, we ask that you choose to include a screen name and an affiliation if comfortable within this space, and for future networking purposes. The session will have a tech facilitator on hand, and if you have any difficulties in using the tools to access the content, you can chat with them privately during the webinar. Other than this, chat will be turned off and the q&a features will be enabled.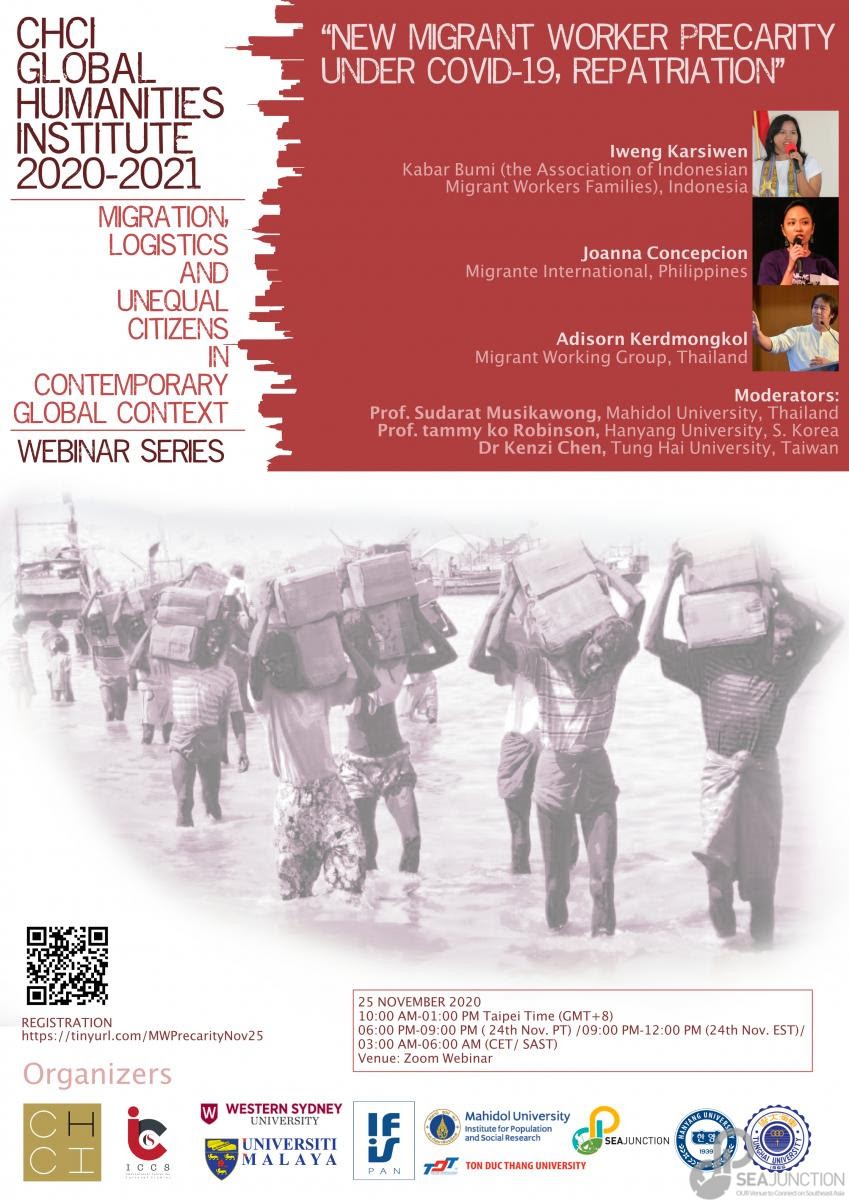 Schedule
9:00-9:10
Introduction of event and co-sponsorship thanks by Sudarat and tammy
9:10-10:10
Each of featured speakers above discuss case of Philippines, Indonesia, and Thailand regarding ASEAN Migrant Worker Precarity under Covid-19 Repatriation
10:10-10:15
Break into separate discussion rooms with each of speakers:
10:15-11:30
Breakout sessions

1) Transforming theories of Citizenship and Mobilities into Practice- new theories and topics in migration participatory action research
2) Repatriation Justice, Covid-19 Research
3) Solutions and Transnational Cooperation

11:30-12:00
Wrap up session with summarizations of each of breakout sessions
Speakers Bios
Iweng Karsiwen is the founder and Chairperson for Kabar Bumi (the Association of Indonesian Migrant Workers Families). She had worked in Hong Kong for over ten years, served as the Vice Chair of ATKI-HK (the Association of Indonesian Migrant Workers in Hong Kong), and later served as the coordinator for ATKI-Indonesia. As an organizer for over twenty years she has worked with migrant workers abroad as well as returnee migrant workers and their families through legal workshops and leadership training for migrant worker rights and anti-trafficking.
Joanna Concepcion is the chair of Migrante International. She has been active in local and international grassroots movements to advance the rights of migrant and immigrant workers and advocate for human rights, genuine development, justice and peace in the Philippines and abroad. She previously served as the Executive director of Filipino Migrant Center in the US, where low-income Filipino Families are provided resources and support in their pursuit of rights and justice to uplift their families and communities.
Adisorn Kerdmongkol, is founder and coordinator of Migrant Working Group, a consortium of migrant worker organizations that work in legal reform, labor organizing and migrant radio, community based and civil society organizations advocating for migrant worker rights through research, policy advocacy, and organizing for self-empowerment. Having over thirty years experience, he has worked with a network of advocates to change Thailand's migrant worker policy towards inclusion, justice, and health access.
Related Events