Opening Photo Exhibition "Last Stand for Pom Mahakam" by Jan Daga
16 January, 2018 @ 5:30 pm

-

7:00 pm
"Last stand for Pom Mahakan" is a week-long photo exhibition to be held at SEA Junction on 16-22 January 2018 that is dedicated to the community of Fort Mahakan, a historical heritage site located in the center of the city of Bangkok. Mahakan Fort marks the entrance to the Royal City, also called Ratanakosin Island. Once, the city was encircled by a wall punctuated by 14 such forts and 16 gates and further protected by a canal, but today Mahakan Fort is one of only two such towers that remain from the original late 18th century walls. The area in between the mighty walls and the river, which has been home to more than 50 households over six generations, will be turned soon into an eco-tourism spot to complement the historic fort, which was built in the 1700s. After the park plan was delayed for over 20 years due to opposition from residents, in recent months the evictions and demolition of all the houses considered "not of historical interest" have been carried out and large parts of the community have been relocated. This exhibition is the result of the many hours spent by Italian photographer Jan Daga with the community documenting with his camera the ongoing transformation of a lively community into lawn for a future gentrified tourist attraction. A preview of selected photos can be seen at http://seajunction.org/gallery/glimpses-of-southeast-asia/people-mahakan-fort/ and athttp://www.jandaga.com/copia-di-stories.
At the opening event on 16 January at 5.30-6.30 PM, the photographer will share his interest in Pom Mahakam and his observations as well as discussing his photo style and techniques. Thereafter there will be a panel with him and with two experts: Chatri Prakitnonthakan, Associate Professor at the Faculty of Architecture, Silpakorn University who specializes in historical architecture and has published on Fort Mahakam and Michael Herzfeld, Ernest E. Monrad Professor of the Social Sciences Department of Anthropology, Harvard University, an anthropologist well known in Thailand for his work on heritage studies and urban planning.
Short Profile Photographer:
Jan Daga (full name Janusz Daga) is an Italian photographer and free-lance journalist based in Thailand. After graduating in communication and attaining a master degree in photography he has worked with national and international agencies and companies on communication, marketing and visual design in Austria, China, Korea, Germany, Holland and Italy. Nowadays, his work in Thailand is focused on vulnerable people's life, working conditions and daily struggles and the contradictions of modern society in Asia (see http://www.jandaga.com).
Short Profile Speakers:
Chatri Prakitnonthakan is Associate Professor at the Faculty of Architecture, Silpakorn University. He has been involved in researching architectural history and the historic urban landscape of old Bangkok, including Pom Mahakan. He has published many articles about the case and followed the community for more than 12 years. His current research focuses on historiography of Thai Art and architecture.
Michael Herzfeld is Ernest E. Monrad Professor of the Social Sciences Department of Anthropology, Harvard University. He is also Affiliated Professor, Department of Urban Planning and Design (GSD) Director, Thai Studies Program, Asia Center. IIAS Visiting Professor of Critical Heritage Studies, Leiden University and Senior Advisor, Critical Heritage Studies Initiative (IIAS, Leiden); Honorary Professorial Fellow, Faculty of Arts, University of Melbourne; Chang Jiang Scholar, Shanghai International Studies University.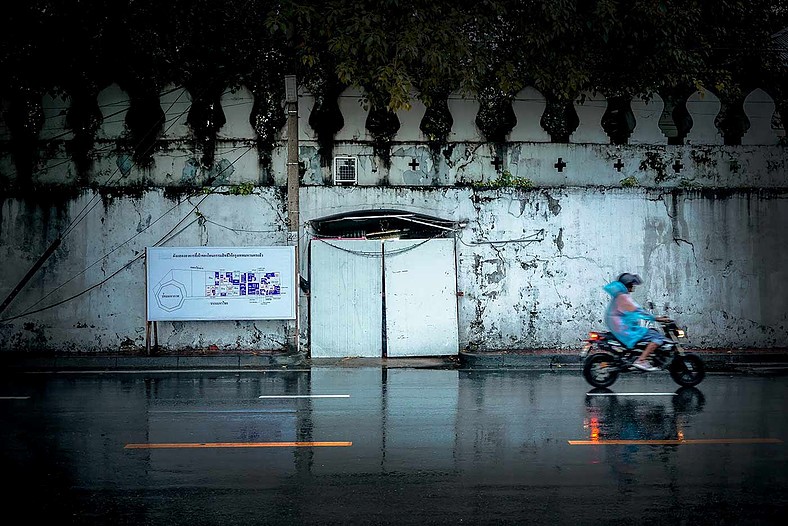 NB: The event is free, but donations are most welcome
For information/reservation for our events please email southeastasiajunction@gmail.com or phone/wa: +66970024140
About SEA Junction, OUR Venue on Southeast Asia
SEA Junction aims to foster understanding and appreciation of Southeast Asia in all its socio-cultural dimensions –from arts and lifestyles to economy and development. Conveniently located at Room 408 of the Bangkok Arts and Culture Centre or BACC (across MBK, BTS National Stadium) SEA junction facilitates public access to knowledge resources and exchanges among students, practitioners and Southeast Asia lovers. For more information see www.seajunction.org and join the Facebook group https://www.facebook.com/groups/1693055870976440/
Related Events