Panel Discussion in conjunction with Photo Exhibition "Migrants' Labour and Lives in Thailand's Blue Economy"
April 4 @ 5:00 pm

-

6:30 pm
In conjunction with the photo exhibition "Migrants' Labour and Lives in Thailand's Blue Economy", the panel discussion will be held on 4 April 2023, 5.00-6.30 pm at SEA Junction, 4th floor, Bangkok Art and Culture Centre (BACC). The opening remarks will be delivered by Sara Rezoagli, Deputy Head of the European Union Delegation to Thailand. It will then be followed by the panel discussion with the speakers listed below.
Speakers:
Benjamin Harkins, Technical Officer (Ship to Shore Rights South-East Asia), International Labour Organization
Phenpiccha Jankomol, Project Coordinator (Anti-Labour Trafficking Program), Human Rights and Development Foundation
John Hulme, Exhibiting Photographer
Moderator: Rosalia Sciortino, Founder and Executive Director, SEA Junction
Exhibition Description
Globally, trade in fish products continues to reach record highs, and developing countries now contribute over half of the value of total exports. Within this expanding world market, Thailand has emerged as a major supplier, with the value of its seafood exports reaching US$6 billion in recent years. A significant contribution to the industry's growth is given by the migrant labour force. Shortages of Thai workers willing to work on fishing vessels, emerging simultaneously with expanding structural differences in population demographics and economic development between Thailand and its neighbouring countries, have transformed fishing crews to predominantly consist of migrant workers from Cambodia and Myanmar. Several hundred thousand women and men migrant workers are now employed at different levels within the seafood supply chain in Thailand, working precariously under various temporary labour migration regimes and precarious living and work conditions.
Extensive international attention to forced labour and illegal fishing practices in Thailand's fisheries in 2015 led the Thai Government to improve legislative and regulatory frameworks and expand its efforts to identify and prosecute offenders. A raft of new measures has established higher standards for labour protection and fisheries management in the industry and increased inspection of fishing vessels. Nevertheless, recent research suggests that serious labour abuses persist for a significant number of migrant workers in the fishing and seafood processing industry and that there is more work to be done to ensure conditions of decent work.
Organized by SEA Junction in partnership with International Labour Organization (ILO)'s Ship to Shore Rights South East Asia funded by the European Union, the photo exhibition gives, as the title says, a glimpse of "Migrants' Labour & Lives in Thailand's Blue Economy." In particular, the photos taken by Thailand-based photographer John Hulme over the course of a decade focus on the two major fishing and sea-processing locations Rayong and Ranong with a majority of workers from Cambodia and Myanmar. They show the migrant's faces, community life, their work from shore to vessels and the gender distribution of labour with women carrying the double burden of unpaid household work and full-time employment in seafood processing jobs. In their humanity, the images ask questions about how to better protect these fellow human beings and integrate them in our societies.
The photo exhibition was held on 6-7 September 2022 at the Fair Seas Labour Conference in Bali, Indonesia and on 1-2 December 2022 at the 6th MMC Regional Conference at the Institute for Population and Social Research, Mahidol University, Bangkok, Thailand. This time, it will be on display from 28 March to 9 April 2023 at the Corner Space on the 1st floor of BACC and will be accompanied with a panel discussion on 4 April 2023 at SEA Junction.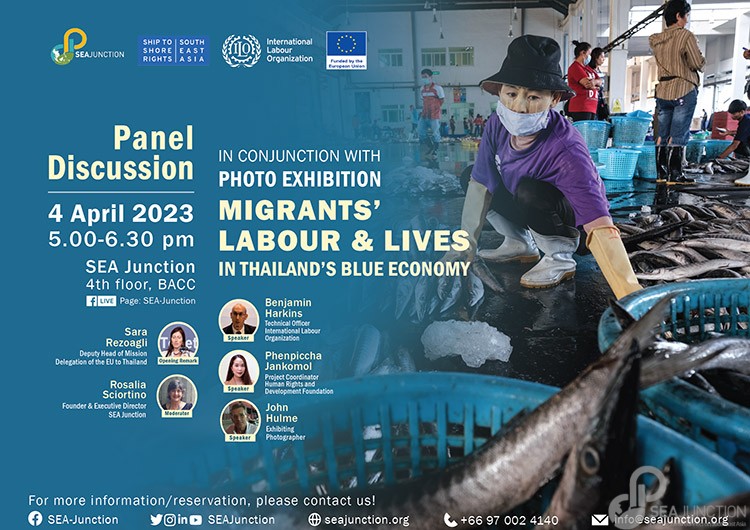 For more information/reservation, please email: info@seajunction.org or phone/wa: +66970024140
Organizers
SEA Junction, established under the Thai non-profit organization Foundation for Southeast Asia Studies (ForSEA), aims to foster understanding and appreciation of Southeast Asia in all its socio-cultural dimensions, from arts and lifestyles to economy and development. Conveniently located at Room 407-8 of the Bangkok Art and Culture Centre or BACC, SEA Junction facilitates public access to knowledge resources and exchanges among students, practitioners and Southeast Asia lovers. For more information, see www.seajunction.org, join the Facebook group: http://www.facebook.com/groups/1693058870976440/ and follow us on Twitter and Instagram @seajunction
Ship to Shore Rights South East Asia is a multi-country, multi-annual initiative of the European Union (EU) and the United Nations (UN), implemented by the International Labour Organization (ILO) in collaboration with International Organization for Migration (IOM) and United Nations Development Programme (UNDP). Its overriding objective is to promote regular and safe labour migration and decent work for all migrant workers in the fishing and seafood processing sectors in South East Asia. ​​ More information, see https://shiptoshorerights.org/.
International Labour Organization (ILO) is a United Nations agency whose mandate is to advance social and economic justice through setting international labour standards. More information, see https://www.ilo.org/.