Screening drama-documentary #BKKY
18 August, 2018 @ 5:00 pm

-

7:00 pm
On 18 August at 5PM, SEA Junction will screen #BKKY, a drama and documentary on Bangkok youth. The film is based on interviews of 100 Thai teenagers of diverse gender identity and sexual orientation, who are transitioning from high school to university. In the interviews, they frankly discuss about their experiences, personal life, and growing up in Bangkok. Topics include loss of virginity, gender fluidity, same-sex relationships, parenting and hopes for the future.
From this rich and candid research material, the director, Nontawat Numbenchapol, creates a fictional composite character of a 17-year-old high school student called Jojjo. In the 75-minutes film, Jojo engages in a lesbian flirtation with fellow female student Q and soon complications and confusion set in. As reviewer Kuiper puts it "Much is written these days about the roles of gender identity and sexual orientation in contemporary youth rebellion. #BKKY makes a valuable contribution to the discussion, with spirited testimonials from young people with no inhibitions about who they are and how they view the world around them." (see further https://variety.com/2016/film/reviews/bkky-review-1201883595/)
The film premiered in October 2016 at the Busan International Film Festival before it received the Jury Award for best feature-length film from Lesbisch Schwule Filmtage Hamburg, Germany.
Although the film is not new, SEA Junction interest is in discussing more #BKKY's unique exploration of being young in Bangkok and the expressions of youth sexuality and gender fluidity in a Thai context.
After the screening a Q &A session will be held with the director Nontawat Numbenchapol.
Director Profile
Nontawat Numbenchapol is a Thai film director and television screenwriter (born in Bangkok in 1983), who graduated from the Visual Communication Design Department, Faculty of Art and Design, Rangsit University. He is recognized for his documentary work and has frequently collaborated with Cannes Palm d'Or winner Apichatpong Weerasethaku. Projects include "Uncle Boonmee Who Can Recall His Past Life" (stills photographer), "For Tomorrow, for Tonight" (cinematographer), "Fireworks (Archives)" (project manager), and "Cemetery of Splendor" (documentary making-off).
In 2013, Numbenchapol finished his first documentary film "Boundary", funded by Busan International Film Festival and Art Network Asia, for which he received the Young Filmmaker award from the Bangkok Critics Assembly. The film depicts point-of-views of local people at the Thai-Cambodia border. In the same year Numbenchapol completed his second documentary "By the River" about the Klity villagers affected by water lead contamination, which became the first Thai film to receive the Special Mention award from the Locarno International Film Festival. ##BKKY is his third documentary.
Cast & Crew
Director: Nontawat Numbenchapol
Producer: Laddawan Rattanadilokchai
Cast: Ploiyukhon Rojanakatanyoo; Anongnart Yusananda; Jeff Watson Kiatmontri; Kesavatana Dohrs
Screenplay: Nontawat Numbenchapol
Cinematography: Abhichon Rattanabhayon
Art Director: Songvut Limmahakhun, Solod Charoensri
Editor: Wasunan Hutawet, Nontawat Numbenchapol
Sound: Nopawat Likitwong
Music: Vichaya Vatanasapt
Official trailer: https://www.youtube.com/watch?v=k-PRUWOaLKk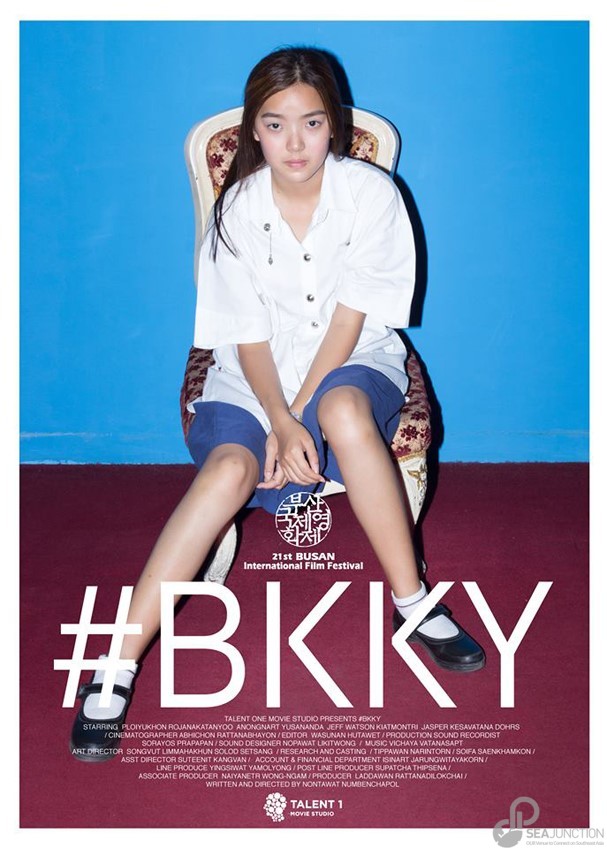 For information/reservation for our events please email southeastasiajunction@gmail.com or phone/wa: +66970024140
NB: Events are free, but donation most welcome!
Organizer:
SEA Junction, OUR Venue on Southeast Asia
SEA Junction aims to foster understanding and appreciation of Southeast Asia in all its socio-cultural dimensions –from arts and lifestyles to economy and development. Conveniently located at Room 408 of the Bangkok Arts and Culture Centre or BACC (across MBK, BTS National Stadium) SEA junction facilitates public access to knowledge resources and exchanges among students, practitioners and Southeast Asia lovers. For more information see www.seajunction.org and join the Facebook group https://www.facebook.com/groups/1693055870976440/
Related Events