The 6th AASIC at Mae Fah Luang University: Call for Abstract
8 November, 2018

-

10 November, 2018
Deadline : 31 July 2018
Duration : 8-10 November 2018
Venue : Mae Fah Luang University, Chiang rai , Thailand
Organizer : Mae Fah Luang University
Asian Academic Society International Conference (AASIC) is an annual conference organized by Indonesian Student Association in Thailand (Permitha) and fully supported by KBRI Bangkok.
In 2018, the 6th AASIC will be held on 8-10 November 2018 at Mae Fah Luang University, famous for its title "the most beautiful university in Thailand". Located in the northern-most hill of Thailand in Chiang Rai, the campus is located in a spectacular setting of mountains and trees, spanning more than 800 hectares.
The 6th AASIC will hold a central theme: "A Transformative Community: Asia in Dynamism, Innovation, and Globalization".
Following the trace of Thailand 4.0 concept, the international conference aims to understand the pattern of transformation occurred not only in Thailand, but also in ASEAN and global world in particular. To achieve recognition, The 6th AASIC will be divided into some sub-themes as follow:
1. Nursing, Medical, Dentistry, Health Sciences, Anti-Aging
2. Laws, Arts, Humanity
3. Engineering, Natural Science, and Technology
4. Food, Industry, Hospitality, and Management
5. Other topics related to the theme.
We invite all students, scholars, academician, and researchers around the world to participate in this prestigious event and submit your abstract NOW.
Special price is available for members of PERMITHA (all Indonesian students who study in universities in Thailand). For MFU students and staffs, the event is FREE to participate! For more information, please open our website at:
aasic6mfu.com
or reach us personally at:
aasic6mfu@gmail.com
.
Welcome to Mae Fah Luang University, welcome to the beauty of northern Thailand.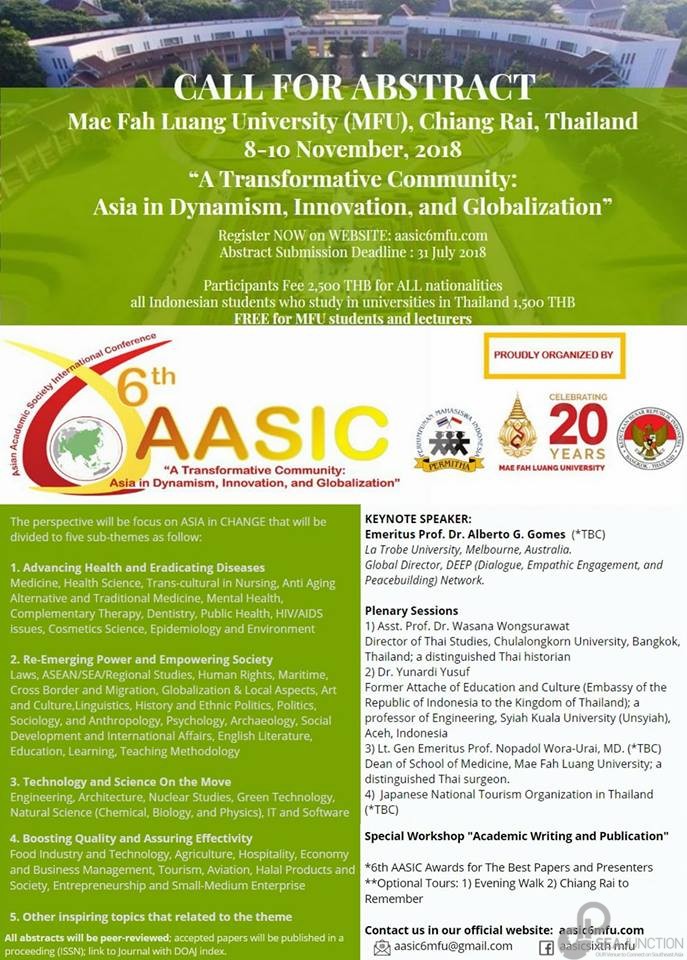 Related Events