Author: Yegar Sahaduta Gorbianta*
It baffles me sometimes when people ask what food could represent Indonesian culinary experience. Not because we have none, but because we have too many kinds. Each island, each ethnic group, each province is known for a particular kind of food with characteristic taste and unique way of preparation and cooking. With its 17,508 islands, over 300 ethnic groups, and 34 provinces, it's hard to find a single dish that can represent Indonesia as a whole.
Take one example, Rendang, namely the slow cooked beef marinated in herbs and coconut milk until it becomes tender and full of flavor. While famous internationally as an Indonesian dish it actually originates from Padang, West Sumatra and has later spread to other locations. On its own, it barely covers the great diversity of Indonesian culinary experience.
It takes some hard thinking before we can identify some dishes all Indonesians consume no matter their cultural and ethnic differences: Kerupuk (deep fried crackers) and Sambal (chilli paste). Both these foods are rarely eaten as a standalone dish, but rather serve as complement for other kind of foods all across the archipalago. Still, it does not imply that diversity is lacking. On the contrary Kerupuk varies greatly in shape, color, the type of starch and the ingredients used to give flavor.
Same with Sambal. The basic ingredient of Sambal is chili made into a paste and then eaten with rice as a tasty condiment to eat another food, but there are hundreds of varieties.
Different kind of chili will give you different level of spiciness, in the same way, each different kind of ingredients mixed into a Sambal will also create a new and unique characteristic. Looking deeper into the different variations of sambal from different part of Indonesia, you could tell the story and cultural background of that area. Place with excellent sea product could produce the best kind of shrimp and create the best kind of Sambal Terasi, and in other area where anchovies are their finest product you could create the best kind of Sambal Teri. From aromatic Sambal Matah made from a specific kind of flower (or can also replaced by lemongrass) which usually served in the similar form of Lawar; Sambal Petai made from stinky beans that gives a spicy fragrant, slightly bitter, and savory taste; until Sambal Timor with a dominant salty taste, spicy, and a bit of sour from local fruit ingredients called belimbing wuluh. Its differences tell different stories of people who made them and where do they came from. To look further into a complex diversity of Indonesian culture and way of life is a journey and exploration of Sambal.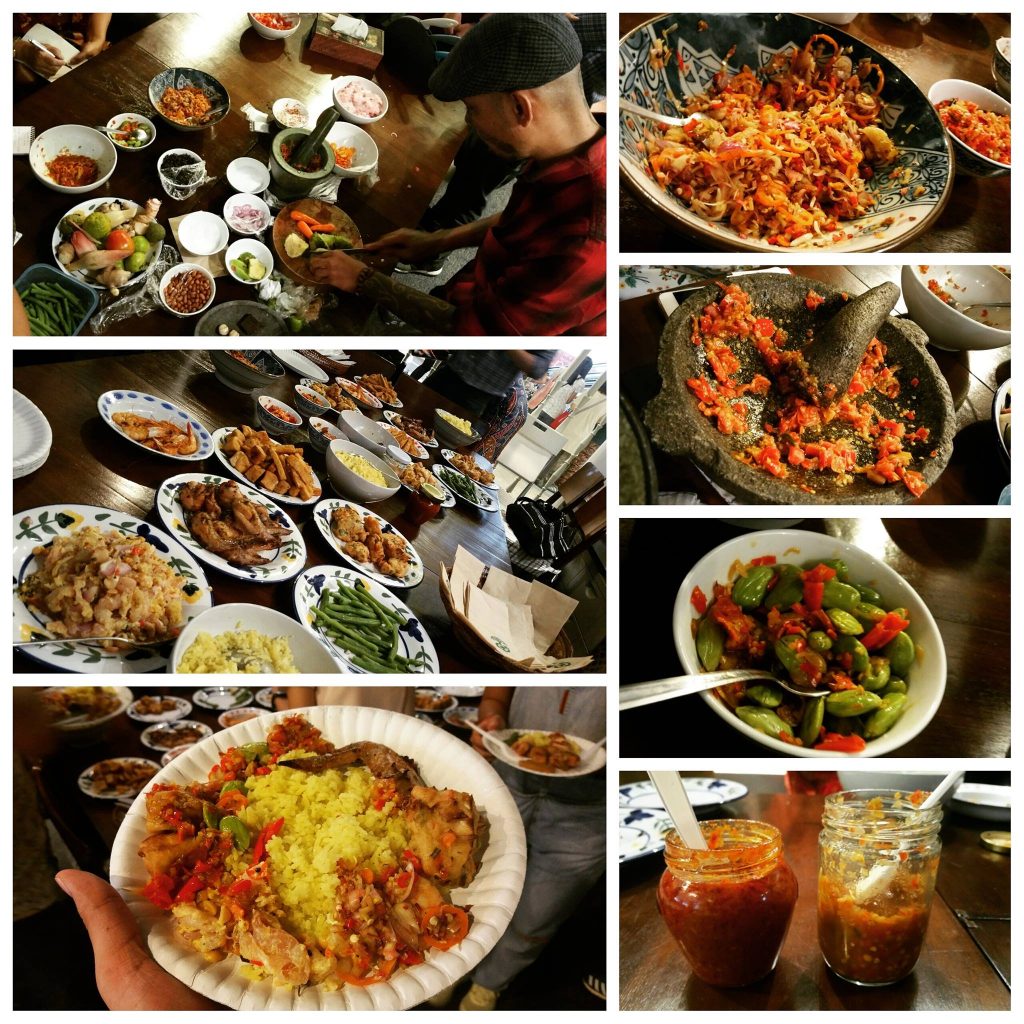 Photo event: Introduction to Indonesian Sambal with Rahung Nasution @ SEAjunction. Sunday, 4th September 2016.
* Yegar Sahaduta Gorbianta currently works in one of the private hospital in Bangkok as an Indonesian cultural liaison. He writes mainly about daily urban city life and various social issues.