Dear Partners and Friends of SEA Junction,
This month is dedicated to refugees in the region with an art exhibition of bodymap paintings by urban refugees in Bangkok, a panel on refugees' mental health and possible interventions, and a special offer of refugee art for sale at our monthly Southeast Asia mini book and craft fair. These related events are part of the series "Displaced and Uprooted in Southeast Asia", ongoing since last year in collaboration with the TIFA Foundation.
Monthly activities also include a learning exchange between participants from the Philippines and Thailand on sexual and reproductive health in Southeast Asia and the continuation of our series on street food (in collaboration with Beyond Food) with a panel discussion on street vendors and the right to the city.
I also include here the link to an article I have recently written on ASEAN for the Jakarta Post that is now available in the Opinion section on our website: The Unspoken Challenges of ASEAN – SEA Junction In the same section are other recent short articles on various topics.
We hope you will find our monthly program of interest. We count on your participation and help to share information about our events within your networks. If you would like to support us, please click at the box below.
We look forward to your continued engagement in expanding the space for public discourse in Southeast Asia.
Best regards,
Lia Sciortino Sumaryono
Founder and Executive Director SEA Junction
Southeast Asian LEARNING EXCHANGE on
Sexual and Reproductive Health (Closed Event)
March 5 @ 2:00 pm – 5:00 pm
The Forum for Family Planning and Development, Inc of the Philippines is organizing a week-long study tour for Pilipino participants consisting of local government officers, civil society activists and service providers to learn about effective strategies and good practices in implementing sexual and reproductive health programs in Thailand and more generally Southeast Asia. SEA Junction will facilitate a comparative panel on this topic for the group.
For more, see: http://seajunction.org/event/southeast-asian-learning-exchange-on-sexual-and-reproductive-health-closed-event/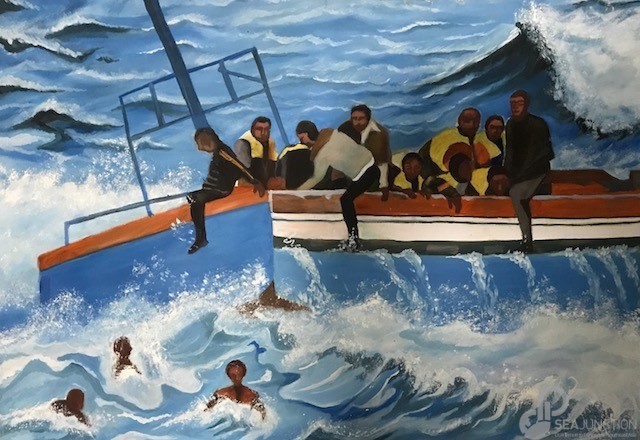 Southeast Asia Mini Book and Craft Fair
23-24 March 2019 @ 11:00 am – 7:00 pm
Once a month, SEA Junction holds a mini book and craft fair focusing on Southeast Asia. Taking the lead from the ongoing exhibition "Inside Out", special this month, we'll showcase the work of Asmeret, an urban woman refugee from Eritrea currently living in Bangkok. The paintings she made while in detention and after will be on offer for modest donations. We hope to raise funds and help Asmeret cover her living costs while in Thailand.
For more, see: Special Southeast Asia Mini Book Fair with Offer of Refugee Art – SEA Junction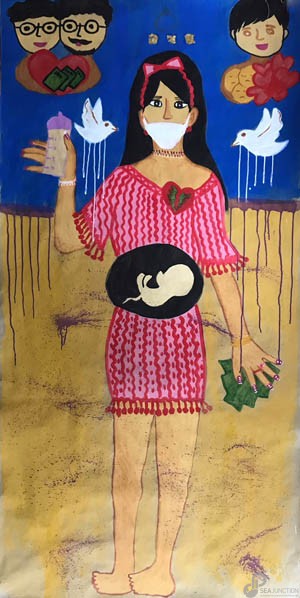 Exhibition "Inside Out; Refugees' Bodymaps in Bangkok"
19-31 March 2019 @ 11:00 pm – 7:00 pm
Closing Panel "Surviving Trauma and Insecurity"
30 March 2019 @ 5:00 pm – 6:30 pm
"Inside Out," a display on the curved wall of the 4th floor of the Bangkok Art and Culture Center (BACC) will exhibit "bodymap" or self-representation paintings by urban refugees living in Bangkok. To close the event, a panel discussion will address mental health among refugees and possible ways to strengthen their resilience to cope with trauma and insecurity.
For more, see: Exhibition "Inside Out; Bodymaps of Bangkok Refugees" – SEA Junction and http://seajunction.org/event/surviving-trauma-and-insecurity-closing-panel-of-the-inside-out-bodimaps-of-bangkok-refugees-exhibition/
Panel Discussion on Street Vendors and the Right to the City
29 March 2019 @ 6:30 pm – 8:00 pm
This panel will focus on the rights of street vendors, especially of food, to be active members of the city of Bangkok. Their contributions, needs, and voices ought to be acknowledged and incorporated into urban policies to achieve an inclusive and sustainable future for Bangkok. Detailed information soon to be provided on our website www.seajunction.org
For information/reservation for our events
please email southeastasiajunction@gmail.com
phone/wa: +66970024140
About SEA Junction, OUR Venue on Southeast Asia
SEA Junction aims to foster understanding and appreciation of Southeast Asia in all its socio-cultural dimensions –from arts and lifestyles to economy and development. Conveniently located at Room 408 of the Bangkok Arts and Culture Centre or BACC (across MBK, BTS National Stadium) SEA junction facilitates public access to knowledge resources and exchanges among students, practitioners and Southeast Asia lovers. For more information see www.seajunction.org and join the Facebook group