2nd SEA Junction Anniversary Mini-Bazaar
23 June, 2018 @ 10:00 am

-

24 June, 2018 @ 7:00 pm
After another eventful year, we are proud to announce our 2nd Year Anniversary on 25 June 2018!
A lot has happened in this biennium and the number of people who participate in our events on various topics related to Southeast Asia, consult our library and follow us on social media continues to grow. So does the variety of the events ranging from book launches and fairs, movie screenings, public lectures, arts and crafts workshops, music concerts and panel discussions. Most importantly, we are now officially registered as a Thai Foundation with the Ministry of Education as the Foundation for Southeast Asia Studies.
As we celebrate our accomplishment, we also reflect on how SEA Junction can better fulfill its function as a knowledge and interaction hub for the region and broaden our reach to a wider audience. Learning from the past 2 years, we hope we can encourage more people with a variety of backgrounds and interests to not only utilize SEA Junction's resources but also contribute to the vast and ever-growing network of ideas and resources that highlight the region's diversity.
For the anniversary, we are planning on a two day-mini bazaar on 23 and 24 June 2018 with a special sale of 2nd hand books n Italian (especially "gialli"), a panel discussion on the SEZs in the Greater Mekong Sub-region, and the annual meeting for our Founding and Enabling Partners, donors, and volunteers.
SEA Junction 2nd Year Celebration
Date
Time
Place
Description
23-24 June
All day
SEA Junction
Mini Bazaar

Anniversary sale of books, glass paintings, photos, crafts and other goods donated to SEA Junction for fund raising purposes. Special sale of Italian books (in Italian), especially detective books or 'gialli'

NB: Main Mini-Bazaar on Sunday!

23 June
5:30 pm
SEA Junction
SEZs in the Greater Mekong Sub-region: A Win-Win Solution?
25 June
5PM-9PM
Director's Home
Reflections on the 2nd Year of SEA Junction and dinner with Founding Partners, contributors and volunteers (closed event)
The Mini Bazaar is meant to raise funds for SEA Junction to enable us to continue our activities. We also would like to take this occasion to make a special call for those who appreciate our work to become Enabling Partners (with a donation of minimum US$2,500 or US$900 a year for 3 years) or a Friend of SEA Junction with no minimum amount specified (for more information click http://seajunction.org/about-us/enabling-partners/ and http://seajunction.org/about-us/friends-of-sea-junction/). Donations can be easily made on our website with Paypal, with bank transfer at the bank below or in person at SEA Junction.
SHOW YOUR SUPPORT, DONATE TO SEA JUNCTION ON OUR 2nd ANNIVERSARY
For Paypal payment please click http://seajunction.org/how-to-engage/donation/
For bank transfers please transfer to the Foundation's account:
Bank: TMB
Account Name: Foundation for Southeast Asia Studies
Account Number: 043-7-18114-2
Bank Branch: MBK Center
SWIFT Code: TMBKTHBK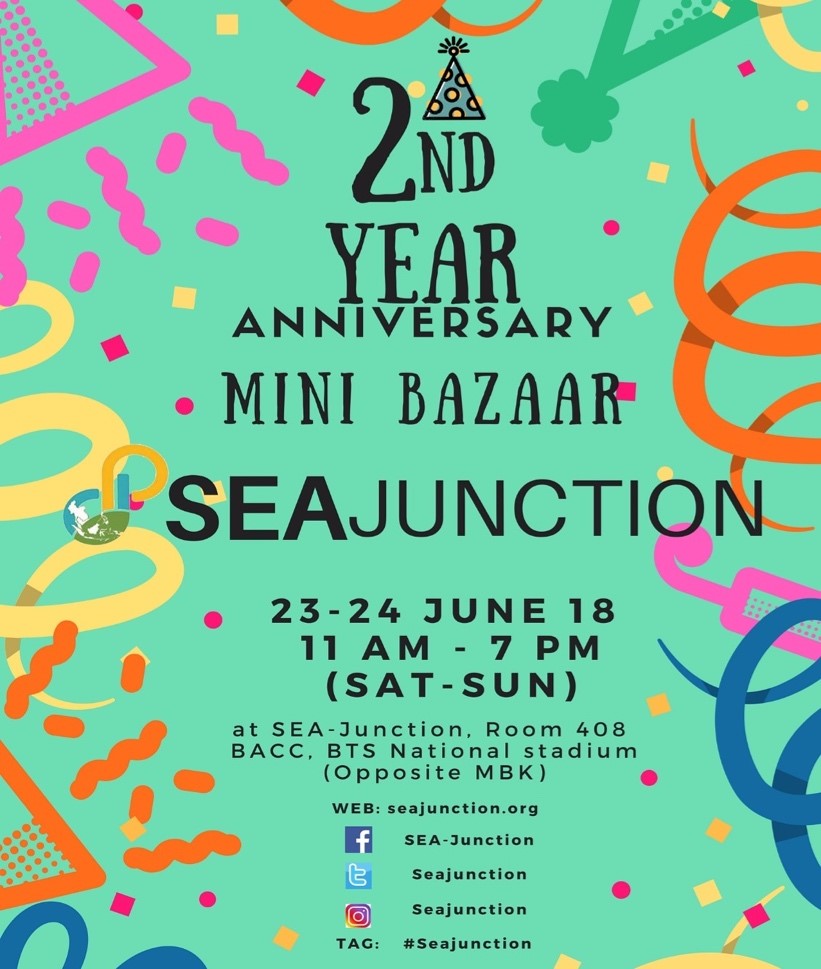 For information/reservation for our events please email southeastasiajunction@gmail.com or phone/wa: +66970024140
NB: Events are free, but donation most welcome!
Organizers:
SEA Junction, OUR Venue on Southeast Asia
SEA Junction aims to foster understanding and appreciation of Southeast Asia in all its socio-cultural dimensions –from arts and lifestyles to economy and development. Conveniently located at Room 408 of the Bangkok Arts and Culture Centre or BACC (across MBK, BTS National Stadium) SEA junction facilitates public access to knowledge resources and exchanges among students, practitioners and Southeast Asia lovers. For more information see www.seajunction.org and join the Facebook group https://www.facebook.com/groups/1693055870976440/
Related Events