Accompanying Exhibition Event "Defiant Art: A Year of Resistance to the Myanmar Coup in Images"
22 January, 2022 @ 4:30 pm

-

6:30 pm
The exhibition "Defiant Art: A Year of Resistance to the Myanmar Coup in Images" will be accompanied with an event on 22 January 2022, 4:30-6:30 pm at SEA Junction, 4th floor, Bangkok Art and Culture Center (BACC).
Speakers:
Jorn Middelborg, CEO of Thavibu Art Advisory
Looking back: art of resistance in Myanmar
Timothy Tint, Artist
Finding a role as an artist
Ma Hnin, Oakkahta
Support of artists in Myanmar and across the border
Tara Abhasakun, Independent Journalist
Meanwhile, in neighboring Thailand.
The flute music will be performed at the beginning and end of the event by Cecilio Songsak Ngamsri (Patrick) – Chapel Master, Flutist and Organist, Co-Culture Ensemble.
Following the discussion, Burmese canapés by Miss Lunatics will also be served.
Exhibition Description
Since 1 February 2021, Myanmar has been in turmoil as the Myanmar Army, known as the Tatmadaw, detained State Counselor Aung San Suu Kyi and President Win Myint following a general election which Suu Kyi's NLD party won by a landslide. The coup d'état led by General Min Aung Hlaing brought an end to a decade of semi-democratic rule and returned full power to the military, a state of emergency and gross human rights abuses. Courageously, the population has been resisting and demanding the release of the imprisoned leaders, as well as a booming number of prisoners and the restoration of democratic rule. A massive civil disobedience movement has emerged and hundreds of thousands continue to take to the streets in spite of the military's use of lethal force against protesters. Amidst the failure of the international community to take action, atrocities are being committed on an increasing scale, with the opposition National Unity Government (NUG) in exile resorting to form the People Defence Force and justify armed resistance. As of 8 January 2022, 1447 people are confirmed killed by the junta coup and a total of 8468 people are currently under detention. In total, 78 people are sentenced to death, in person and absentia, including two children.
As the anniversary of the coup on 1 February 2022 approaches, SEA Junction in collaboration with Art for Freedom (Myanmar), now known as Raise Three Fingers (RTF), and Asia Justice and Rights (AJAR) is holding a creative exhibition on 18-30 January 2022 from 11AM to 7PM in solidarity with the uprising movement in Myanmar. A series of 13 boards with text illustrated by artworks by artists from Myanmar and beyond, commemorating and contesting the key events in the course of the year, will be displayed on the curved wall on the 4th floor of the Bangkok Art and Culture Center (BACC). Together, the boards form a history in images of the evolving political situation in Myanmar—economic and social impacts have also been huge, but are not the focus of the exhibition—highlighting the importance of art to raise awareness, chronicle what is happening and encourage resistance.
The boards were adapted, enriched and updated from an exhibition and fundraising event held in London last August. The artworks are from the archives of Art for Freedom as well as from the many that have been circulating on social media, including posters and memes. Whenever possible, the artist has been recognized, but we remain grateful to the many who cannot be named for security reasons or who we were not able to identify (if you recognize your work and wish to be identified please let us know) The variety and number of artworks is impressive, testifying to the creative power the resistance to the coup has unleashed, but due to limited time and space we could not include all those we admired. We do hope, the exhibition serves to keep the public informed and inspires people to search independently for visual and textual updates, and, most importantly, feel motivated to support what has become a global artists' movement against the Coup.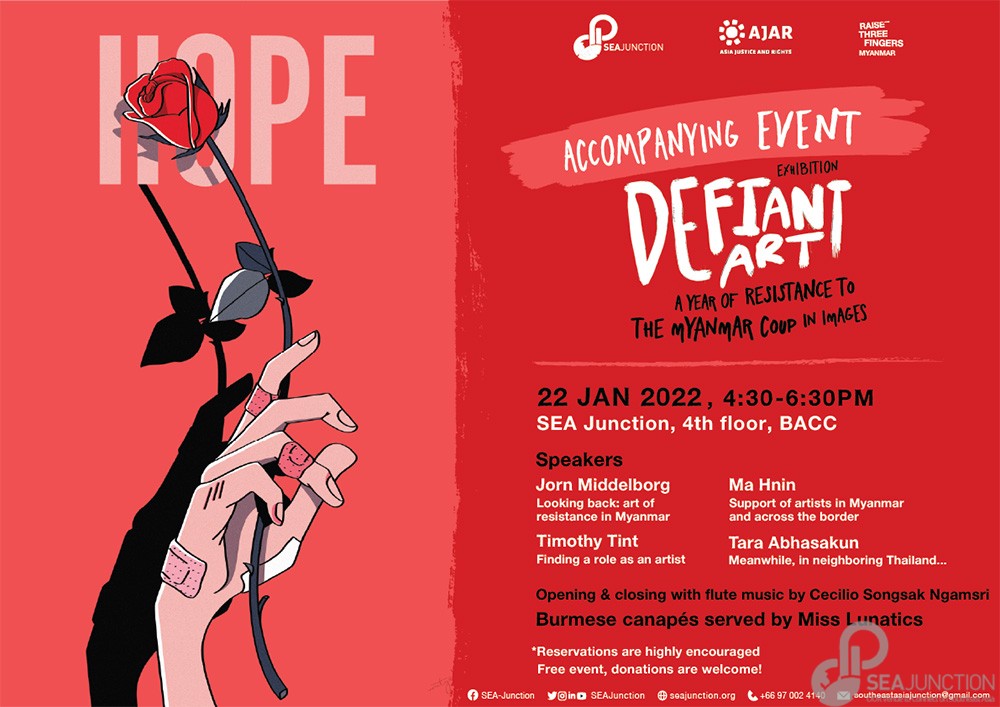 For information/reservation for our events, please email southeastasiajunction@gmail.com or phone: +66970024140
NB: Events are free, but donations are most welcome!
Organizers:
SEA Junction
SEA Junction, established under the Thai non-profit organization Foundation for Southeast Asia Studies (ForSEA), aims to foster understanding and appreciation of Southeast Asia in all its socio-cultural dimensions, from arts and lifestyles to economy and development. Conveniently located at Room 408 of the Bangkok Arts and Culture Center or BACC (across MBK, BTS National Stadium), SEA Junction facilitates public access to knowledge resources and exchanges among students, practitioners and Southeast Asia lovers. For more information, see www.seajunction.org, join the Facebook group: http://www.facebook.com/groups/1693058870976440/ and follow us on Twitter and Instagram @seajunction
Asia Justice and Rights (AJAR)
AJAR is a non-profit organization, based in Jakarta, Indonesia, whose aim is to contribute to the strengthening of human rights and the alleviation of entrenched impunity in the Asia-Pacific region. Its work focuses on countries involved in transition from a context of mass human rights violations to democracy, where it strives to build cultures based on accountability, justice and a willingness to learn from the root causes of mass human rights violations to help prevent the recurrence of state-sanctioned human rights violations. For more information, see www.asia-ajar.org.
Raise Three Fingers (RTF)
RTF, formerly known as Art for Freedom Myanmar is a campaign hub founded by artists and creatives in Myanmar to bring the global art community together and highlight the unfolding human rights and humanitarian crises caused by the military coup on February 1 2021. For more information see www.threefingers.org.
Related Events