Art Workshop "Play with Paint" by Indonesian Painter Erica
9 September, 2018 @ 1:00 pm

-

4:00 pm
February last year painter Erica Hestu Wahyuni provided a series of painting classes for both children and adults to introduce them to her colorful world.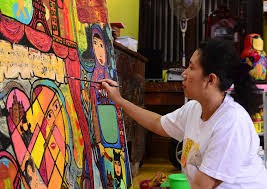 Erica is well-known in Indonesia and internationally as "Art's Most Playful Child" because of her distinct, expressive character and naive paintings, hundreds distributed among collectors and galleries in the country and abroad. Taking advantage of her presence in Thailand for a commissioned art work, SEA Junction will hold a workshop on Sunday 9 September 1-4 PM.
The workshops are open to both children and adults. Registration by writing to southeastasiajunction@gmail.com is required, as the workshop will be limited to about 15 participants. A fee of 750 TBH will be charged for acrylic colors, small canvas and other painting material. If participants wish large canvas, they can bring in addition.
Artist Brief Bio
Born in Yogyakarta, Java in 1971, Erica started painting in primary school, joining a children's drawing club (Sanggar Katamsi), which was taught by Suharto PR and Herry Wibowo – both established painters. Later she studied painting at the prestigious Indonesian Fine Art Institute in Yogyakarta, Indonesia and Surikov Institute of Art, Russia. In 1993, her work was selected for the International Triennale Competition of Painting in Osaka, Japan. Erica held her first solo exhibition at the Purna Budaya in 1995, officiated by the sultan of Yogyakarta, which turned out to be a successful event. Since then she has exposed all over the world most recently in Austria and Vietnam.
Erica's naive, playful renditions have ascertained her reputation as one of the most sought-after contemporary artists in South East Asia. Each work contains interesting narrative qualities, which reveal the worldview of the artist. Typically, Erica depicts her own experiences in scenes that feature main characters within extremely busy environments. She uses simple deformed shapes and brilliant primary colors to further enhance the sense of animation, and as a result her paintings appear to be fun and enjoyable. For more info on Erica see https://www.whiteboardjournal.com/interview/1521/erica-hestu-wahyuni-artist/
Organizer:
SEA Junction, OUR Venue to Connect on Southeast Asia (see seajunction.org)
SEA Junction aims to foster understanding and appreciation of Southeast Asia in all its socio-cultural dimensions –from arts and lifestyles to economy and development. Conveniently located at Room 408 of the Bangkok Arts and Culture Centre or BACC (across MBK, BTS National Stadium) SEA junction facilitates public access to knowledge resources and exchanges among students, practitioners and Southeast Asia lovers. For more information see seajunction.org and join the Facebook group https://www.facebook.com/groups/1693055870976440/
Related Events