Book Launch "Ensuring a Square Meal: Women and Food Security in Southeast Asia" by Theresa W. Devasahayam
1 December, 2018 @ 5:00 pm

-

6:30 pm
As of 2017, 124 million people are estimated to be chronically undernourished. United Nations estimates reveal that 67 percent of those in need of adequate and nutritious food all year round come from Asia. Recent decades have seen escalating prices for food, with the poor, women and children suffering the most. Households led by women are of greatest concern since they tend to be poorer compared with male-headed households. In our quest to achieve food security for all, should women's role be considered a key dimension? It is a near universal that social and cultural norms posit women as the gatekeepers of food in the family – a role bound up with their place as primary caregiver. But women's role in food security should not be confined to the notion that "women belong to the kitchen"; in fact, throughout history and in much of the developing world today, women play an integral role in food production as farmers. For that reason, women are more likely to report food insecurity compared with men. In Thailand, for example, women are responsible for about half of the work involved in field crop cultivation, horticulture, plant protection and harvesting, and almost 80 per cent of soil improvement. Yet their access to food is never guaranteed because they do not always control the land they cultivate.
These issues will be at the core of the talk on 1 December at 5:00 pm by Theresa W. Devasahayam in conjunction with the launch in Thailand of her book Ensuring a Square Meal: Women and Food Security in Southeast Asia. The talk will focus on the critical questions raised in the book relating to women's role in food security in the family and its implications for safeguarding the well-being of members of the household especially children; women's role in agriculture and food production; and state constructions of women's role in food production in the family and community. As in the book, the discussion underscores the point that women's caregiver and by extension food provisionary role in the private sphere (that is, in the home) and their role in food production as workers (in this case, on the farm) are not distinct from each other but rather these roles and spheres overlap.
The talk is the second event in a series focusing on various dimensions of women leadership in Southeast Asia in collaboration with Partners Asia (see below). The first was on digital literacy for women and the next, planned for a couple of months from now, will take stock of the women movements in the region.
Brief Bio
A researcher of gender issues in Southeast Asia and consultant for international development projects, Theresa W. Devasahayam holds a PhD from Syracuse University, New York, U.S.A and has published in various venues from academic books and journal articles to different newspaper outlets. Among her selected books are: Health Rights of Older Persons: Comparative Perspectives in Southeast Asia (Routledge, 2018) (co-edited with Long Thanh Giang); Gender and Ageing: Southeast Asian Perspectives (Institute of Southeast Asian Studies, 2014); and Gender, Emotions and Labour Markets: Asian and Western Perspectives (Routledge, 2011) (co-authored with Ann Brooks). She has also been cited for her views on women, the family, and ageing in Singapore and the Southeast Asian region by Bloomberg and CNN.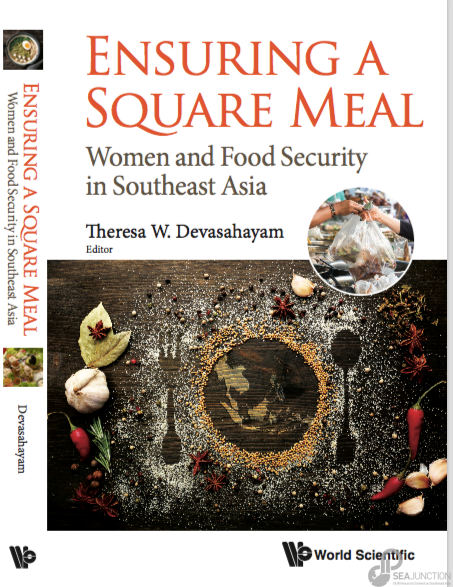 For information/reservation for our events please email southeastasiajunction@gmail.com or phone/wa: +66970024140
NB: Events are free, but donation most welcome!
Organizers
SEA Junction, OUR Venue on Southeast Asia 
SEA Junction aims to foster understanding and appreciation of Southeast Asia in all its socio-cultural dimensions –from arts and lifestyles to economy and development. Conveniently located at Room 408 of the Bangkok Arts and Culture Centre or BACC (across MBK, BTS National Stadium) SEA junction facilitates public access to knowledge resources and exchanges among students, practitioners and Southeast Asia lovers. For more information see www.seajunction.org and join the Facebook group https://www.facebook.com/groups/1693055870976440/
Partners Asia, Connecting Local Leaders with Global Resources
Partners Asia has traditionally supported community initiatives to improve the lives of Myanmar's most vulnerable in Myanmar and across the border, and now is starting to explore grant-making opportunities also in other countries in Southeast Asia. Partners Asia builds relationships with innovative community organizers and with international donors to help bridge the gap between local leaders and global resources. For more information see http://partnersasia.org
Related Events