Burma Spring: Poetry & Photography in Resistance
29 November, 2022 @ 6:00 pm

-

7:30 pm
Authoritarian rulers the world over have demonstrated time and again their holy terror of the subversive. The lengths to which they will go in order to silence or exterminate writers, artists and intellectuals is proof positive. We have seen time and again how feared and hated are people who dare to question and challenge, to speak out and act out in defiance of oppression. We are seeing it today in Myanmar, formerly known as Burma. Since the February 2021 coup and the consequent Spring Revolution, the military government has cracked down with excessive force, hunting down, imprisoning, beating to death, burning alive, or simply disappearing its victims with impunity. Unsurprisingly, the earliest victims of military violence were poets, artists, and entertainers – the usual suspects in totalitarian states. What's telling, however, was that these 'threats to public security' in the Myanmar Spring weren't targeted for their ideas or aesthetics. They were targeted because they served as foot soldiers at the frontlines of protest. They were among the unarmed protesters who took to the streets day after day, who braved the bullets and manned the barricades, in the almost certain knowledge that for them the battle could only end in death, or worse. This is why poets were martyred in the early Myanmar Spring; they were literally living out Diego Rivera's dictum that "the role of the artist is that of the soldier of the revolution." (Excerpt from the book introduction by Wendy Law-Yone)
The book Burma Spring presents 14 poets and 7 photographers from Myanmar and Rohingya ethnic group, in exile, imprisoned or killed by the army during the military coup in February 2021. Others are forced to hide their identity. Their works are testimonies of shock, anger and determination. The poems and images selected bear witness to a profound revolution – of spirit, mind, and heart – now known as the Myanmar Spring.
The book will be launched with an artist talk on the occasion of International Women Human Rights Defenders Day on 29 November, 6 pm at SEA Junction, 4th floor, Bangkok Art and Culture Centre (BACC). Organized by the Embassy of Luxembourg, SEA Junction and Intersections Gallery, the book editor Mayco Naing will be joined with Thai performance artist Kawita Vatanajyankur in a discussion moderated by Marie-Pierre Mol. Some photographs from the book will also be on display at SEA Junction from 22 to 29 November 2022.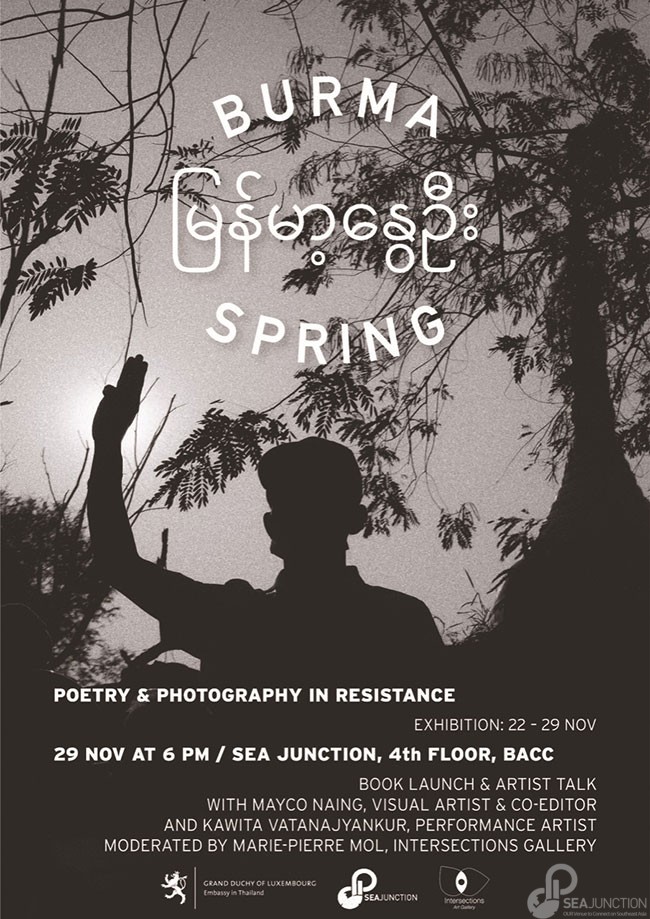 Organizers:
The Embassy of Luxembourg in Bangkok has regional responsibilities and covers the following territories: Indonesia, Laos, Malaysia, Myanmar, Singapore, Thailand and Vietnam. For more information, please see https://bangkok.mae.lu/.
SEA Junction, established under the Thai non-profit organization Foundation for Southeast Asia Studies (ForSEA), aims to foster understanding and appreciation of Southeast Asia in all its socio-cultural dimensions, from arts and lifestyles to economy and development. Conveniently located at Room 408 of the Bangkok Arts and Culture Center or BACC (across MBK, BTS National Stadium), SEA Junction facilitates public access to knowledge resources and exchanges among students, practitioners and Southeast Asia lovers. For more information, see www.seajunction.org, join the Facebook group: http://www.facebook.com/groups/1693058870976440/ and follow us on Twitter and Instagram @seajunction
Intersections Gallery was founded in Singapore in November 2012 with the mission to bridge diverse cultures through the arts. Intersections represents both established and emerging artists, mostly based in Southeast Asia, with a primary focus on the emerging market of contemporary Burmese art. It was co-founded by Marie-Pierre Mol who is an art historian specialised in contemporary art from Myanmar. For more information, please see https://www.intersections.com.sg/.
Related Events