Dialogue Forum 2 Year 3 (in Thai): Weather Extremes
September 29 @ 10:30 am

-

1:00 pm
In times when society has become widened with gaps and differences of views and opinions, one issue could be escalated into a crisis if there are no platforms available for appropriate discussion among all concerned. The media, while informing and inspiring their audience, could also take a role in educating and facilitating the public by providing such platforms, bridging the gap and connecting the dots to create one big picture for better understanding in the society.
Realising such critical roles, Bangkok Tribune, in collaboration with its partners and with the support of Konrad-Adenauer-Stiftung (Foundation Office Thailand), has therefore come up with a monthly forum on issues of importance under the project, Dialogue Forum. This is to facilitate and provide a space for discussions and exchanges of dialogues and views regarding critical social and environmental issues and policies both in Thailand and the Mekong region. It not only bridges the gap but also connects the dots, helping forge better understanding among the parties concerned and the public at large, therefore encouraging them to make a better decision about the issues or even find a common ground and seek solutions together.
Over the past few years, the forum has invited a number of parties to come and discuss the issues at the forum; several of them are scholars and leaders in their fields. They have reached some common grounds while recommendations and new policies have been proposed for issues of importance such as Green Recovery in Post Covid-19, Climate Change policies, biodiversity in crisis, dam development in the Mekong Basin, and others. (See: https://bkktribune.com/dialogue-forum/)
This year, there have been reports of irregular weather events in many parts of the world. While Europe is facing severe drought that has caused several rivers in the continent to extensively dry up, several countries in Asia including Pakistan and Thailand are facing severe flooding. The incidents have prompted several climate experts to come up with serious observations and analyses that weather extremes caused by climate change have consequently arrived. The question is whether governments or people are ready to cope with them.
The Dialogue Forum would cordially like to invite you to delve into such a serious question and explore ways to cope with weather extremes and the changes of climate at the second forum of this year, Dialogue Forum 2 l Year 3: Weather Extremes? (in Thai), on September 29, 2022, 10.30 am-1 pm at SEA-Junction, 4 th Floor, the Bangkok Art and Culture Centre (BACC).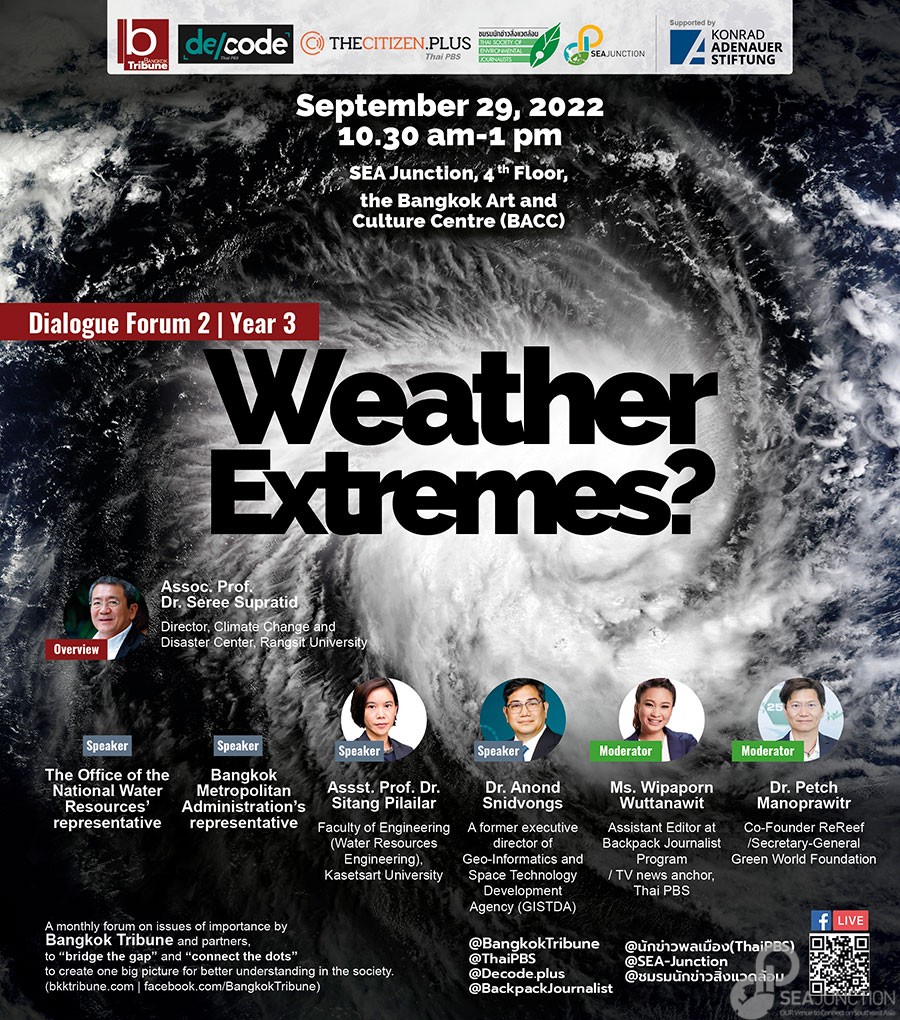 10.30 am
Registration
10.55 am
Welcome remarks and introduction of the forum and topic
11.00 am
Overview: Weather Extremes and the IPCC's Assessments on Climate Change

Assoc. Prof. Dr. Seree Supratid, Director, Climate Change and Disaster Center, Rangsit University

11.10 am
Discussion: Weather Extremes?
Speakers:
1. The Office of the National Water Resources' representative
2. Bangkok Metropolitan Administration's representative
3. Assst. Prof. Dr. Sitang Pilailar, Faculty of Engineering (Water Resources Engineering), Kasetsart University
4. Dr. Anond Snidvongs, a former executive director of Geo-Informatics and Space Technology Development Agency (GISTDA)Moderators:
1. Ms. Wipaporn Wuttanawit, Assistant Editor at Backpack Journalist Program/ TV news anchor, Thai PBS
2. Dr. Petch Manoprawitr, Secretary-General, Green World Foundation and Co-founder of ReReef
12.30 pm
Brainstorming session and Q&A
01.00 pm
Wrap-up and closing
*Prior reservation is encouraged, please message us on FB Messenger: Bangkok Tribune News to reserve your seats
**You can also watch the event live at FB Page: Thai PBS, Decode.plus, Backpack Journalist, นักข่าวพลเมือง (ThaiPBS), Bangkok Tribune News, ชมรมนักข่าวสิ่งแวดล้อม (Thai SEJ), SEA-Junction
Organizers:
Bangkok Tribune is the indie and in-depth online news agency to "explain" and "inspire" people with constructive news reports on development and environmental policies in Thailand and the Mekong region, critical to public decisions, thus truly serving the public interest. For more info, see https://bkktribune.com/.
SEA Junction, established under the Thai non-profit organization Foundation for Southeast Asia Studies (ForSEA), aims to foster understanding and appreciation of Southeast Asia in all its socio-cultural dimensions, from arts and lifestyles to economy and development. Conveniently located at Room 408 of the Bangkok Arts and Culture Center or BACC (across MBK, BTS National Stadium), SEA Junction facilitates public access to knowledge resources and exchanges among students, practitioners and Southeast Asia lovers. For more information see www.seajunction.org, join the Facebook group: http://www.facebook.com/groups/1693058870976440/ and follow us on twitter and Instagram @seajunction
Thai Society of Environmental Journalists (Thai SEJ) is an association of news reporting individuals who strive to report on environmental issues and the impact of climate change both in Thailand and overseas. For more information, see https://www.facebook.com/thaisej.
Decode, Thai PBS, is an online media for citizens of the future who want to see change and become part of the society's solution. It presents carefully crafted issues with attention to conversations, truth and challenging questions in order to pass on the inspiration for collective social action. For more information, see https://decode.plus/.
THECITIZEN.PLUS, Thai PBS, is a public media platform in a web-blog format. It is meant to be a community where active citizens present information, news, stories and situation of Thai society from their own perspective. For more information, see https://thecitizen.plus/.
Konrad-Adenauer-Stiftung (Thailand Office) is a foundation from Germany. Our activities in Thailand aim at strengthening the parliamentary system, economic and social stability, the civil society's decision-making role as well as promoting rule of law, peaceful conflict resolution, and political participation of the people. For more information, see https://www.kas.de/en/web/thailand.
Related Events