Exhibition "Bodymaps for Healing: Seeking Peace in Southern Thailand"
September 5 @ 10:00 am

-

September 17 @ 8:00 pm
Duayjai Group, in collaboration with SEA Junction and Cross Cultural Foundation (CrCF) organized an exhibition titled "Bodymaps for Healing: Seeking Peace in Southern Thailand" between 5 to 17 September 2023 on the curved wall, 4th floor of the BACC.
The showcase will encompass more than 30 bodymaps produced during a therapeutic art program with conflict-affected communities in the Southern part of Thailand. The mental effects of armed conflict, abuses and torture on the victims as well as their families and communities are not always visibly apparent like in the case of physical injuries. They also may not manifest themselves immediately, but rather gradually emerge over time.
Duayjai Group has researched the psychological and social impacts on victims of abuses and tortures and their families and discovered that anxiety, depression, and post-traumatic stress disorder made it impossible for them to reclaim their former lives and also affected their livelihoods. In response, Duayjai Group has been organizing psychological rehabilitation programs using art therapy to help participants to explore and embrace their emotional states, self-awareness, stress management, and the restoration of self-esteem. The colorful artworks to be exhibited in Bangkok were produced through these programs and were previously exhibited in Pattani at the Pattani Art Space and in Songkhla at the University of Prince of Songkhla.
The exhibition aims to raise awareness about the importance of healing for all those who have suffered psychological impacts from violence, and to foster participation among networks in order to develop a support system. It also raises awareness of the importance of effective legal and institutional frameworks for implementing fundamental human rights principles such as torture prevention and prohibition to enable a fair and effective justice system. The United Nations Convention Against Torture and Other Cruel, Inhuman, or Degrading Treatment or Punishment (UNCAT) provides a framework for States to strengthen legislative, policy, and administrative measures to ensure that procedures are taken to prevent and prohibit the crime of torture, including guidelines for investigating, prosecuting, and resolving allegations of torture and other ill-treatment. In Thailand, the Prevention and Suppression of Torture and Enforced Disappearance Act was recently passed, its effective enforcement is still pending.
The exhibition will be launched with a panel discussion on 5 September 2023, 5:00-6:30 pm at SEA-Junction The tentative agenda is as follows:
Moderator
Rosalia Sciortino, Founding Director SEA Junction
Opening remarks
Pornpen Khongkachonkiet, Director of Cross Cultural Foundation
Katia Chirizzi, Deputy Representative of the Regional Office for South East Asia of the Office of the High Commissioner for Human Rights (OHCHR)
Panel discussion
Gerda Liebmann, Artist
Anchana Heemmina, Director of Duayjai Group
Rangsiman Rome, Member of House of Representatives
Victims' representative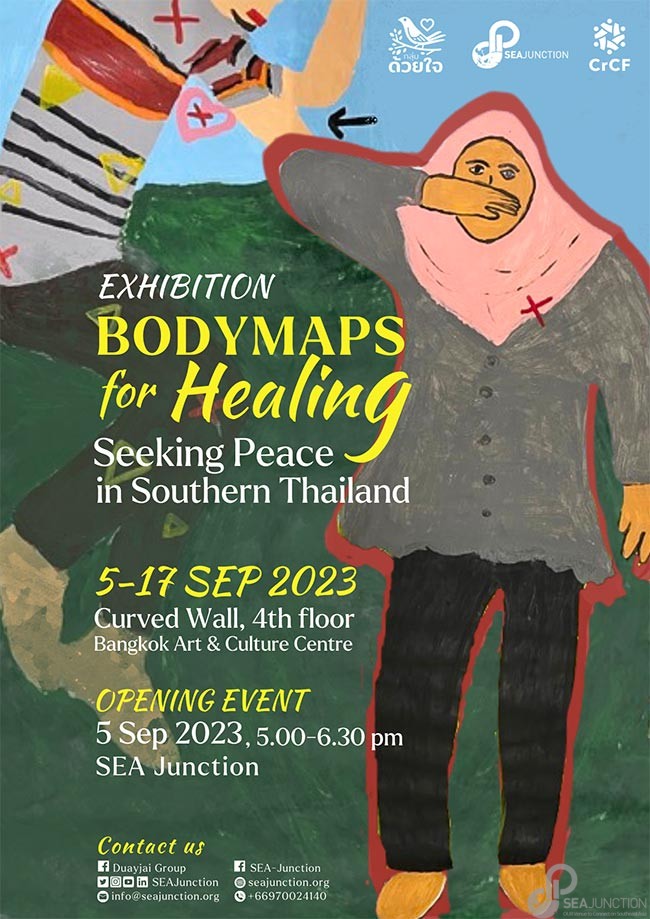 Organizers
Duayjai Group
Duayjai Group is a non-governmental organization established in 2010 to provide assistance to those affected by the unrest in the southern border provinces/Patani. Duayjai also aims to protect people from human rights violations, provide humanitarian assistance to those affected by conflict, and build mutual understanding between people in society to achieve long-term peace. Since 2015, Duayjai Group has organized psychological rehabilitation programs for torture victims and their families with Cross Cultural Foundation (CrCF) under the auspices of the Fund for Victims of Torture (UNVFTV) using Art Therapy.
Cross Cultural Foundation (CrCF)
Founded in 2002 CrCF is a non-profit organization based in Thailand. The foundation's goal is to achieve equitable justice for all in Thailand, and it collaborates closely with its international human rights networks to help indigenous peoples and minorities integrate and empower themselves.
SEA Junction
SEA Junction, established under the Thai non-profit organization Foundation for Southeast Asia Studies (ForSEA), aims to foster understanding and appreciation of Southeast Asia in all its socio-cultural dimensions, from arts and lifestyles to economy and development. Conveniently located at Room 407-8 of the BACC (across MBK, BTS National Stadium), SEA Junction facilitates public access to knowledge resources and exchanges among students, practitioners and Southeast Asia lovers. For more information, please see www.seajunction.org, join the Facebook group: http://www.facebook.com/groups/1693058870976440/ and follow us on Twitter and Instagram @seajunction.
Related Events