Exhibition "Never Give Up: 2 Years into the Myanmar Coup" — Part I
January 24 @ 10:00 am

-

February 5 @ 8:00 pm
The 1st of February 2023 marks the second anniversary of military dictatorship in Myanmar. Since the coup, people have suffered under the repressive military rule in a collapsed state. They have experienced daily violation of rights, war crimes and crimes against humanity, murder, sexual violence, and torture. By December 2022, the United Nations estimated that there were 1.5 million displaced people; 34,000 destroyed homes; villages burned to the ground; a looming food crisis; and 140,000 Rohingya in de facto internment camps while others suffer deprivation and discrimination rooted in their lack of citizenship. In addition to the trauma inflicted in people, the military coup has "crippled Myanmar's economy", as millions have lost their incomes, the national currency has plummeted, and prices have surged.
And despite it all, people have continued to fight for justice. Since the early days of the military coup, people's response against the military has been unapologetic: pot-banging, ribbon wearing, being silent, joining the civil disobedience movement, clasping hands during peaceful protests, making opposition art works in multiple forms, or raising the three-finger salute. These are just a fraction of the many acts of civil disobedience despite the collective terror suffered. Differently from what has been happening in the past, a nation-wide revolutionary project has started that cuts across diverse age, socio-economic and identity groups, including an assertion of the rights of those who have been left at the margins ethnic, religious, and sexual minorities. The message is the same: Never give up!
Honoring this spirit of creativity and resilience, the two-part art exhibitions "Never Give Up: 2 Years into the Myanmar Coup" gather artworks of artists from Myanmar. Through poems, videos, photographs and paintings, they reflect on the ongoing challenges while stressing the centrality of human rights as well as their vision and hopes for a new just future for Myanmar.
Organized by SEA Junction in collaboration with Doh Hlay, the exhibitions showcasing the artworks from a larger online exhibition at www.dohhlay.com are on display from 24 January to 5 February (Part I) on the curved wall, 4th floor and from 21 February to 5 March 2023 (Part II) on the curved wall, 3rd floor of the Bangkok Art and Culture Centre (BACC). The official opening is on 28 January 2023, 5.30-7.00 pm at SEA Junction venue and the program will soon be announced.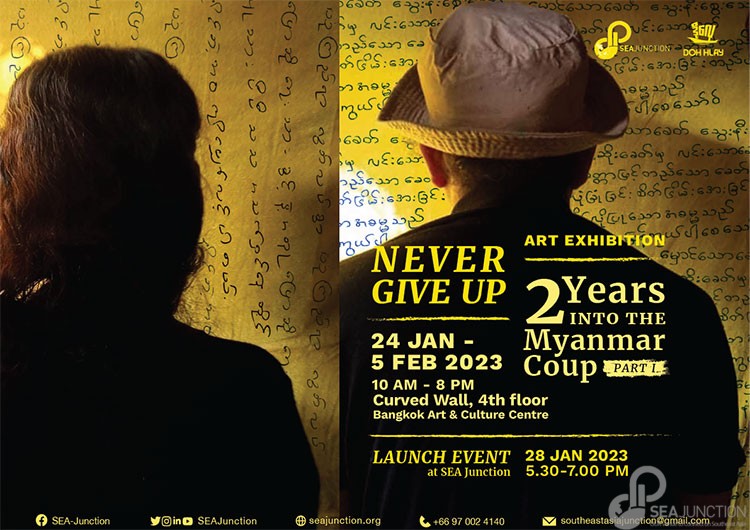 For more information, please email: southeastasiajunction@gmail.com or phone/wa/signal/line: +66970024140
Organizers
SEA Junction, established under the Thai non-profit organization Foundation for Southeast Asia Studies (ForSEA), aims to foster understanding and appreciation of Southeast Asia in all its socio-cultural dimensions- from arts and lifestyles to economy and development. Conveniently located at Room 407-8 of the Bangkok Arts and Culture Center or BACC (across MBK, BTS National Stadium), SEA Junction facilitates public access to knowledge resources and exchanges among students, practitioners and Southeast Asia lovers. For more information, see www.seajunction.org, join the Facebook group: http://www.facebook.com/groups/1693058870976440/ and follow us on twitter and Instagram @seajunction
Doh Hlay is a digital platform and movement that inspires a conversation about rights and justice in Myanmar through critical thinking and creative forms of expression. The movement aims to inspire and to set in motion a conversation related to rights and to contribute to the future of justice in the country. Doh Hlay is a collective of artists and human rights defenders coming together to amplify different perspectives, voices and everyday experiences to promote dialogue on Myanmar's past, present and future. For more information, see https://www.dohhlay.com and https://www.facebook.com/dohhlaymm.
Related Events