Exhibition "Portrait of Detention: Drawings of Insein Prison by Maung Phoe"
May 19 @ 11:00 am

-

May 31 @ 7:00 pm
Insein Prison is infamously known as Myanmar's primary jail. Built by British colonialists in 1887 with a circular panopticon design to closely control detainees, it has a decade-long history of being used for repression of political dissidents by the military especially during the 1988-2011 period. Since the 2021 coup, Insein Prison has again received thousands of political prisoners, who have been tortured, incarcerated in inhumane conditions, with some condemned to death and executed. According to the Assistance Association for Political Prisoners (AAPP), as of 9 May 2023, a total of 21,990 people has been arrested since the coup and among them 17,766 are under detention in 56 penitentiaries (with 5,811 serving sentences and 112 in death row), with the largest number in Insein Prison.
The exhibition, scheduled to take place at SEA Junction from 19 to 31 May, between 11 am and 7 pm, consists of drawings of Insein Prison by artist Maung Phoe. He was arrested along with his wife and son (who were released shortly afterwards) due to possessing materials considered prohibited and imprisoned in Insein Prison for six months from April to October 2021. In the exhibition, over 70 ink-drawings on all kinds of pieces of papers and selected fragments of his diary will be on display to portray detention conditions. The sketches provide glimpses into crowded rooms, with rows of male inmates sleeping side-by-side or sitting together, attempting to pass the time, as well as scenes of them queuing to wash. Most importantly, there are individual portraits of the prisoners, political and non, who spent time with him in detention and brief annotations of their lives making visible the humanity of those who are invisible behind walls. A smaller number of sketches has previously been exhibited in Mae Sot and Chiang Mai attracting significant media attention.
The drawings are also a testimony to the sense of power of art. As the artist put it in an interview with Global Platforms:
Denied of rights, privacy and control, for the artists in detention and the communities fighting injustice, art and creativity remain a source of strength and power. The creative force unleashed by resistance to the coup in Myanmar has served to chronicle what is happening, to inspire and motivate and to continue the fight.
The exhibition will be officially launched with a panel discussion titled "Transcending Prison Walls with Art," inspired by the title of a 2015 Al Jazeera article about an exhibition by former political prisoner Htein Lin. The panel will feature speakers composed of:
Maung Phoe, Artist (online)
Thet Swe Win, Human Rights Defender
Namar Altamirano, Human Rights Defender
Pornpen Khongkachonkiet, Human Rights Defender and Director of the Cross-Cultural Foundation
Speakers' Profiles
Maung Phoe
Maung Poe is an artist born in Mandalay in 1971. In 1995 was a member of the Chindwin Watercolor Group and in 1996 he started the Broken White art gallery with artist CNK. Since 2000 he has been doing illustrations for several magazine and journals and teaching painting to children. In recent years he was less active in art work creation, but felt the urge to restart drawing to document his experience in prison when arrested in 2021 and detained in Insein Prison for six months.
Thet Swe Win
Thet Swe Win is a human rights activist who has led numerous campaigns to counter hate speech, Buddhist nationalism, and anti-Muslim and anti-Rohingya discrimination and violence. He is also the founder and executive director of Synergy – Social Harmony Organization, which seeks to strengthen social cohesion in Myanmar.
Namar Altamirano
Namar is a Franco – Nicaraguan sociologist, specialized in conflict resolutions and peace, formerly based in Myanmar,with significant experience working in capacity building programs, mainly with CSOs in the sectors of democracy, advocacy and human rights. Large experience in the provision of technical advisory and support to diverse local organizations that includes women's organizations, media and electoral observation organizations in Central America. Part of ongoing initiatives with different human rights Coalitions, documenting human rights violations, with the goal of achieving transitional justice in Nicaragua.
Pornpen Khongkachonkiet
Pornpen, known as Noi, is director of the Cross-Cultural Foundation, a Thai human rights organization that monitors and documents torture cases in Thailand. She has been at the frontline of exposing gross rights violations, and as a result has been targeted for judicial as well as online harassment. See further https://voicefromthais.files.wordpress.com/2016/08/comic-torture-in-thailand-public.pdf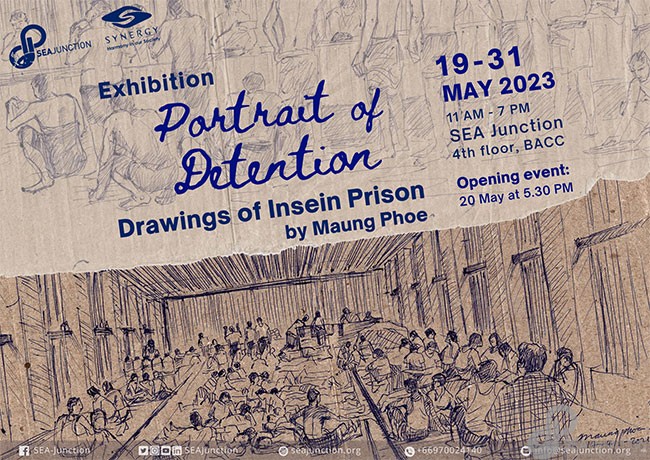 For information/reservation for our events please email info@seajunction.org or phone/wa: +66970024140
NB: Events are free, but donation most welcome!
Organizers:
SEA Junction
SEA Junction, established under the Thai non-profit organization Foundation for Southeast Asia Studies (ForSEA), aims to foster understanding and appreciation of Southeast Asia in all its socio-cultural dimensions, from arts and lifestyles to economy and development. Conveniently located at Room 407-8 of the Bangkok Arts and Culture Center or BACC (across MBK, BTS National Stadium), SEA Junction facilitates public access to knowledge resources and exchanges among students, practitioners and Southeast Asia lovers. For more information, see www.seajunction.org, join the Facebook group: http://www.facebook.com/groups/1693058870976440/ and follow us on Twitter and Instagram @seajunction
Synergy
Synergy Social Harmony Organization is a non-profit organization from Myanmar that promotes peace, tolerance, and diversity among different ethnicities and religions. Synergy works with religious leaders, Rohingya people, and refugees in the Thai-Myanmar border to promote interfaith and inter-ethnic understanding. The organization uses art to amplify the voices of oppressed individuals and communities, while also providing support to those who have faced discrimination or persecution. The goal is to create a more inclusive and peaceful society in Myanmar, where all individuals are valued and respected, regardless of their background or beliefs.