Exhibition "Stand for Democracy in Myanmar"
26 April, 2022 @ 5:30 pm

-

8 May, 2022 @ 7:00 pm
Since 1 February 2021, Myanmar has been in turmoil as the Myanmar Army, known as the Tatmadaw, detained State Counselor Aung San Suu Kyi and President Win Myint following a general election which Suu Kyi's NLD party won by a landslide. The coup d'état led by General Min Aung Hlaing brought an end to a decade of semi-democratic rule and returned full power to the military, a state of emergency and gross human rights abuses. Courageously, the population has been resisting and demanding the release of the imprisoned leaders, as well as a booming number of prisoners and the restoration of democratic rule. A massive Civil Disobedience Movement (CDM) has emerged and hundreds of thousands continue to take to the streets in spite of the military's use of lethal force against protesters. Amidst the failure of the international community to take action, atrocities are being committed on an increasing scale, with the opposition National Unity Government (NUG) in exile resorting to form the People Defense Force and justify armed resistance. As of 15 March 2022, 1672 people are confirmed killed by the junta coup and a total of 9625 people are currently under detention. In total, 84 people are sentenced to death, in person and absentia, including two children.
In the midst of global worries, it is more crucial than ever to keep Myanmar on the public agenda. In solidarity with the democratic movement in Myanmar, SEA Junction and Human Rights Art Initiative (HuRAI), with the support of Taiwan Foundation for Democracy (TFD) and Asia Democracy Network (ADN), are therefore organizing the exhibition "Stand for Democracy in Myanmar" on the 3rd floor of Bangkok Art and Culture Center (BACC) from 26 April to 8 May 2022. The thirteen artworks are produced by Marcelo Brodsky, an Argentine artist who advocates visual narratives through photography, installations, monuments, and work that combines text and images. Images of the demonstrations against the coup during the Myanmar Spring triggered him to create work in solidarity with the protesters, creating a visual experience for larger groups to engage—aestheticising the snapshots from the demonstrations, leaving resulting effects for mobilization. He activates personal and collective memory, communicating a message of resistance hoping to connect people across time and space, ending up working at the crossroads between visual art, poetry, and human rights activism.
Stand for Democracy in Myanmar leverages visual art to raise public awareness of and to express solidarity with the cause of the civil movement in Myanmar and their struggle for freedom, democracy and human rights. The exhibition at the BACC is part of a larger program of art shows and events at art institutions and museums around the globe which mobilize visual artists in support of the CDM and the democratically mandated NUG. Brodsky's artworks have been exposed at the Tokyo Institute of Photography, Kunsthall 3,14 (Bergen, Norway) and most recently at Photobastei (Zurich, Switzerland).
The exhibition "Stand for Democracy in Myanmar" will be launched with an event on 26 April 2022 at 5:30-7:00 pm on the 3 rd floor of BACC, where the exhibition is held. The artist will be joined by other speakers, as listed below, to discuss the importance of mobilizing for democracy through a medium of art. Co-culture Ensemble and the Myanmar Students Community in Thailand will also perform live traditional and classical music. Following that, Burmese food and drinks will be served.
Speakers:
Marcelo Brodsky, Exhibiting Artist
Keiko Sei, Writer and Curator
Phil Robertson, Deputy Director of Asia Division, Human Rights Watch
Moderator:
Rosalia Sciortino, Founder and Executive Director, SEA Junction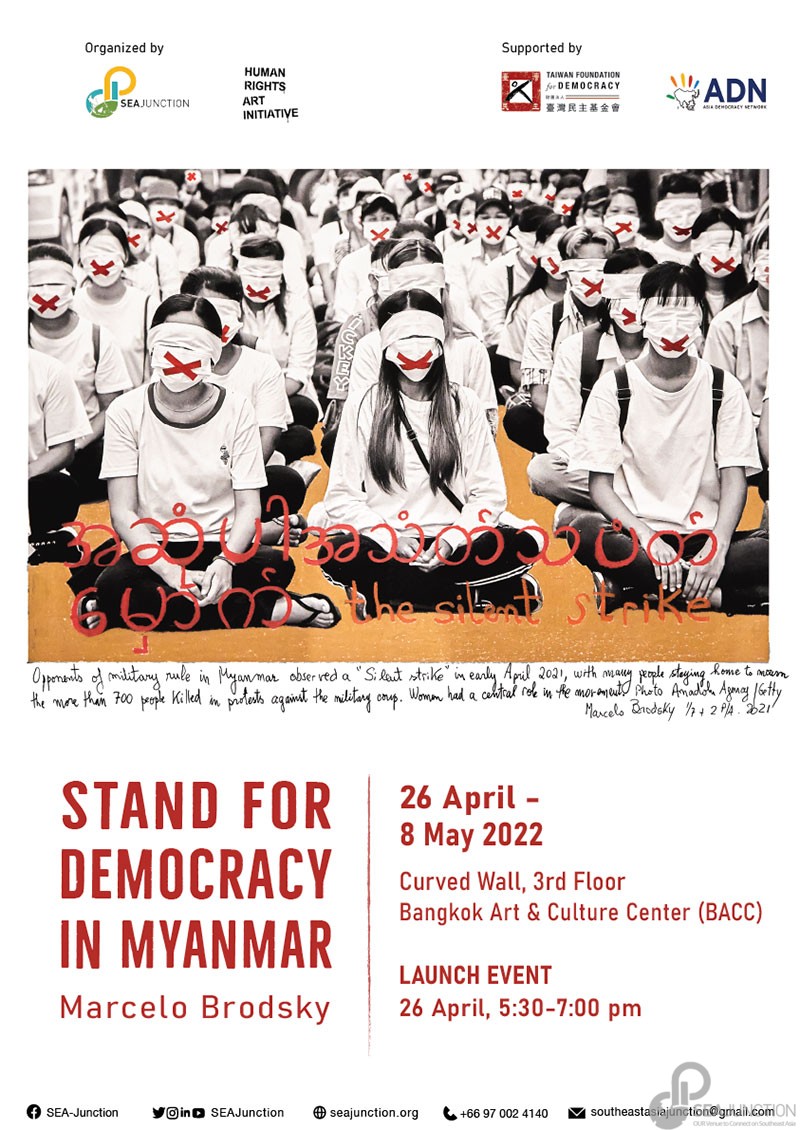 Artist
Marcelo Brodsky (1954) lives and works in Buenos Aires, Argentina. An artist and political activist, Marcelo Brodsky was forced into exile in Barcelona following General Videla's coup in Argentina in 1976. He studied economics at the University of Barcelona as well as photography at the Centre Internacional de Fotografia in Barcelona.
Situated on the border between installation, performance, photography, monument and memorial, his pieces blend text and images, often using figures of speech. His work is exhibited worldwide and part of major museum collections such as the Tate Gallery in London, Metropolitan Museum of Art in New York, Museo Nacional de Bellas Artes, Buenos Aires, Buenos Aires Museum of Modern Art, the center for creative Photography in Tucson, University of Arizona, Sprengel Museum in Germany, Pinacoteca do Estado de São Paulo in Brazil, Lima Art Museum in Peru, Colección de Arte del Banco de la República in Colombia and the Museum of Fine Arts Houston.
For more information, please see https://marcelobrodsky.com.
Organizers
SEA Junction
SEA Junction, established under the Thai non-profit organization Foundation for Southeast Asia Studies (ForSEA), aims to foster understanding and appreciation of Southeast Asia in all its socio-cultural dimensions- from arts and lifestyles to economy and development. Conveniently located at Room 408 of the Bangkok Arts and Culture Center or BACC (across MBK, BTS National Stadium), SEA Junction facilitates public access to knowledge resources and exchanges among students, practitioners and Southeast Asia lovers. For more information see www.seajunction.org, join the Facebook group: http://www.facebook.com/groups/1693058870976440/ and follow us on twitter and Instagram @seajunction
Human Rights Art Initiative (HuRAI)
In 2021, HuRAI was co-founded by Marcelo Brodsky and Chris Duckett to provide a platform for visual art and artists to increase awareness of and advocate against human rights abuses, and to express solidarity for and with human rights defenders and the survivors of those abuses. HuRAI's first action and project is a series of works on the Civil Disobedience Movement and its peaceful protests that commenced in response to the February 2021 coup d'état by the 'Tatmadaw' in Myanmar.
Sponsors
Taiwan Foundation for Democracy (TFD)
Taiwan Foundation for Democracy (TFD) is a non-profit organisation headquartered in Taipei. Its mission is to promote democracy around the world. For more information, see http://www.tfd.org.tw/.
Asia Democracy Network (ADN)
The Asia Democracy Network (ADN) is active in more than 40 countries in Asia. Our core values are to promote and practice the principles of democracy through the development of inclusive governance, advancement of human rights, equality and inclusivity, prevention of discrimination, human security, promotion of free, fair and meaningful elections, democracy education, & press freedom and responsibility. For more information, see https://adnasia.org/.
Related Events