Launch of the K4DM Knowledge Marketplace
Opening Reception. Beverages & Light snack available & Burmese music (background) [1:00pm – 2:00pm]
Welcome Remarks. Edgard Rodriguez (IDRC) & Jason Tulk (GAC – Canadian embassy) [2:00pm – 2:15pm]
Book Launch: "Winning by Process". Moderator: Prof. Kai Ostwald (UBC) (TBC), Speaker: Jacques Bertrand (co-author)[2:15pm – 3:45pm, BACC 5th Floor, Room 501]
Roundtable Discussion: "Thought leadership to advance knowledge for Myanmar: What should come next?" [4:00 – 5:30pm, BACC 5th Floor, Room 501]
Opening of Photo Exhibit "Through Eyes of Leadership: Women of Shan State" / "Ask the photographer" [5:30pm-5:45pm]
Open Photo Exhibit & Networking – Tea break & background Burmese music [Until 8pm]
Book Launch "Winning by Process"
Winning by Process asks why the peace process stalled in the decade from 2011 to 2021 despite a liberalizing regime, a national ceasefire agreement, and a multilateral peace dialogue between the state and ethnic minorities. The book argues that stalled conflicts are more than pauses or stalemates. "Winning by process," as opposed to winning by war or agreement, represents the state's ability to gain advantage by manipulating the rules of negotiation, bargaining process, and sites of power and resources. During the last decade, the Myanmar state and military controlled the process, neutralized ethnic minority groups, and continued to impose their vision of a centralized state even as they appeared to support federalism.
Roundtable Discussion: "Thought leadership to advance knowledge for Myanmar: What should come next?"
Over the last decade, Myanmar's transition to democracy has facedmultiple milestones and challenges. The turbulence unleashed by COVID-19 and then the coup has undoubtedly introduced new risks in the transition to a future democratic state. A recent article in the New Mandala Post calls for, "the next generation of Myanmar scholars, whatever their backgrounds or ambitions, … to support knowledge creation throughout this time of fear, change and hardship and beyond." Boosting investment in knowledge production and the use of locally-grounded social science research in Myanmar remains a critical element for a sustainable democratic transition. Leaders and scholars in social science research can assist local policy processes by asking the relevant policy questions, and by undertaking rigorous research and analyses to provide the evidence needed for public policy decision-making. Building a functional knowledge ecosystem is a major challenge for social science researchers themselves and for policy makers, not only in Myanmar but across the developing world. The roundtable will discuss from different perspectives from universities and civil society about what needs to be done to keep supporting knowledge that would prepare Myanmar people in their search for democratic governance after 2023.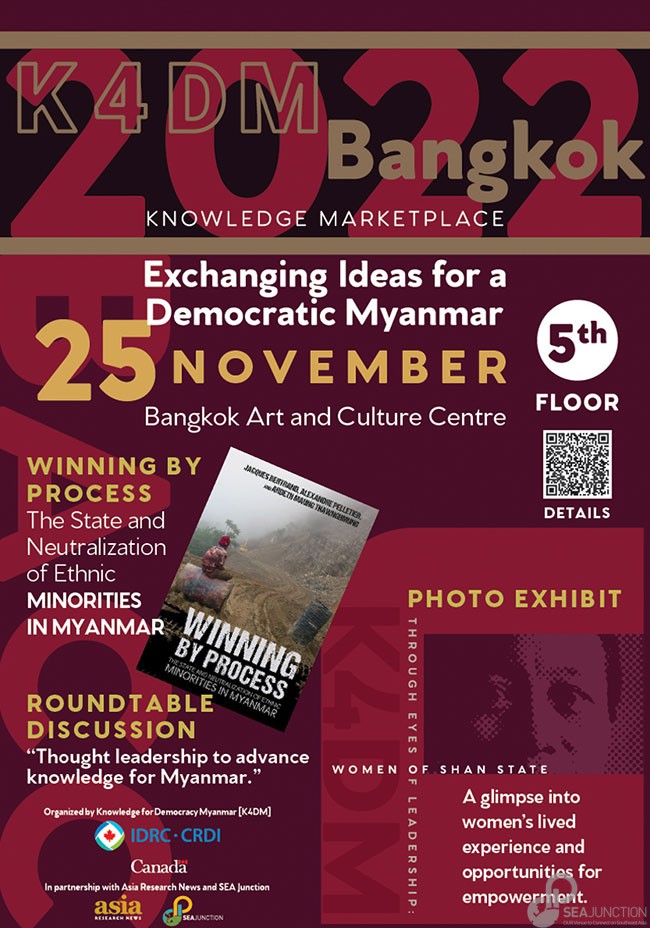 Organized by:
International Development Research Centre (IDRC)'s Knowledge for Democracy Myanmar (K4DM) is a five-year partnership that nurtures a new generation of young actors to promote inclusion, gender equality, respect for diversity, and prosperity for all in Myanmar. For more information, please see https://k4dm.ca/k4dm-knowledge-marketplace-bangkok-2022-exchanging-ideas-for-a-democratic-myanmar/.
In partnership with:
Asia Research News is the largest research news platform in Asia. We are focused on our mission to increase diversity in international research news, elevating new voices and spreading knowledge. Connecting research with the wider world, we bring first insight into the latest breakthrough from the best researchers. For more information, please see https://www.asiaresearchnews.com/.
SEA Junction, established under the Thai non-profit organization Foundation for Southeast Asia Studies (ForSEA), aims to foster understanding and appreciation of Southeast Asia in all its socio-cultural dimensions- from arts and lifestyles to economy and development. Conveniently located at Room 408 of the Bangkok Arts and Culture Center or BACC (across MBK, BTS National Stadium), SEA Junction facilitates public access to knowledge resources and exchanges among students, practitioners and Southeast Asia lovers. For more information see www.seajunction.org, join the Facebook group: http://www.facebook.com/groups/1693058870976440/ and follow us on twitter and Instagram @seajunction
Related Events