Photo Exhibition "Cambodia: War and Beauty"
October 3 @ 10:00 am

-

October 15 @ 8:00 pm
Cambodia is often depicted in the public imagination as either the land of Angkor and Apsaras or the Killing Fields and the Khmer Rouge. An American writer once referred to the countries of Southeast Asia as "the Lands of Cruelty and Charm". However, Cambodia is more than death and decoration. It is people who have struggled and survived war and atrocities, displacement, and political and social chaos, all the while working to preserve their culture. That culture now faces the new threat of unconstrained overdevelopment.
This is the focus of the photo exhibition "Cambodia: War and Beauty", organized by SEA Junction and Ophidian, on 3-15 October 2023 on the curved wall, 3rd floor of the Bangkok Art and Culture Centre (BACC). This photographic retrospective, exhibited previously in FCC Angkor by Avani and Meta House in Phnom Penh in 2020 and Paris in 2022, presents a collection of black and white and color photos taken by David A. Feingold, a research anthropologist and an award-winning documentary filmmaker, over the last six decades in Cambodia. The themes of the photos include war and its impact on the land and people, the on-going impact of landmines on the people and land of Cambodia, the toll they take, and the courage and skill that are needed to remove them. The exhibition also showcases the cultural survival of the Cambodian people, including the beauty and grace of young dancers and their rigorous training; exclusive images inside the Site 2 refugee camp in the mid-1980s; and young dancers training at the National School of Ballet in Phnom Penh in the 1990s. Through these images, viewers can understand how Khmer dance became an essential ingredient in the survival of Khmer culture and a form of struggle against the repression of political regimes. Additionally, the exhibition covers the return of H.M. King Sihanouk to be King of Cambodia in the 1990s, which witnessed the slow transition from war to peace overseen by the UN and the tensions of secular politics.
While fostering a better understanding and appreciation of Cambodia's history, culture, and society, the exhibition aims to showcase the contradictory and complementary elements of Cambodian culture in a historical context.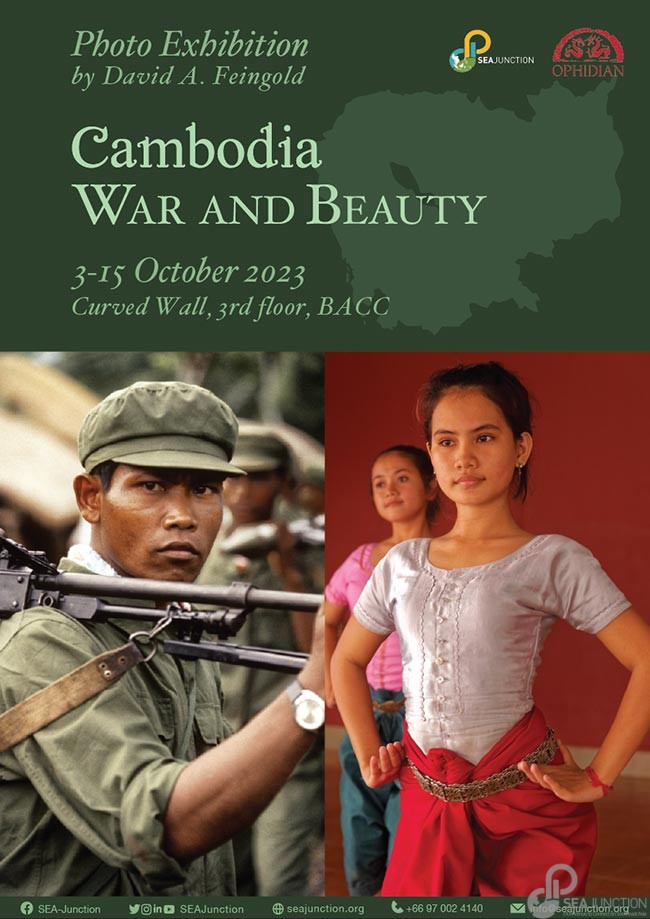 For more information/reservation, please contact us at info@seajunction.org or +66970024140
Photographer:
David A. Feingold is a research anthropologist and an award-winning documentary filmmaker. He is currently director of the Ophidian Research Institute/Ophidian Films Ltd. For fifteen years, he served as International Coordinator for HIV/AIDS and Trafficking at UNESCO, Bangkok, where he developed and directed this regional program. He conducted extensive field research in Southeast Asia over five decades, particularly among Akha and Shan peoples, and in Cambodia. Feingold's films have been made for PBS, NBC, ABC, BBC, CH-4 (U.K.), FR-3(France), and The National Geographic.
Organizer:
SEA Junction, established under the Thai non-profit organization Foundation for Southeast Asia Studies (ForSEA), aims to foster understanding and appreciation of Southeast Asia in all its socio-cultural dimensions- from arts and lifestyles to economy and development. Conveniently located at Room 407-8 of the Bangkok Arts and Culture Center or BACC (across MBK, BTS National Stadium), SEA Junction facilitates public access to knowledge resources and exchanges among students, practitioners and Southeast Asia lovers. For more information see www.seajunction.org, join the Facebook group: http://www.facebook.com/groups/1693058870976440/ and follow us on twitter and Instagram @seajunction.
Ophidian produces long-form documentaries on complex issues for international television, based upon intensive research. Ophidian has filmed in Cambodia, Thailand, Burma, Laos, Mozambique, Peru, as well as the U.S. Ophidian has specialized in films with unique access to difficult areas and subjects. For a partial sample of their films, please go to www.der.org.
Related Events