Shadow Puppetry Seminar by the Indonesian Saba Nusa Community
November 22 @ 5:30 pm

-

7:00 pm
UNESCO has recognized Indonesian wayang kulit produced from the carved leather sheets as an Intangible Cultural Heritage of Humanity. The word wayang comes from wewayang or shadow. For thousands of years, wayang kulit have been a part of Javanese culture, first as a ritual medium to get closer to Hyang (the highest power) and later as a medium for telling heroic stories, especially the two epics of Ramayana and Mahabarata.
In the shows, shadows from the puppets are reflected on a white curtain, moved by a puppeteer. The shadow moves dynamically, growing and shrinking according to the flame's movement as the primary light source. The white colour, combined with the direction of black shadows, turns out to be able to anesthetize the audience and take their minds to the gates of unlimited imagination.
Concerned with the decreasing interest for wayang performances in modern times, the Saba Nusa community was born in 2017 to innovate and revitalize wayang performances. The concept of their first work Sinewayang Babad Nusantara consisted of a play by many puppeteers who collaborated with visual effects and used an LCD projector as a light source. In this and subsequent performances, even though the background produced on a white screen is colored, the shadow is still the main component of the performance telling ancient historical stories as well as stories carved on temple walls and ancient literary works.
On Wednesday 22 November at 5.30 pm, Saba Nusa will be presenting their latest work about the Birth of Garudha as carved on the Kidal temple in East Java as well a video/cinema performance of Babad Nusantara, which will also be presented few days later at the National Science Museum. This story is very famous and inspired the fathers of the Indonesian nation to make Garudha the symbol of the Indonesian state.
The participatory seminar consists of four parts as follows:
Introduction to the wayang characters in the story of the Birth of Garudha.
Small demonstration of the Sinewayang Babad Nusantara performance. As well as an explanation of how the wayang is played. How shadow motion is produced.
Invite all visitors to join in the experience as a puppeteer in Sinewayang Babad Nusantara.
The seminar is free, but donations are welcome to support this and other activities.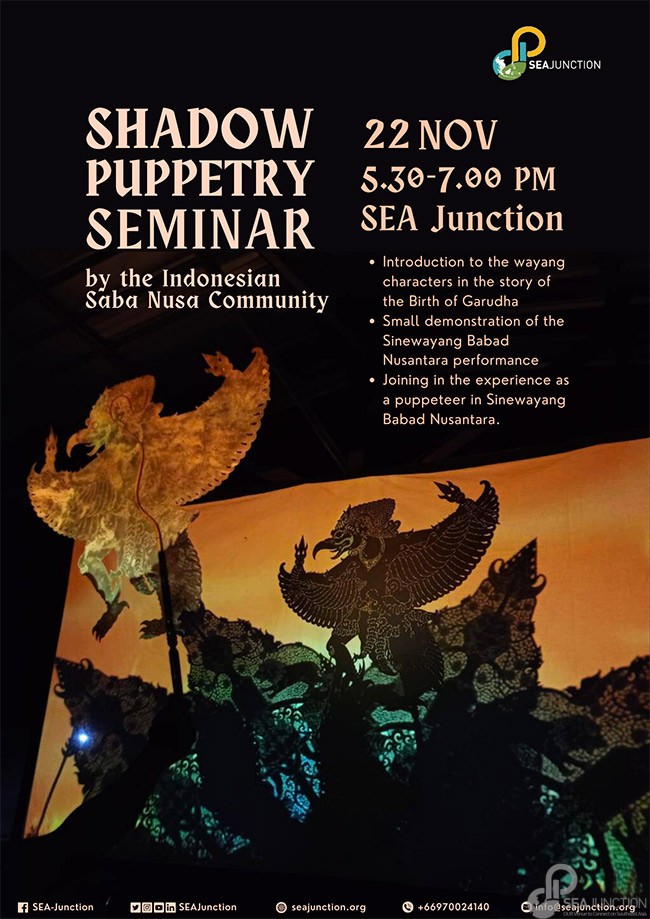 For more information, please email: info@seajunction.org or phone/wa: +66970024140
Organizer:
SEA Junction, established under the Thai non-profit organization Foundation for Southeast Asia Studies (ForSEA), aims to foster understanding and appreciation of Southeast Asia in all its socio-cultural dimensions, from arts and lifestyles to economy and development. Conveniently located at Room 408 of the Bangkok Arts and Culture Center or BACC (across MBK, BTS National Stadium), SEA Junction facilitates public access to knowledge resources and exchanges among students, practitioners and Southeast Asia lovers. For more information, see www.seajunction.org, join the Facebook group: http://www.facebook.com/groups/1693058870976440/ and follow us on Twitter and Instagram @seajunction
Related Events