29 Jun 2019, Bangkok Post
A firm promise to grant citizenship to all born in a country is crucial to halt the cycle of displacement, writes Adam Bemma
The Moo Paa or Wild Boars football team captured the world's attention this time last year after they became trapped inside Tham Luang cave for 18 days. In addition to the dramatic rescue that followed, the media soon also discovered that three of the 12 boys on the team, along with the coach, were stateless people — living in Thailand without any form of citizenship.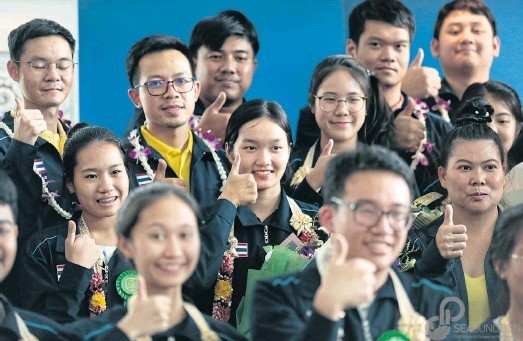 Namphueng Panya, centre, a former stateless student in Chiang Rai, poses for a picture with her team, which won an award at a science and engineering fair in the US last month.
In neighbouring Myanmar, the persecution of the Rohingya in Rakhine state has led to the rise of people who are deprived of their citizenship by the government. At least 723,000 Rohingyas have been chased out of their homes and into refugee camps in Bangladesh and Thailand. They have relatively little hope of ever returning to their homes and regaining citizenship.
The Universal Declaration of Human Rights grants every person the right to nationality. The UN Study on Statelessness cites that "every child must receive nationality at birth … No person throughout his life should lose nationality until acquiring a new one".
Moreover, the UN Refugee Agency estimates that there are 2.8 million stateless people worldwide — 40% of them in the Asia-Pacific region alone. In Southeast Asia, Myanmar, Thailand, Brunei, Malaysia and Vietnam is home to hundreds of thousands of stateless people, making it one of the most afflicted regions.
SO, WHAT'S BEING DONE?
Last month, 16 countries across the Asia Pacific region reaffirmed their commitments to end statelessness by 2024 at the UNHCR "I Belong" event in Bangkok — marking the half-way point of a 10-year pledge. However, not one country used this opportunity to make any specific commitments.
"There has been progress. The Thai government has done a lot in this regard. I think almost 100,000 people have been given Thai citizenship in recent years," said Caroline Gluck, the UNHCR spokesperson in Bangkok.
A number of countries in the region have committed to taking specific steps to achieve universal birth registration and target hard-to-reach populations. Some of the representatives also highlighted the need to tackle legal reforms, most importantly on how to end childhood statelessness.
The UN Convention Relating to the Status of Stateless Persons defines statelessness as "a person who is not considered a national by any state under the operation of its law". The Philippines is the only country in the region to ratify and adopt this framework domestically.
The International Covenant on Civil and Political Rights (ICCPR) codifies the right to nationality but several countries in Southeast Asia, including Brunei, Malaysia, Myanmar, and Singapore are not signatories.
IS THAILAND LEADING THE WAY?
Thailand has ratified the ICCPR and has two domestic laws which give undocumented migrants and stateless children the right to attend Thai public schools.
In Chiang Mai, Sangsan Anakot Yawachon Development Project has been working with indigenous, ethnic minorities, and stateless communities for the last 12 years.
Sangsan's founder Matcha Phorn-in said her organisation provides human rights education and supports young people to go to school since the costs associated with Thai public schools may make them unaffordable for kids from many stateless families. Moreover, many of the schools are located far from their rural communities.
"The issue of stateless people hasn't really been a concern in Thai society. There are 400,000 reported stateless people by the UNHCR in Thailand. These people need Thai citizenship," she said.
Over the last six years of working in northern Thailand, Ms Matcha said the human rights situation has worsened despite claims by the UN and government agencies that there's been an overall improvement on cross border coordination with Myanmar.
"We focus on one village. So far, 60 children have received our support and are studying. All their family members are stateless," said Ms Matcha. "We're working with 3,000 to 4,000 stateless people. We have given scholarships to 70 young people who are stateless."
Ms Gluck cites the case of an 18-yearold from Chiang Rai — where the Wild Boars are from — who received her Thai citizenship last month. This allowed her to travel to the US to compete at a school science and engineering fair.
"It was one of the proudest moments of my life," the teenager told the UNHCR in Bangkok. She is now able to attend university and seek future employment.
The UNHCR believes this teen's success story reflects the hope for children born as stateless in Thailand today.
"I was inspired by states that say they will not allow children to become stateless," Ms Gluck said. "We owe it to every person to fulfil their basic human rights by providing them with a nationality."
The UNHCR and Thai community groups like Sangsan hope all children born in Thailand will receive citizenship rather than being bestowed it retroactively. Without it, families are unable to earn income or health care to help lift them out of poverty.
A firm commitment to grant citizenship to all born within the country's borders is necessary to end the continuous cycle of statelessness, Ms Matcha added.
"People agreed in today's world we shouldn't have to have stateless people. They lose out on so much, like birth registration, accessing health care facilities. They also can't receive marriage or death certificates," Ms Gluck said.
"It affects them from birth until death."
The UNHCR regional Asia-Pacific "I Belong" event in Bangkok last month was billed as an introductory meeting. In October, countries from around the world will meet in Geneva, Switzerland to discuss further action on how to end statelessness by 2024.
This article is part of the Displaced and Uprooted in Southeast Asia initiative by SEA Junction and the TIFA Foundation.
Source: http://bangkokpost.newspaperdirect.com/epaper/viewer.aspx