Immigration Detention and Alternatives in Thailand
31 August, 2022 @ 4:00 pm

-

5:00 pm
SEA Junction in collaboration with IPSR In-House Seminar and Mahidol Migration Centre (MMC) has launched a series of bi-monthly events entitled 'Wednesday SEA Mobilities', starting in February 2022. The last Wednesday of every two months, we will jointly hold seminars or panels discussing vast arrays of current Southeast Asia's mobility issues by experts, academics, practitioners, NGO workers, migrants, and people from the fields.
Our fourth Wednesday SEA Mobility's event on 31 August 2022 at 4-5 pm will be a presentation by Chawaratt Chawarangkul on "Immigration Detention and Alternatives in Thailand". This online event will be held via Zoom at https://bit.ly/WEDNESDAY-SEA-MOBILITIES and also livestreamed on the FB pages of SEA Junction and of IPSR.
Abstract
The presentation will discuss the refugee and migrant situation in Thailand in relation to immigration detention and stress the need for alternatives to immigration detention (ATD). Despite the introduction of some initial ATD practices, policy and implementation gaps persist, according to the International Detention Coalition report.
The government, for example, has developed an ATD-MOU for the release of children from immigration detention but children are still arrested and detained for immigration offenses. Rather than preventing in the first place, ATD in Thailand applies after a child has been arrested and detained. In addition, mothers must post large bail amounts in order to be released with their children and fathers are rarely considered for release, resulting in family separation. (See the report at https://idcoalition.org/wp-content/uploads/2022/05/Asia-Pacific-ATD-Report-2022.pdf)
Speaker's Profile
Chawaratt Chawarangkul (Mic) joined the International Detention Coalition (IDC) as the Southeast Asia Program Manager in 2020. Prior to that, he served in a wide range of roles within the humanitarian, human rights and development fields across Asia and Africa contexts, advocating for and protecting the rights of marginalized groups, building resilient communities, and promoting sustainable development environments for the poorest and most vulnerable. He also facilitated the development of the Thailand policy to end the immigration detention of children, and fostered the development of the national refugee screening mechanism in Thailand. Mic received an MA in Human Resource Management System from Golden Gate University in the United States of America, an MA in Human Rights from Mahidol University in Thailand, and a BA in Political Science from Kasetsart University in Thailand. Currently, he is based in Bangkok, Thailand.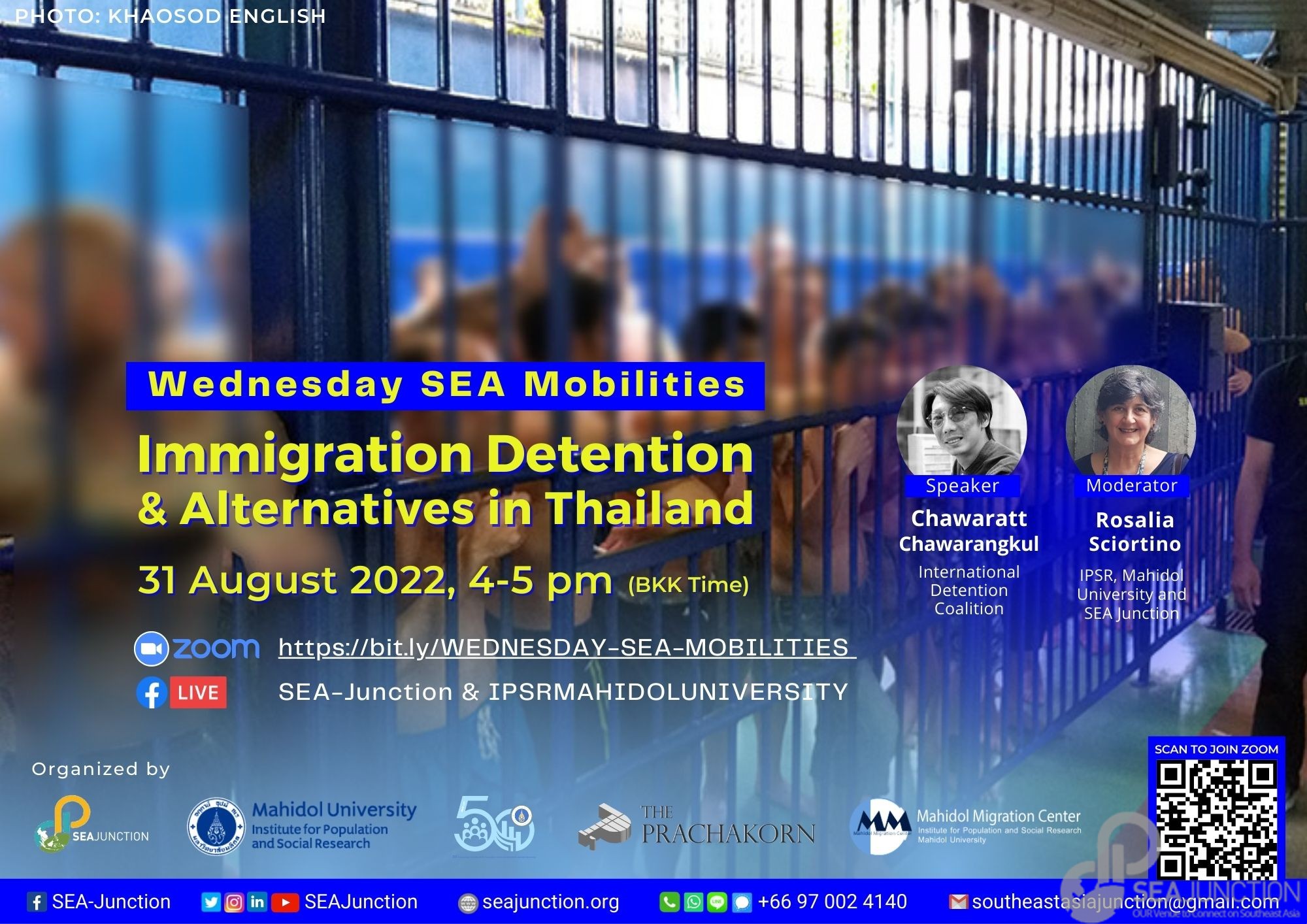 Organizers
SEA Junction
SEA Junction, established under the Thai non-profit organization Foundation for Southeast Asia Studies (ForSEA), aims to foster understanding and appreciation of Southeast Asia in all its socio-cultural dimensions, from arts and lifestyles to economy and development. Conveniently located at Room 408 of the Bangkok Art and Culture Centre or BACC (across MBK, BTS National Stadium), SEA Junction facilitates public access to knowledge resources and exchanges among students, practitioners and Southeast Asia lovers. For more information, see www.seajunction.org, join the Facebook group: http://www.facebook.com/groups/1693058870976440/ and follow us on Twitter and Instagram @seajunction
Institute for Population and Social Research (IPSR), Mahidol University
IPSR was established in 1971 and has become one of Asia's premier population research and training hubs. The Institute conducts research and provides training in population, sexual and reproductive health and development with a focus on Thailand and on neighbouring countries in Southeast Asia, with the ultimate goal of improving the quality of life for all. For more information, see https://ipsr.mahidol.ac.th.
Related Events