Screening Film "Kucumbu Tubuh Indahku" (Memories of My Body)
November 14 @ 4:00 pm

-

November 15 @ 6:00 pm
Kucumbu Tubuh Indahku (Memories of My Body) is a 2019 Indonesian drama film directed and written by Garin Nugroho and produced by Ifa Isfansyah. The film, inspired by the life of dancer and actor Rianto, portrays the story of a male dancer who becomes a young performer of Lengger (traditional Indonesian dance), and explores his sexuality. The flow of the film is divided into four chapters telling about Juno's life journey: starting from his childhood, adolescence to adulthood and the process of discovering his own identity. His own name shows two sides of a coin, a tough prince baby a Pandu and Kunti in the Mahabharata epic and a fragile or gentle child who is struggling to solve the secrets of his emotional impulse and sexual orientation. Throughout the film, Garin articulates the concept of masculinity, the freedom of expression among LGBTQI+ and the reaction from the local communities in this particular case in Indonesia.
The film was first shown at the 75th Venice International Film Festival then screened at the Nantes Three Continent Festival. In Indonesia, this film was first screened at the Jogja-NETPAC Asian Film Festival. During its early screening, the film did not encounter any significant obstacles, but later radical groups organized boycott of screening content in various locations including in West Sumatra, Palembang, Pekanbaru or West Kalimantan. Nonetheless, the film was declared the best film at the Piala Citra Festival Film Indonesia (FFI) 2019, the main film award in Indonesia.
In collaboration with the production company, Fourcolours Fim, and GusDurian Thailand, SEA Junction originally scheduled the screening for 4 April, but could not undertake it because of the COVID-19 lock-down. We are pleased to announce that we have now rescheduled the screening. This time there will be two screening events on 14-15 November 2020 at 4:00-6:00 pm. at our venue since due to prevention measures, we are limiting the number of participants to maximum 25 persons. We also require reservation, so please contact us at your earliest convenience.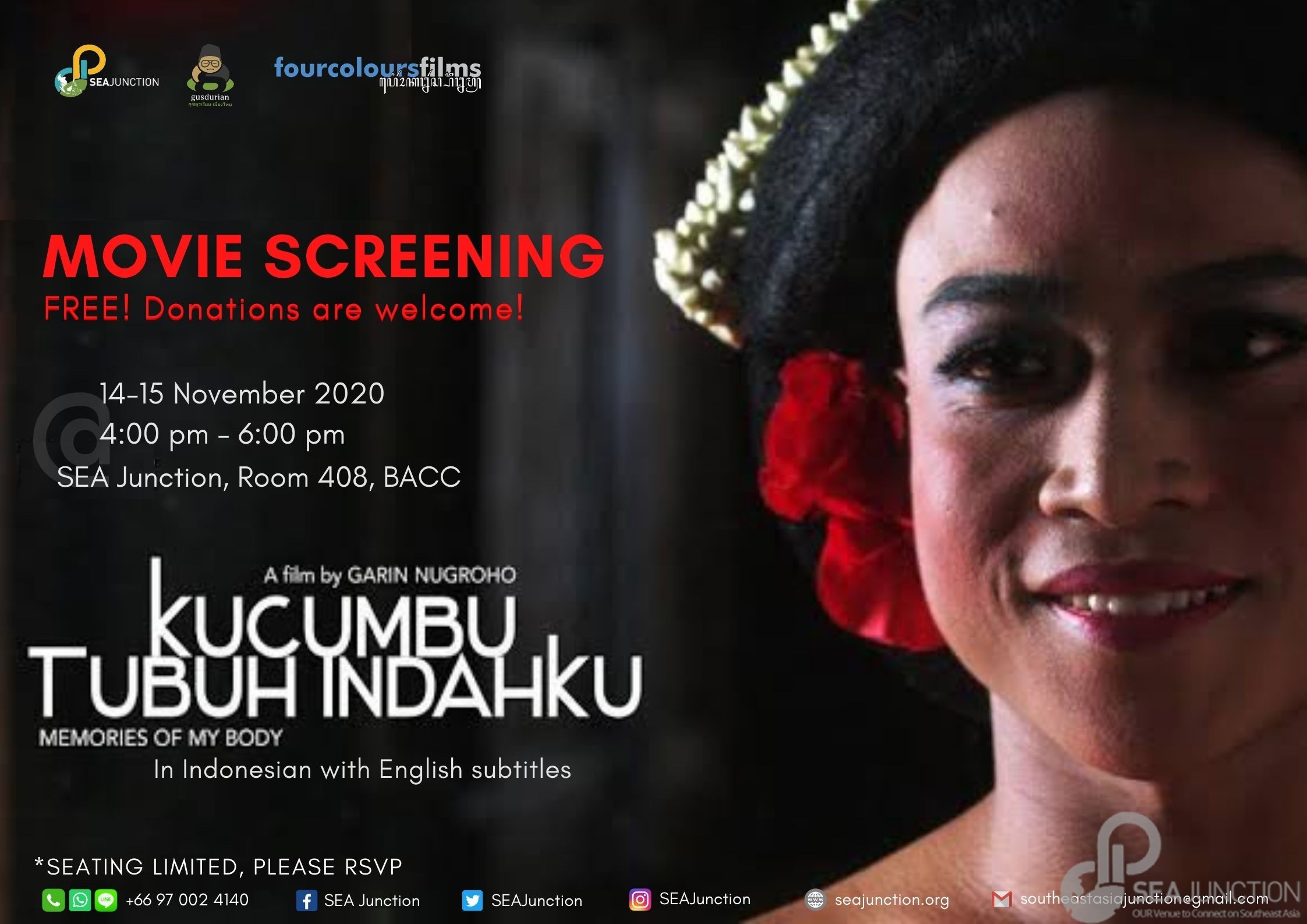 Film details
Directors: Garin Nugroho
Production: Fourcolours Film by Ifa Isfansyah
Main Actors: Muhammad Khan, Rianto, Sujiwo Tejo, Teuku Rifnu Wikana, Randy Pangalila
Time: 107 minutes
Official Trailer https://youtu.be/5J9t1dyaBeA
Please note:
* Events are free, but we count on donations in these challenging times!
** Please reserve your seats by email southeastasiajunction@gmail.com, phone/wa: +66970024140 or our social media channels.
Organizers:
SEA-Junction, Our Venue to Connect on Southeast Asia
SEA Junction, established under the Thai non-profit Foundation for Southeast Asia Studies (ForSEA), aims to foster understanding and appreciation of Southeast Asia in all its socio-cultural dimensions- from arts and lifestyles to economy and development. Conveniently located at Room 408 of the Bangkok Arts and Culture Center or BACC (across MBK, BTS National Stadium), SEA Junction facilitates public access to knowledge resources and exchanges among students, practitioners and Southeast Asia lovers. For more information see www.seajunction.org, join the Facebook group: http://www.facebook.com/groups/1693058870976440/ and follow us on twitter and Instagram @seajunction
Jaringan GUSDURian Thailand (GUSDURian Thailand Network or JKT)
JKT was established at the National Forum GUSDURian last August in Yogyakarta to expand to Thailand the vision of the GUSDURIAN Network Indonesia (GNI), a network consisting of thousands of grassroots-level activists in more than 100 cities in Indonesia
Named after progressive Muslim leader and Fourth President of Indonesia Abdurrahman Wahid, popularly known as Gus Dur. GNI aims to strengthen interfaith understanding, promote individual resilience, promote gender and human rights values, strengthen a culture of respect and advocate for rights through public policy. See Facebook page https://www.facebook.com/Gusdurianthailand/ For more information on GNI see www.gusdurian.net
Related Events