2nd Event of the "Rice of Southeast Asia" Series: "Rice Tales" by Jittima Pholsawek
12 August, 2017 @ 5:00 pm

-

7:00 pm
Once upon the time, when rice was as big as a coconut….
กาลครั้งหนึ่ง เมื่อเมล็ดข้าวมีขนาดใหญ่เท่าลูกมะพร้าว….
(For Thai language description see below)
Last March, the series the "Rice of Southeast Asia" was launched at SEA Junction with a talk by Tongtham Natjumnong, editor of Siam Rat newspaper, historian, poet, and political commentator on the "Origin of Tai Ancient Culture". The series organized by SEA Junction in collaboration with Asiatopia International Performance Art and E-Shann Way Magazine focuses on rice as a core element of Southeast Asian cultures. All dimensions of rice, from culture to science and agriculture are discussed in a series of lectures, exhibitions and other events.
The second event of the series, is a performance by Jittima Pholsawek, who has studied rice culture in Thailand for many years to produce the TV series "Rice Tales" about local tales related to rice from ancient to contemporary times. In her show at SEA Junction, she will bring these "rice tales" to life with an imaginative poetry monologue cum multi-media performance.
Jittima Pholsawek is an artist, writer, poet and TV producer. Since 2000, she established the Community Art Project, which engages with communities that are in conflict with large scale development projects. She is one of the front line performance artists in Thailand, and has participated in many life performance events in Thailand and in international art festivals in Europe and America.
Professional simultaneous interpretation Thai-English will be provided with headsets. We sincerely thank Nampueng Patricka Chulamokha and Boomerang Organizer and Consultant Company Limited for making this possible.
เมล็ดข้าวเล่าเรื่อง
ภาค 2 ของซีรี่ส์ "รากข้าวอุษาคเนย์"
ชุมทางอุษาคเนย์ ชั้น 4 หอศิลปวัฒนธรรมแห่งกรุงเทพมหานคร (BACC)
วันที่ 12 สิงหาคม 2017
เวลา 17:00 – 19:00 น.
ข้าวในจินตนาการ อันเป็นพื้นฐานที่ทำให้ข้าว เป็นพืชที่มีความสำคัญที่สุดของมนุษย์ในอุษาคเนย์ และเป็นพืชชนิดเดียวที่มี "ขวัญ" เช่นเดียวกับมนุษย์
โดย จิตติมา ผลเสวก นักเขียน กวี ศิลปินแสดงสด นำพาประสบการณ์ตรงกับการค้นคว้าเรื่องข้าว ในสารคดีชุด "ข้าว" บวกกับจินตนาการในนิทานปรัมปรา และ จิตวิญญาณศิลปิน กวี ในตัวเธอ ประสานกันขึ้นให้ช้าวมีชีวิตเยี่ยงมนุษย์อีกครั้งหนึ่ง "เมล็ดข้าวเล่าเรื่อง" จินตกวีแห่งข้าว ในรูปแบบมัลติมีเดียสด
จิตติมา ผลเสวก, ศิลปิน นักเขียนสารคดี, เรื่องสั้น และ กวี, เป็นโปรดิวเซอร์รายการสารคดีโทรทัศน์ ชุด "เมล็ดข้าวเล่าเรื่อง" เผยแพร่ทางสถานี พีบีเอส และ สารคดีคนไทยพลัดถิ่น "ผู้มาจากดินแดนที่เสียไป" ออกอากาศทาง โทรทัศน์ช่อง 5. ตั้งแต่ปี 2543 จิตติมา ก่อตั้งโครงการศิลปะชุมชน ที่เน้นการทำงานศิลปะในพื้นที่ชุมชนที่ได้รับผลกระทบจากโครงการพัฒนาขนาดใหญ่
เธอเป็นศิลปินแสดงสดแนวหน้าคนหนึ่งของประเทศไทย ที่ได้รับเชิญไปแสดงในเทศกาลศิลปะนานาชาติ ในหลายประเทศในยุโรปและอเมริกา และยังได้ร่วมแสดงสดในกิจกรรมศิลปะแสดงสดมากมาย ในประเทศไทย.
For information/reservation for our events please email southeastasiajunction@gmail.com
NB: The screening is free, but donations are welcome.
About SEA Junction, OUR Venue on Southeast Asia
SEA Junction (see https://seajunction.org) aims to foster understanding and appreciation of Southeast Asia in all its socio-cultural dimensions –from arts and lifestyles to economy and development. Conveniently located at Room 408 of the Bangkok Arts and Culture Centre or BACC (across MBK, BTS National Stadium) SEA junction facilitates public access to knowledge resources and exchanges among students, practitioners and Southeast Asia lovers. For more information see seajunction.org and join the Facebook group https://www.facebook.com/groups/1693055870976440/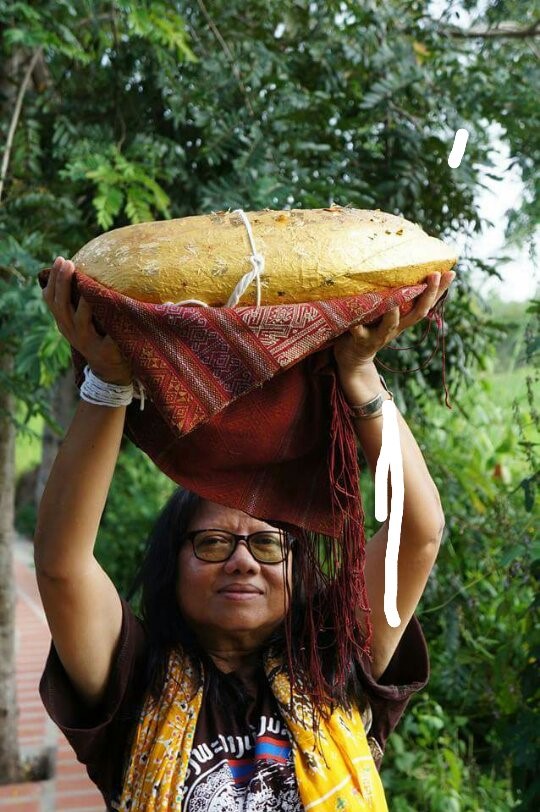 Related Events