Book Launch "The RH Health Bill Story" by Marilen Danguilan
28 November, 2018 @ 6:00 pm

-

7:30 pm
The Philippines bucks the trend in Southeast Asia with a fast-growing population (tripling from about 31 million in 1965 to 105 million by the end of 2017) and an alarming increase in HIV infection rates, while a general decrease can be observed in the region. Abortion rate is also high– estimated at more than 600,000– and the use of herbal abortifacients and other unsafe clandestine methods is rife.s
Yet, in spite of this worrisome health conditions, the use of contraceptives to prevent both unwanted pregnancies and HIV/AIDS has been discouraged by the State influenced by the powerful Catholic Church in a country where at least 80 percent of the population profess to be Catholic. Most Philippine presidents did not push for legislation on reproductive health because they wanted the Catholic Church on their side. It was only Benigno Simeon Coijuangco Aquino, a highly popular president, who managed to get the "Responsible Parenthood and Reproductive Health Act" of 2012, better known as the "RH Law", passed. Its implementation was, however, soon suspended by the Supreme Court following objections from religious groups and only in 2017 was the RH Law reinstated by presidential order.
The book launch of "The RH Bill Story" to be held on 28 November at 6PM at SEA Junction will show as arguably the RH Law was the most divisive in the legislative history of the Philippines, provoking heated discussions on sex, gender, contraceptives, abortion, women's rights, population control, and poverty alleviation. The author Marilen J. Danguilan will present the book and gives us a summary of the book's detailed narration of what actually took place during the Senate and House debates. What was actually said, or not said, the assertions, the rebuttals, the continuing attacks and defenses – offer intriguing insights into how contentious laws are passed in the country.
Brief Bio
Marilen J Danguilan, a medical doctor trained in policymaking, worked in the Philippine Senate as head of the Technical Staff of the Committee on Health. She is the author of Making Choices in Good Faith: A Challenge to the Catholic Church's Teachings on Sexuality and Contraception, which won the National Book Award in 1993, and Women in Brackets: A Chronicle of Vatican Power and Control, shortlisted for the National Book Award in 1997. She lives in Manila, Philippines.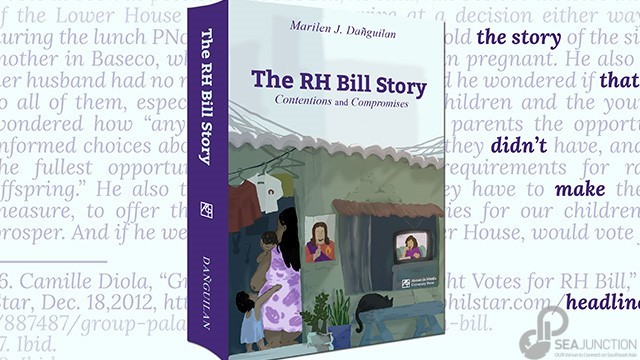 For information/reservation for our events please email southeastasiajunction@gmail.com or phone/wa: +66970024140
NB: Events are free, but donation most welcome!
Organizer:
SEA Junction, OUR Venue on Southeast Asia
SEA Junction aims to foster understanding and appreciation of Southeast Asia in all its socio-cultural dimensions –from arts and lifestyles to economy and development. Conveniently located at Room 408 of the Bangkok Arts and Culture Centre or BACC (across MBK, BTS National Stadium) SEA junction facilitates public access to knowledge resources and exchanges among students, practitioners and Southeast Asia lovers. For more information see www.seajunction.org and join the Facebook group https://www.facebook.com/groups/1693055870976440/
Related Events