Dazzling Dances of Indonesia
14 January, 2018 @ 5:00 pm

-

6:30 pm
A troupe from the Yogyakarta Indonesian Institute of the Arts and Theater KQ Yogyakarta will play a spectrum of traditional and contemporary performing arts from Indonesia on Sunday 14 January at 5-6.30 PM in the Auditorium, 5th Floor Bangkok Arts and Culture Center (BACC). This unique event, using a combination of live and recorded music, is organized by SEA Junction in collaboration with the Embassy of the Republic of Indonesia in Bangkok, Thailand. The centerpiece is a contemporary theater and dance piece with movements derived from various Indonesian traditions, expressing the theme of national unity among religious and ethnic diversity and the threats to it as expressed in a Javanese folk performance of terrifying masked demons that will raise everyone's hairs. The program also features a graceful blessing dance from Central Java and a lively Chinese-influenced piece with martial arts and mask, both danced by women. Two contrasting dances with the theme of gender change show a Balinese woman as a dynamic warrior and a female serpent disguised as a refined Javanese king. And a stylized bird dance of the Dayak people in Kalimantan honors the ancestors.
Before the performance at 11AM-12.30PM there will also be an introduction workshop by dancer Agus Sukina open to all.
The tentative schedule for the performance is as follows:
Sekar Pudyastuti danced by Luvita Pradana Puspita Sari
"Flower of Homage" is a court dance performed by female dancers often at the start of an event in Java to express wishes for divine blessings and to honor everyone present. This was choreographed in 1980 by KRT Sasmintadipura, a dance expert of the sultan's palace.
Kembang Bekasi danced by Elisa Ayu Pertiwi
"Blossom of Bekasi" is a dynamic dance for a ronggeng (itinerant female performer). The fan, head ornaments, and costume show Chinese influence on local lifestyles, which is a feature of Betawi culture in the Bekasi district of the capital city of Jakarta. Although this is a woman's dance, it also has masculine qualities with pencak silat (martial arts) and wearing a strong red mask. This was created by EM Bilyanti in 2010.
Panji Semirang danced by Yohanna Yessica Enas
This Balinese dance is from the Javanese Panji romance (Inao in Thai) about the separation of a pair of lovers who wander about until reunited. Panji Inu (Inao) Kertapati is the prince of Jenggala, and his sweetheart is Candrakirana (Moonbeam) or Sekartaji (Thorny Blossom, Rose) (Puspa, or Bootsaba in Thai), the princess of Daha. Due to a crisis, she flees from the palace and disguises herself as a handsome male warrior named Panji Semirang. This dance is always performed by a female in the dashing, dynamic, and expressive Balinese style with dazzling gong kebyar (lightning style music). It was choreographed by I Nyoman Kaler in 1942.
Intermission
Enggang danced by LInsa Kencana
The Hornbill is a magnificent bird that has a large beak with a curved appendage on the top. The Dayak people, who live in the forested interior of the huge island of Kalimantan (Borneo), dance with its long white-tipped black feathers to honor their ancestors during rituals. The stylized movements in this traditional dance show the noble engganggracefully flying and then perching on a tree branch.
Klana Alus Sri Suwela danced by Garrett Kam (guest dancer)
The "Refined Wanderer" actually is Dewi Pertalawati, a nagini (female underground serpent) who wishes to be reunited with her lover Bhima, a powerful hero in the Hindu Mahabharata epic. She gets ready for the journey by disguising herself as the handsome king Sri Suwela in order to be incognito in the human world. This is a unique character created by the Javanese and is danced in the refined-male style of wayang wong (human theater, similar to Thai khon) from the royal court of Yogyakarta.
Pesona Nusantara with choreographer Sumaryono; composer Budi Raharja; artistic director & text: Lephen Purwanto; actor/dancer: Agus Sukina; dancers: Widi Pramono, Luvita Pradana Puspita Sari, Johanna Yessica Enas, Elisa Rahayu Pertiwi.
"Awesome Archipelago" is an arrangement of various ethnic and religious performing arts from Indonesia as an expression of its rich and diverse culture. By blending music and theater traditions, this contemporary work supports the value of national unity because multiculturalism brings about peace and prosperity. The performing arts of Java, Sunda, Bali, Papua, Dayak, Aceh, Batak, and Minangkabau are combined in this work in the spirit of Binneka Tunggal Eka (Unity in Diversity) which is Indonesia's national motto. The dance of demons based on the Central Javanese jathilan ritual performance folk tradition represents hostile forces that threaten peace and prosperity. The performance combines acrobatics, dance, theater, and music to create innovative new ways of communication and attraction. They are harmonious and manifest as a unified entity. While nonverbal language and visuals dominate, poetry is also included as a means to augment the emotions and energy which are deeply rooted in oral literature.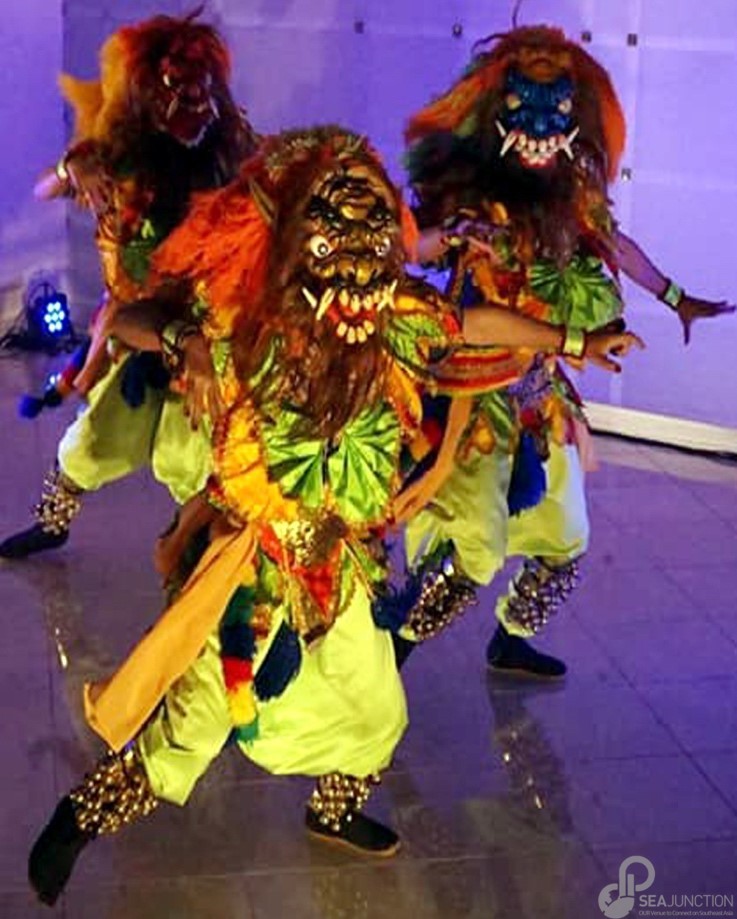 NB: The event is free, but donations are most welcome
For information/reservation for our events please email southeastasiajunction@gmail.com or phone/wa: +66970024140
About SEA Junction, OUR Venue on Southeast Asia
SEA Junction aims to foster understanding and appreciation of Southeast Asia in all its socio-cultural dimensions –from arts and lifestyles to economy and development. Conveniently located at Room 408 of the Bangkok Arts and Culture Centre or BACC (across MBK, BTS National Stadium) SEA junction facilitates public access to knowledge resources and exchanges among students, practitioners and Southeast Asia lovers. For more information see www.seajunction.org and join the Facebook group https://www.facebook.com/groups/1693055870976440/
Related Events