Screening Documentary "The Staging Post"
24 October, 2018 @ 6:30 pm

-

8:00 pm
On 24 October at 6.30PM, SEA Junction will screen THE STAGING POST, a real-time, real-life multi-platform documentary released in June 2017. Filmed by 17 year-old refugee Khadim Dai and directed and produced by Australian filmmaker Jolyon Hoff, the film follows Afghan Hazara refugees, Muzafar, Khadim and Tahira. Stranded in Indonesia after Australia 'stopped the boats' and facing many years in limbo, they built a community and started the Cisarua Refugee Learning Centre. This refugee-run school has been operating over four year now and teaches up to 200 students each week. The initiative inspired other refugees in Indonesia to follow, leading to what has been called "a refugee-lead education revolution". Today, in Indonesia, there are more than 14 schools and 1500 refugees receiving education from around 100 volunteer refugee teachers.
After the screening of the 65 minutes-documentary, a Q & A session will be held with Muzafar Ali, one of the main protagonist, and Jolyon Hoff, the director. If feasible, a skype connection will also be held with the Cisarua school and the pupils.
Brief Profile of the Protagonist and Speaker
Muzafar Ali is a former refugee from Afghanistan. He is living with his family in Adelaide, Australia, where he is a student at the University of South Australia and the Project Director at Cisarua Learning Ltd. Muzafar worked for the United Nations in Afghanistan supporting the disbandment of illegal armed groups and promoting human rights. His work took him to remote areas of Afghanistan where he was overwhelmed by the beauty of the country and the people he encountered. He began to photograph them and became a well-known photographer. His photos have been exhibited in Afghanistan, South Korea, USA, Canada, Holland and Australia. Later he was forced to leave Afghanistan and made his way to Indonesia, where he co-founded the first refugee-managed school in Indonesia, the Cisarua Refugee Learning Centre. Muzafar is passionate refugee advocate who regularly speaks for and to refugees in Australia and internationally. His life as a refugee in Indonesia is featured in the documentary, The Staging Post.
Brief Profile of the Director and Speaker
Jolyon Hoff is an Australian filmmaker fascinated by sub-cultures, identity and community bonding. He has made films on subjects as varied as a schizophrenic Australian surfing icon; an eccentric football fan whose fame surpassed that of his team; American computer programmers creating virtual reality gaming worlds; tsunami survivors in Aceh, Indonesia; and traditional Kings, Chiefs and Yoruba rituals in Nigeria. He holds a BA in Communication Studies from Newcastle University and a Master's Degree in Documentary Directing from the Australian Film, Radio and Television School, where he received the Film Australia Award for "most significant achievement in the art of documentary".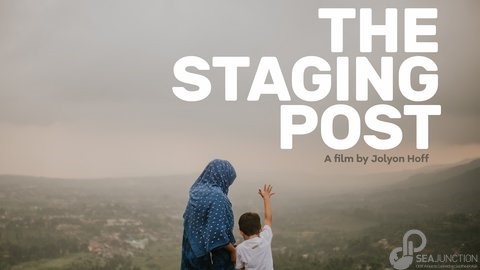 For the trailer click here: https://vimeo.com/252828933
For information/reservation for our events
please email southeastasiajunction@gmail.com or phone/wa: +66970024140
NB: Events are free, but donation most welcome!
Organizers:
SEA Junction, OUR Venue on Southeast Asia
SEA Junction aims to foster understanding and appreciation of Southeast Asia in all its socio-cultural dimensions –from arts and lifestyles to economy and development. Conveniently located at Room 408 of the Bangkok Arts and Culture Centre or BACC (across MBK, BTS National Stadium) SEA junction facilitates public access to knowledge resources and exchanges among students, practitioners and Southeast Asia lovers. For more information see www.seajunction.org and join the Facebook group https://www.facebook.com/groups/1693055870976440/
Asia Pacific Refugee Rights Network (APRRN)
APRRN is an open and growing network consisting of more than 340 civil society organizations and individuals from 28 countries committed to advancing the rights of refugees in the Asia Pacific region. It does so through information sharing, mutual capacity building, and joint advocacy. For more information see https://aprrn.info
Related Events