Social Sciences and COVID-19 in Southeast Asia: (Non-)Role and (In)Significance
24 November, 2021 @ 4:00 pm

-

5:30 pm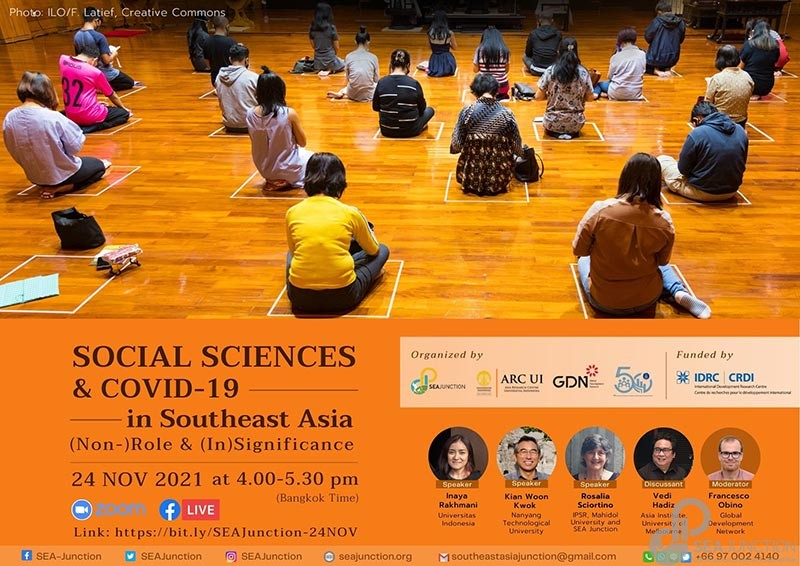 The outbreak of the COVID-19 in Southeast Asia, as in the rest of the world, has exposed the interaction of biological and socio-economic processes; the implications of health and socio-economic inequity on people well-being; and the political dimensions of health and health governance. Clearly the pandemic is caused by a virus, but understanding it, controlling it and reducing its human costs depends also on social knowledge and interventions. This raises the question: To what degree social science and scientists have been involved in national COVID-19 responses across the region to address the pandemic's multi-dimensional effects? To reflect on this, SEA Junction in collaboration with the Asia Research Center at the University of Indonesia (ARC-UI) and the Global Development Network (GDN) will host two online debates. The first will take place on Friday 19th November 2021, 5.00-6.30 pm (Bangkok time, GMT+7) in Thai, and will focus on the experience of Thailand. The second will take place on 24 November, 4.00 to 5.30 pm (Bangkok time, GMT+7) in English, and will focus on the experience of countries in the region as a whole.
Both panels are part of a research project co-led by ARC-UI and GDN and funded by the International Development Research Centre (IDRC) of Canada –in which SEA Junction was involved. The project looked at the role of social sciences in COVID-19 responses across 11 countries in South and South East Asia and examined the formal inclusion of social science knowledge and scientists in the COVID response mechanisms; the funding for social research in regards to the pandemic; the research-policy interactions; and the emerging research and initiatives led by social scientists in the region. At the heart of this project is the belief that thriving and independent social sciences are key to illuminating the social, economic, political, psychological and cultural determinants of health and societal resilience, within and across nations, and that social sciences have a key role to play not only in 'normal' times, but also during crises. Yet, the experience of the region during the on-going COVID-19 crisis compels us to more openly articulate the urgency of social scientists' contribution as part of a comprehensive narrative and effective response to this pandemic as also argued by the following article co-authored by Rosalia Sciortino and Fabio Saini at https://www.ncbi.nlm.nih.gov/pmc/articles/PMC7462543/.
In the first event, to be held in Thai, researcher Vinissa Kattiya-aree will present the findings of the study on Thailand, while experts from Thai institutions will be invited to share their views on the degree of mobilisation of social science knowledge in pandemic response in the country. The panel will be held on site on SEA Junction's premises at BACC, and broadcast on SEA Junction's fb page, based on the agenda below:
Tentative Agenda 19 November 2021, 5.00-6.30 PM at SEA Junction and on Facebook Live
Moderator/Speaker:
Dr. Jiraporn Laocharoenwong, Lecturer, Department of Anthropology and Sociology, Faculty of Political Science, Chulalongkorn University, Thailand
Speakers:
Dr. Komatra Chuengsatiansup, Director, Princess Maha Chakri Sirindhorn Anthropology Centre, Thailand
Dr. Naruemon Thabchumpon, Director, Asia Research Center for Migration (ARCM), Chulalongkorn University, Thailand
Vinissa Kattiya-aree (Shamil), SEA Junction Researcher and MAIDS Student, Thailand
The second event will be held in English. Researchers from Indonesia, Singapore and Thailand will present the findings of the study and discuss them with the public:
Tentative Agenda 24 November at 4.00-5.30 pm via Zoom (Link: https://bit.ly/SEAJunction-24NOV) and Facebook Live
Moderator:
Francesco Obino, Head of Programs, Global Development Network
Speakers:
Dr. Inaya Rakhmani, Director, ARC-UI, Indonesia
Dr. Kian Woon Kwok, Professor & Associate Vice-President (Wellbeing), Nanyang Technological University, Singapore
Dr. Rosalia Sciortino, Associate Professor Institute for Population and Social Research (IPSR), Mahidol University and Director, SEA Junction, Thailand
Discussant:
Dr. Vedi Hadiz, Director and Professor of Asian Studies at the Asia Institute, the University of Melbourne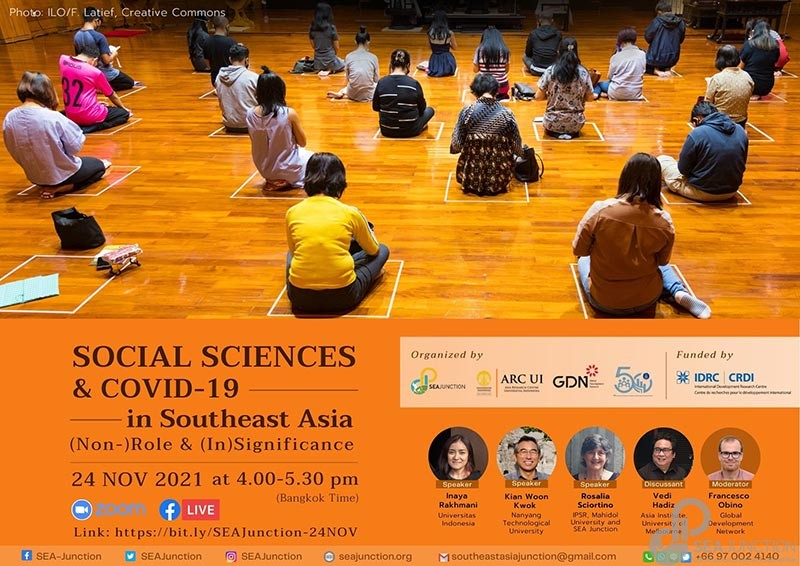 For information/reservation for our events, please email southeastasiajunction@gmail.com or phone: +66970024140
Please note that for the blended event seats are limited on site in view of COVID-19 measures and will be made available on a first come, first served basis.
Events are free, but we count on donations in these challenging times!
Organizers:
SEA Junction
SEA Junction, established under the Thai non-profit organization Foundation for Southeast Asia Studies (ForSEA), aims to foster understanding and appreciation of Southeast Asia in all its socio-cultural dimensions, from arts and lifestyles to economy and development. Conveniently located at Room 408 of the Bangkok Arts and Culture Center or BACC (across MBK, BTS National Stadium), SEA Junction facilitates public access to knowledge resources and exchanges among students, practitioners and Southeast Asia lovers. For more information, see www.seajunction.org, join the Facebook group: http://www.facebook.com/groups/1693058870976440/ and follow us on Twitter and Instagram @seajunction
Asia Research Centre at Universitas Indonesia (ARC – UI)
ARC-UI is an interdisciplinary research centre that aims to strengthen governance and social resilience, be it global, regional, national, or local, through comparative analysis developed from collaborative research excellence. For more information, see https://arc.ui.ac.id/.
Global Development Network (GDN)
GDN is a public international organization that supports high quality, policy-oriented, social science research in developing and transition countries to promote better lives. It supports researchers with financial resources, global networking, as well as access to information, training, peer review and mentoring. GDN acts on the premise that better research leads to more informed policies and better, more inclusive development. For more information, see http://gdn.int/doingresearch.
Institute for Population and Social Research (IPSR), Mahidol University
Established in 1971, the Institute for Population and Social Research (IPSR) is one of Asia's premier population research and training hubs. The Institute conducts research and provides training in population and development and explores their relationship to the social, economic, reproductive health, medical, and public health fields. This allows the Institute to help address emerging issues in Thailand and neighboring countries in south-east Asia and beyond, with the ultimate goal of improving the quality of life for all. For more information, see https://ipsr.mahidol.ac.th/.
Related Events