Surviving Trauma and Insecurity: Closing Panel of the "Inside Out; Bodimaps of Bangkok Refugees" Exhibition
30 March, 2019 @ 5:00 pm

-

6:30 pm
On 19-31 March, SEA Junction in collaboration with TIFA Foundation will hold the exhibition "Inside Out; Bodimaps of Bangkok Refugees" on the curve wall of the 4th floor of the Bangkok Art and Culture Center (BACC) exposing paintings done by urban refugees living in Bangkok. The so-called "bodymap" paintings are self-representations of each painter. They were made starting with the drawing of a real-life outline of the artist's body. Then memories, and hopes were painted onto the paper and the bodymap have become a life-sized documentation of the refugees in between past and future.
The paintings were produced during therapeutic art classes coordinated by artist Gerda Liebmann and conducted by artists and volunteers as a way to allow the refugees to share their stories and heal their emotions. Many of them are traumatized and depressed. They have experienced persecution and have been forced far away from home. Now they have to survive in the shadows of the bustling city of Bangkok, waiting for years in vulnerable and not always safe conditions with the hope of being relocated to a third country. Art helps them express their feelings and affirm their presence. As the project's coordinator puts it "Art is a therapeutic way to express oneself inside out".
The artists represented are from Pakistan, Vietnam and Eritrea. The youngest is seventeen years of age and the oldest thirty-five years old. Besides the painted bodymaps, also brief summaries of their stories will be hanged.
To conclude and celebrate the exhibition on 30 March at 5 PM a panel discussion will be held that focuses attention on mental health among refugees in Thailand (both urban and camp refugees) – an important, yet often neglected topic. The panel will discuss issues as well as approaches, especially creative approaches, that are used to strengthen the resilience of refugees and other marginalized groups in coping with trauma and insecurity. Topics and confirmed panel members are as follows:
Creating a safe space with creative processes
Sangusanee (Cherry) Nawamarat
Art therapist, Thailand
Art as Therapy for Refugees
Gerda Liebmann
Artist and facilitator of art classes for adult refugees, Inside Out project coordinator
Mental health issues among refugees: experiences and approaches
Cherry Soe Myn
Supervisor and trainer of our Common Elements Treatment Approach (CETA) counseling, Myanmar
The exhibition and the panel sign the continuation of the series "Displaced and Uprooted in Southeast Asia" in collaboration with TIFA Foundation. The series aims to give visibility to the fate of displaced persons, asylum seekers and refugees in the region and stimulate public discussion on inclusive policy and intervention responses to forced movements of people.
Speakers' Short Bios
Sangusanee ( Cherry ) Nawamarat
Cherry studied fine art printmaking at Loughborough University of Art and Design. Completed post graduated Foundation Certificate in Art Psychotherapy for Goldsmiths College, University of London, and Certificate in the Therapeutic and Educational Application of the Arts at Institute of Art in Therapy and Education, UK. She graduated from the Canadian International Institute of Art Therapy program in Thailand, (IPATT) with a Post-graduate Diploma in Clinical Art Therapy. Her work includes creative art programs for children and adult, clinical art therapy for mental health treatments, terminally ill children, palliative care, and dementia patients. She is a pioneer of art therapy in Bangkok and founding member of Art Therapists Association (Thailand)
Gerda Liebmann
Gerda was born in Switzerland where she studied art at the Kunstgewerbeschule St.Gallen. After moving to the United States she worked as a graphic designer before studying Christian Ministry at Berean Global University and getting ordained as a Reverend. A year ago, she moved to Thailand and became engaged with the refugee communities using art as a healing tool, which has resulted among others in the current exhibition "Inside Out".
Cherry Soe Myint
Chery is a supervisor and trainer of our Common Elements Treatment Approach (CETA) counseling. She used to work for Assistance Association for Political Prisoners (AAPP) and now works for Johns Hopkins University directly on this mental health and counseling work. She has experience working with organizations who provide counseling services to refugees and IDPs, as well as other vulnerable populations.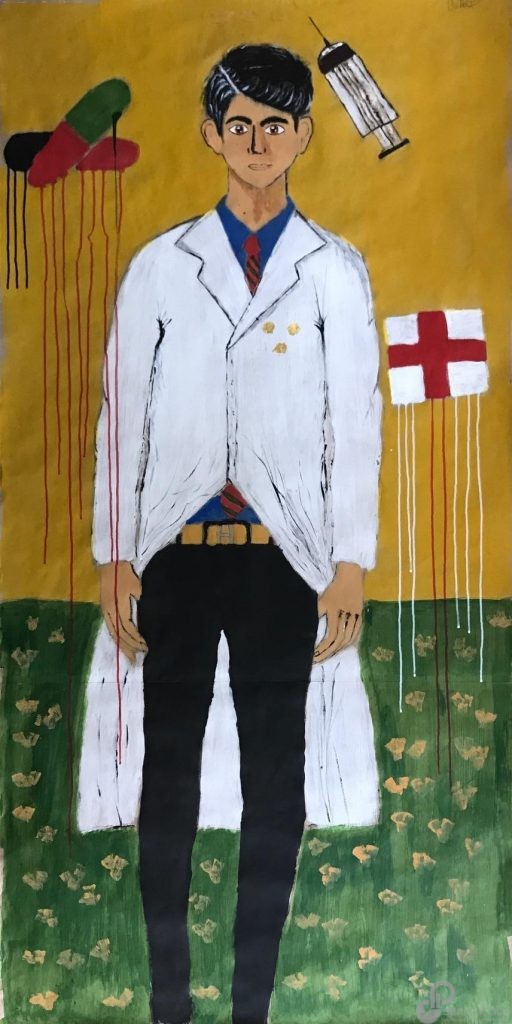 The event is free, but donations are most welcome to enable SEA Junction to continue its activities and keep events accessible to the public.
For information/reservation for our events please email southeastasiajunction@gmail.com or phone/wa: +66970024140
Organizers:
SEA Junction, OUR Venue to Connect on Southeast Asia (see https://seajunction.org) SEA Junction aims to foster understanding and appreciation of Southeast Asia in all its socio-cultural dimensions –from arts and lifestyles to economy and development. Conveniently located at Room 408 of the Bangkok Arts and Culture Centre or BACC (across MBK, BTS National Stadium) SEA junction facilitates public access to knowledge resources and exchanges among students, practitioners and Southeast Asia lovers. For more information see seajunction.org and join the Facebook group https://www.facebook.com/groups/1693055870976440/
TIFA Foundation
A grant making institutions working for human rights and democracy in Indonesia and supporting civil society to work in key fields like access to information, community and independent media, legal aid, anti-corruption, and minority rights. In recognition of the importance of placing Indonesia within the broader regional context, since 2016 Tifa Foundation has started the Regional Hub program cooperating with the New Mandala and now with SEA Junction. For more information see http://www.tifafoundation.org/en/ (in Indonesian).
Related Events