Cambodia-Thailand Migration Management: Failing Migrants?
6 May, 2018 @ 5:30 pm

-

7:30 pm
1.2 million Cambodians work overseas every year: over 90% in Thailand. Less than 30% of Cambodian migrant workers in Thailand migrated through official channels.
The Thai and the Cambodian government have attempted to regulate migration flows by introducing laws and measures. The policy frameworks, consisting of bilateral agreements and registration rules, are grounded in principles of labor demand and national security, while also aspiring to promote safe migration and to prevent human trafficking.
The panel on 6 May at 5.30 PM at SEA Junction explores the challenges and opportunities in managing cross-border migration flows between Cambodia and Thailand by taking a closer look at existing policies and their implementation and assessing their effects on migrants.
Discussion will start with the presentation of Kyko Kusakabe from the Asian Institute of Technology of her study "Labor Migration and Human Trafficking: An Analysis of Laws, Regulations and Policies in Thailand and Cambodia". The research findings will then be discussed by H.E Chou Bun Eng, Secretary of State of Ministry of Interior of Cambodia and Permanent Vice Chairperson of National Committee for Counter Trafficking (NCCT) and representatives of civil society organizations working in Thailand and in Cambodia. More particularly, the program is as follows:
Panel Discussion: 5.30 PM – 7 PM
Moderator:
Rosalia Sciortino
Director SEA Junction & Assoc. Professor, IPSR, Mahidol University
Panelists:
Kyoko Kusakabe, Professor, Department Head, Department of Development & Sustainability
Asian Institute of Technology
E Chou Bun Eng, Secretary of State of Ministry of Interior of Cambodia and Permanent Vice Chairperson of NCCT
Sompong Sakaew, Founder and Executive Director, Labor Rights Promotion Network Foundation (LPN)
Enza Di Iorio, Cambodia Country Representative, Gruppo di Volontariato Civile (GVC)
Ly Vichuta, Founder and Senior Technical Advisor, Legal Support for Children and Women (LSCW)
Both the study and the panel discussion are part of the MIG-RIGHT project, an EU co-funded project focusing on supporting and advocating Cambodian migrants' rights and preventing violations and human trafficking through improving channels and practices between Cambodia and Thailand. Project partners include GVC, LPN and LSCW.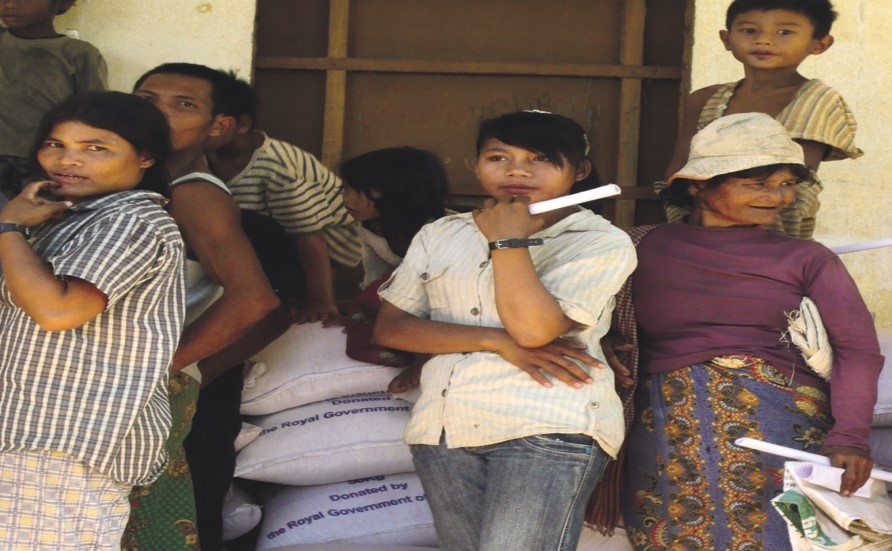 For information/reservation for our events please email southeastasiajunction@gmail.com or phone/wa: +66970024140
NB: Events are free, but donation most welcome!
Organizers
SEA Junction, OUR Venue on Southeast Asia
SEA Junction aims to foster understanding and appreciation of Southeast Asia in all its socio-cultural dimensions –from arts and lifestyles to economy and development. Conveniently located at Room 408 of the Bangkok Arts and Culture Centre or BACC (across MBK, BTS National Stadium) SEA junction facilitates public access to knowledge resources and exchanges among students, practitioners and Southeast Asia lovers. For more information see www.seajunction.org and join the Facebook group https://www.facebook.com/groups/1693055870976440/
GVC (Gruppo di Volontariato Civile)
GVC is an Italian NGO that operates since 1971 in international development aid. Its projects are in various fields including humanitarian relief, education, rural development, food security and migration. the protection of rights for the most vulnerable people. In Southeast Asia, GVC is present since the beginning of the 90's (Cambodia, Indonesia, Laos, Philippine, Sri Lanka, Vietnam and Thailand) to fight poverty in rural areas and ensure the respect of human rights. For more information (in Italian) see: http://www.gvc-italia.org
Labor Rights Promotion Network Foundation (LPN)
LPN is a grassroots organization founded in Thailand in 2006 to promote the rights of migrant workers and their and their families' integration into Thai society through education, empowerment and advocacy activities. For more information see https://lpnthailand.org
Legal Support for Children and Women (LSCW)
LSCW was founded in 2002 to prevent violation and abuse in Cambodia, to work towards the elimination of human trafficking and the exploitation of migrants, to train and build the capacity of civil society and citizens in relation to law enforcement, counter-trafficking and safe, legal migration. For more information see http://www.lscw.org
Related Events