Photo Exhibition "Endless Escape: Fleeing Myanmar to Thailand"
4 October, 2022 @ 10:00 am

-

6 November, 2022 @ 8:00 pm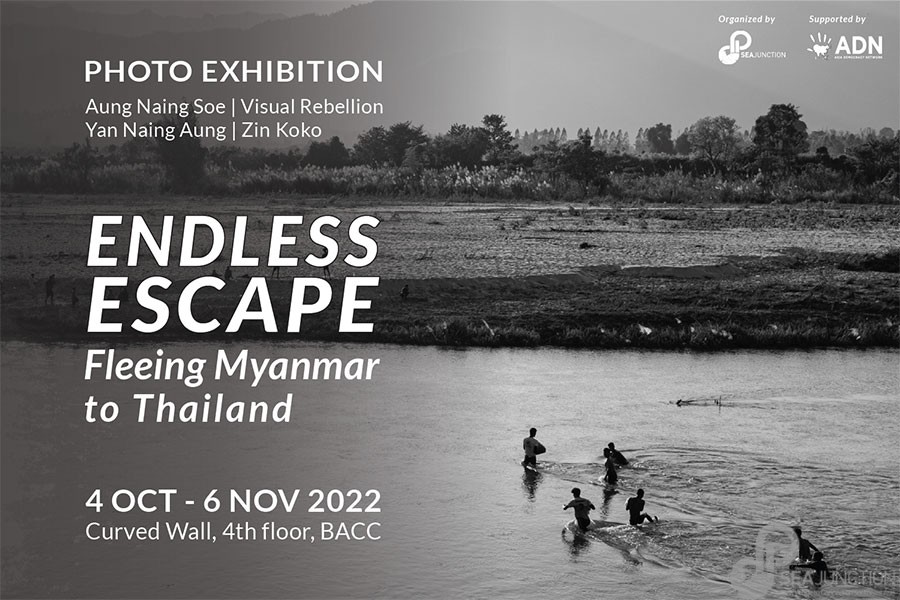 Since the coup d'état led by General Min Aung Hlaing in February 2021, many have been displaced within Myanmar and across borders. Hostilities and armed conflict in Myanmar, especially Chin State, Sagaing and Magway Regions in northwestern; Karen and Karenni (Kayah) States in southeast, have forced a considerable number of people to flee. According to the UN, in a year and half at least 986,000 people have been newly displaced internally, adding to the 370,000 who had previously left their homes. An additional 47,200 are estimated to have crossed over to neighboring countries or settled along the border.
As of February 2022, the Thai government estimated that 17,000 Myanmar refugees had crossed into Thailand. These can be broadly defined into two groups: internally displaced villagers in bordering states seeking temporary refuge due to intensified conflict; and CDM protestors and high-profile individuals seeking longer-term refuge, whether in Thailand or third countries. The photo exhibition "Endless Escape: Fleeing Myanmar to Thailand" to be held by SEA Junction in collaboration with Asia Democracy Network at BACC (Curved Wall, 4th floor) focuses on the first group. Aung Naing Soe, Visual Rebellion, Yan Naing Aung and Zin Koko capture the cross-over into Thailand and the settling along the 1500 km porous borders when fighting and airstrikes became particularly intense such as in December 2021 and March 2022.
Few photos also show Mae La, the largest refugee camp of the nine along the Thai-Myanmar border that was established in 1984 to remind us of the "endless escape" of Myanmar people from violence and the plight of new generations growing up in camps excluded from the wider society.
Realizing this hopefully encourage us to do more to sustain a democratic Myanmar and to integrate displaced peoples and refugees in our midst. On the short term the extensive humanitarian needs of people in temporary settlements along the border including access to safe drinking water, medicine, and sanitation facilities ought to be met.
The exhibition will open on 4 October, but be officially launched on 8 October, 5.00-6.30 pm at SEA Junction to allow most of the photographers to attend. More details on the agenda will be announced soon.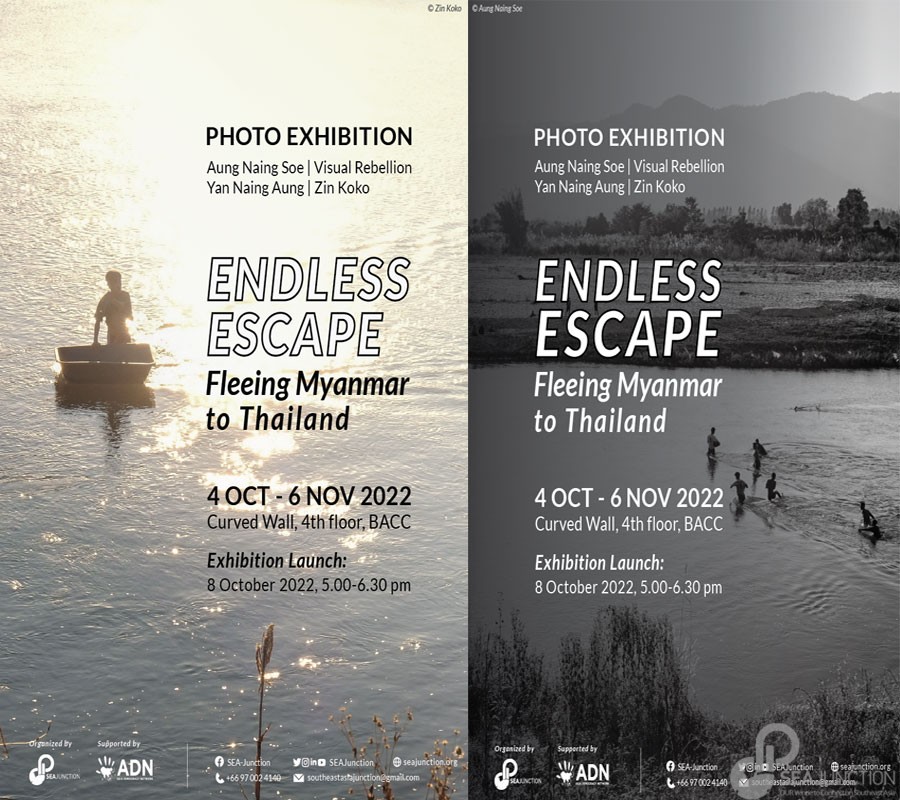 Photographers:
Aung Naing Soe, a Yangon born multimedia freelancer who is now primarily working as a documentary producer and photojournalist for different international outlets. He initially started working as a fixer for foreign correspondent since 2012, and he was one of the five finalists of 2017 Global News Fixer Awards at Kurt Shock Memorial Fund. He received Hubert Humphrey Fellowship of Media and Communication at Arizona State University where he studied for a year and worked for the US based media organizations including Vice News. He returned back home in the late 2020 to cover the General Election of Myanmar. Unprecedentedly, he eye-witnessed the Myanmar military coup in 2021 that he covered on the ground until April 2021. Since then, he is based abroad and covers Myanmar stories along the border and remotely. His works have been published in Vice News, Washington Post, The Guardian, etc. For more info, see www.aungnaingsoe.com.
Yan Naing Aung is a freelance photojournalist in Yangon, Myanmar, covering Burma Coup, the Covid-19 crisis, General Election 2020, current affairs, and politics. Currently exiled in Thailand. He has done work as a photojournalist for Nikkei Asia Review, AP Images, Anadolu Images, Transcontinental Times, Vice, DW and others; and as a videographer for some foreign TV channels Initially, he started his carrier as a fixer, journalist, and photographer.
Visual Rebellion is a collective for Burmese journalists, photographers, filmmakers and artists founded in the aftermath of the February 1st, 2021 coup d'État. As a war on information and ideology is raging in the country, the aim is to provide Burmese creators with the necessary resources to keep producing high-value verified content on what is happening in and about Myanmar. Based in Thailand and Myanmar, members of the team produce features, documentaries and research reports from the ground as well as photo-exhibitions. For this exhibition pictures were taken by Laure Siegel (Mae La Camp and informal settlements along the river) Thomas Lynn and a single photo of Mae La Camp by Guillaume Payen / SOPA Images. For more info, see https://visualrebellion.org/.
Zin Koko is a freelance photographer, currently based in Thailand. His work has been published in local news and international outlets such as Reuters, Vice and others. He is also a filmmaker and open-source intelligence (OSINT) investigator.
Organizers:
SEA Junction, established under the Thai non-profit organization Foundation for Southeast Asia Studies (ForSEA), aims to foster understanding and appreciation of Southeast Asia in all its socio-cultural dimensions- from arts and lifestyles to economy and development. Conveniently located at Room 408 of the Bangkok Arts and Culture Center or BACC (across MBK, BTS National Stadium), SEA Junction facilitates public access to knowledge resources and exchanges among students, practitioners and Southeast Asia lovers. For more information see www.seajunction.org, join the Facebook group: http://www.facebook.com/groups/1693058870976440/ and follow us on twitter and Instagram @seajunction
Asia Democracy Network (ADN) is active in more than 40 countries in Asia. Our core values are to promote and practice the principles of democracy through the development of inclusive governance, advancement of human rights, equality and inclusivity, prevention of discrimination, human security, promotion of free, fair and meaningful elections, democracy education, & press freedom and responsibility. For more information, see https://adnasia.org/.