2022 Call for Written, Photo and Art Stories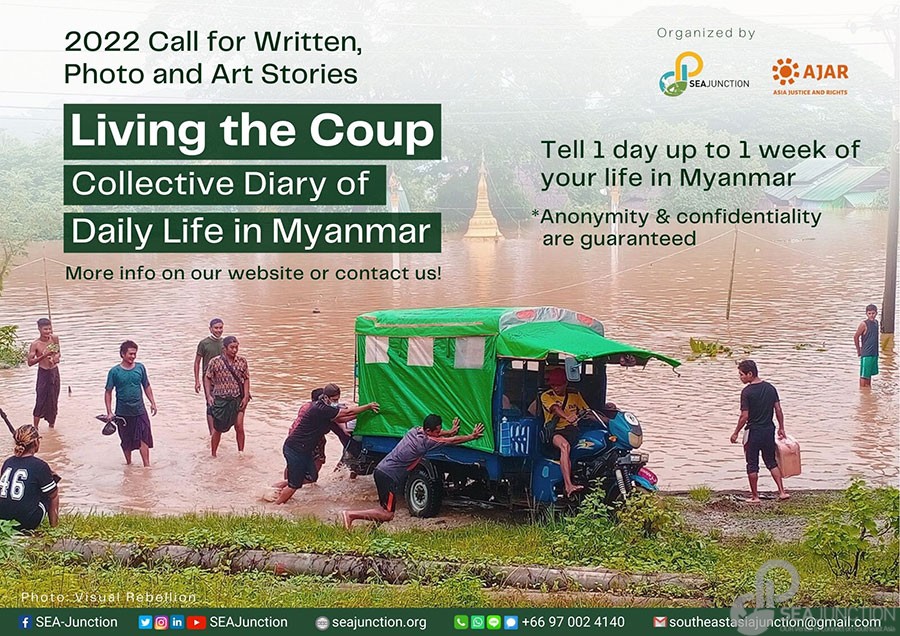 The project is born out of solidarity with the uprising movement in Burma that has been fighting for democracy since the attempted coup d'état led by General Min Aung Hlaing. On 1 February 2021, State Counsellor Aung San Suu Kyi, President Win Myint and other key officials were detained soon after a general election which Suu Kyi's National League of Democracy (NLD) party won by a landslide. Courageously, the population has been resisting the state of emergency and gross human rights abuses to demand the restoration of democratic rule. A massive civil disobedience movement has emerged and people continue to oppose the junta in spite of the military's use of lethal force. Amidst the failure of the international community to take action, atrocities are being committed on an increasing scale, with the opposition National Unity Government (NUG) in exile resorting to form the Peoples' Defence Force and justify armed resistance. As of 22 April, 1,782 people are confirmed killed by the junta coup and a total of 10,290 people are currently under detention, while 560,900 people have become displaced across Myanmar and more than 53,000 are seeking refuge in neighboring countries.
While there is reporting of the most violent events, we rarely hear about how people are living in present-day Myanmar and their coping with daily security, economic and health challenges. In the midst of political conflict and gross atrocities, Myanmar's economy has deteriorated, many have lost jobs and incomes, inflation is high and the price of basic foods and commodities has increases steeply. Frequent power cuts occur all over the country and diesel, an option to solve this problem, is becoming unaffordable. In some areas of Sagaing Region, Magwe Region, Kachin, Kayah, Kayin and Chin states internet and some mobile operators have been cut off and people no longer has access to online education and businesses. The education and health system have collapsed and there is a general feeling that "Nowhere is Safe".
How people are facing these hardships and coping with the junta control and wide-spread conflict is the focus of this project. "Living the Coup" aims to document the personal stories of people of different faith, class, gender and ethnic backgrounds and mold them into a collective diary—a history not to be dismissed nor forgotten.
To this aim, SEA Junction invites anyone who is willing to share his/her personal story to submit a written, photo or art essay of 1 day to 1 week of his/her life in today Myanmar. For the written stories, it can be in English or Myanmar languages. Visual stories can consist of photographic reporting as well as series of art illustrations. Snapshots of these varied experiences will be curated and molded into a collective diary and disseminated in various forms after they have been made anonymous. Few selected stories to be published fully (again anonymously or under a pseudonym) will receive a token of appreciation. In view of heightened security concerns, strict confidentiality on contact information is ensured.
Please submit to southeastasiajunction@gmail.com or via Signal at +66-97-002-4140
Organizers
SEA Junction
SEA Junction, established under the Thai non-profit organization Foundation for Southeast Asia Studies (ForSEA), aims to foster understanding and appreciation of Southeast Asia in all its socio-cultural dimensions, from arts and lifestyles to economy and development. Conveniently located at Room 408 of the Bangkok Arts and Culture Center or BACC (across MBK, BTS National Stadium), SEA Junction facilitates public access to knowledge resources and exchanges among students, practitioners and Southeast Asia lovers. For more information see www.seajunction.org, join the Facebook group: http://www.facebook.com/groups/1693058870976440/ and follow us on twitter and Instagram @seajunction
Asia Justice and Rights (AJAR)
AJAR is a non-profit organization, based in Jakarta, Indonesia, whose aim is to contribute to the strengthening of human rights and the alleviation of entrenched impunity in the Asia-Pacific region. Its work focuses on countries involved in transition from a context of mass human rights violations to democracy, where it strives to build cultures based on accountability, justice and a willingness to learn from the root causes of mass human rights violations to help prevent the recurrence of state-sanctioned human rights violations. For more information, see www.asia-ajar.org.