Special Initiative to Commemorate the 56th Anniversary of ASEAN Establishment: Written and Visual Essay Competition "Which Road for Southeast Asia?"
SEA Junction, in collaboration with the John Fitzgerald Kennedy (JFK) Foundation of Thailand, announces an essay competition to invite emerging writers and artists from countries in Southeast Asia to reflect on the future of their region and the eventual role of Association of Southeast Asian Nations or ASEAN.
The title of the call relates to an article written by Mr. Thanat Khoman –the late diplomat and former Minister of Foreign Affairs (1959-1971) of Thailand who played a role in the establishment of this regional body in 1967 and was also the Founder of the JFK Foundation–for the establishment of ASEAN. Taking inspiration from it, on the occasion of the 56th Anniversary of ASEAN on 8 August 2023, we re-propose the question of what is needed to realize an integrated region and particularly a genuine community for all.
The COVID-19 pandemic, the coup in Myanmar and autocratic changes in other member states, unresolved geo-political tensions and recessionary pressures have brought attention towards ASEAN, prompting crucial questions on whether it is fulfilling or failing to fulfill its role, and have put a spotlight on regional development and interaction.[1] With growing questions on whether ASEAN is indeed people-oriented as it claims in its Charter and "for whom" and whose interests ASEAN is acting, there is an urgency to learn more about young people' views about what future they envision for their region and for the regional body that supposedly serve it. The here announced Written and Visual Essay Competition "Which Road for Southeast Asia?" aims to elicit such views providing a multi-media platform for free expression to concerned youth.
Theme:
The submitted essays (both in writing or in visual format) should 1) reflect on recent developments of regional relevance in Southeast Asia 2) examine the role of ASEAN in addressing current and emerging issues and, most importantly 3) propose a vision for the future of Southeast Asia and attaining a genuine "community" with or without ASEAN. A critical examination is expected of achievements and challenges in regional developments and how they relate to ASEAN performance. Specific transnational issues could be examined so as to ground the presented arguments.
Eligibility:
Participation is open to emerging writers and artists from countries in Southeast Asia (including Timor Leste).
Essay requirement:
Essays must be original and written in English.
Written Essays:
Submissions must fall within the range of 1,500 to 2,500 words (3-5 pages).
Visual or art essays:
Each artwork should be accompanied by a concise caption. Additionally, an essay description of approximately 500 to 1,000 words is required.
For photography submissions, a minimum of 18 photos is required.
For painting and digital art submissions, a minimum of 10 pieces is requested. However, the quantity can be adapted based on the art format and will be duly considered .
Evaluation Criteria
Entries will be shortlisted to be judged by a panel of experts (to be announced soon) based on the following criteria:
Relevance to the theme
Innovativeness
Creativity
Analytical clarity
Accuracy and Evidence-Based
Contextual knowledge of the region
Aesthetic value
Please note that academic criteria for content style and references should be followed and plagiarism and use of Artificial Intelligence (AI) in the creation of the essays, including but not limited to AI Generated Art and ChatGPT, is strictly prohibited.
Awards:
For each of the two categories (written essays and visual essays) the following prizes will be awarded, summing up to a total of six awards:
First Prize: A cash reward of USD 750
Second Prize: A cash reward of USD 500
Third Prize: A cash reward of USD 250
All essays that make the shortlist will be published on our website and distributed across our social media platforms.
Please note that copyright of all the content submitted for this competition remains with the respective entrants, with the organizers having the licence to use the content for their activities and social media.
Submission:
Send your submissions to info@seajunction.org no later than 16 October 2023. Alongside your submission and essay title, please provide your name, country, occupation/affiliation (if applicable) and contact details.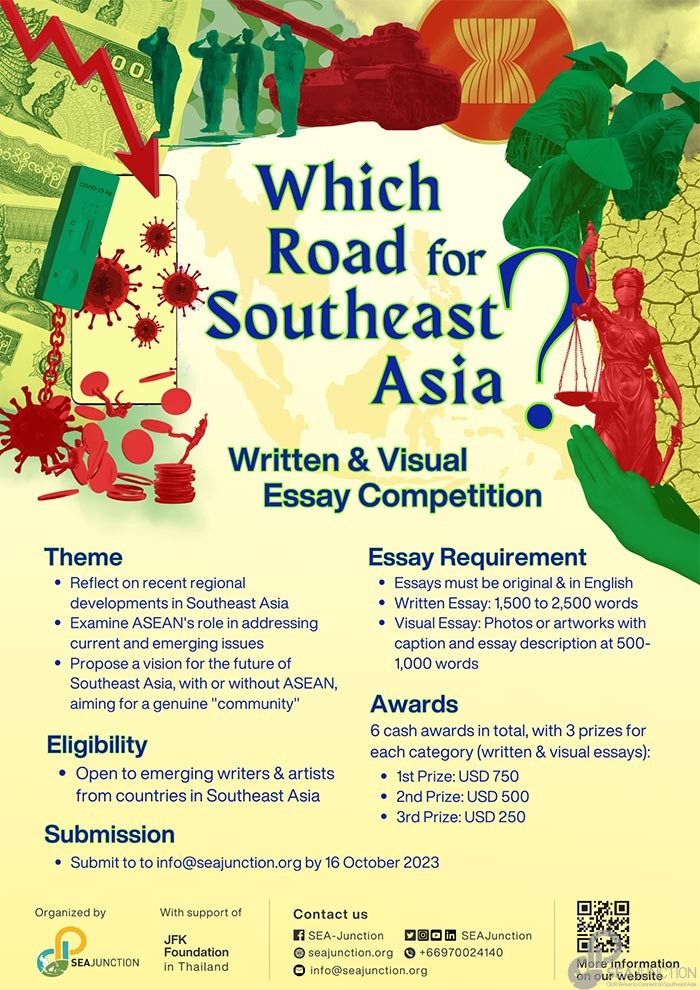 For more information or inquiries, please contact us at info@seajunction.org or via our social media channels.
Organizer:
SEA Junction, established under the Thai non-profit organization Foundation for Southeast Asia Studies (ForSEA), aims to foster understanding and appreciation of Southeast Asia in all its socio-cultural dimensions- from arts and lifestyles to economy and development. Conveniently located at Room 408 of the Bangkok Arts and Culture Center or BACC (across MBK, BTS National Stadium), SEA Junction facilitates public access to knowledge resources and exchanges among students, practitioners and Southeast Asia lovers. For more information see www.seajunction.org, join the Facebook group: http://www.facebook.com/groups/1693058870976440 and follow us on Twitter and Instagram @seajunction
In collaboration with:
The JFK Foundation in Thailand was founded by H.E. Dr. Thanat Khoman, the former Ambassador to the United States, with the purpose of commemorating President Kennedy's principles.