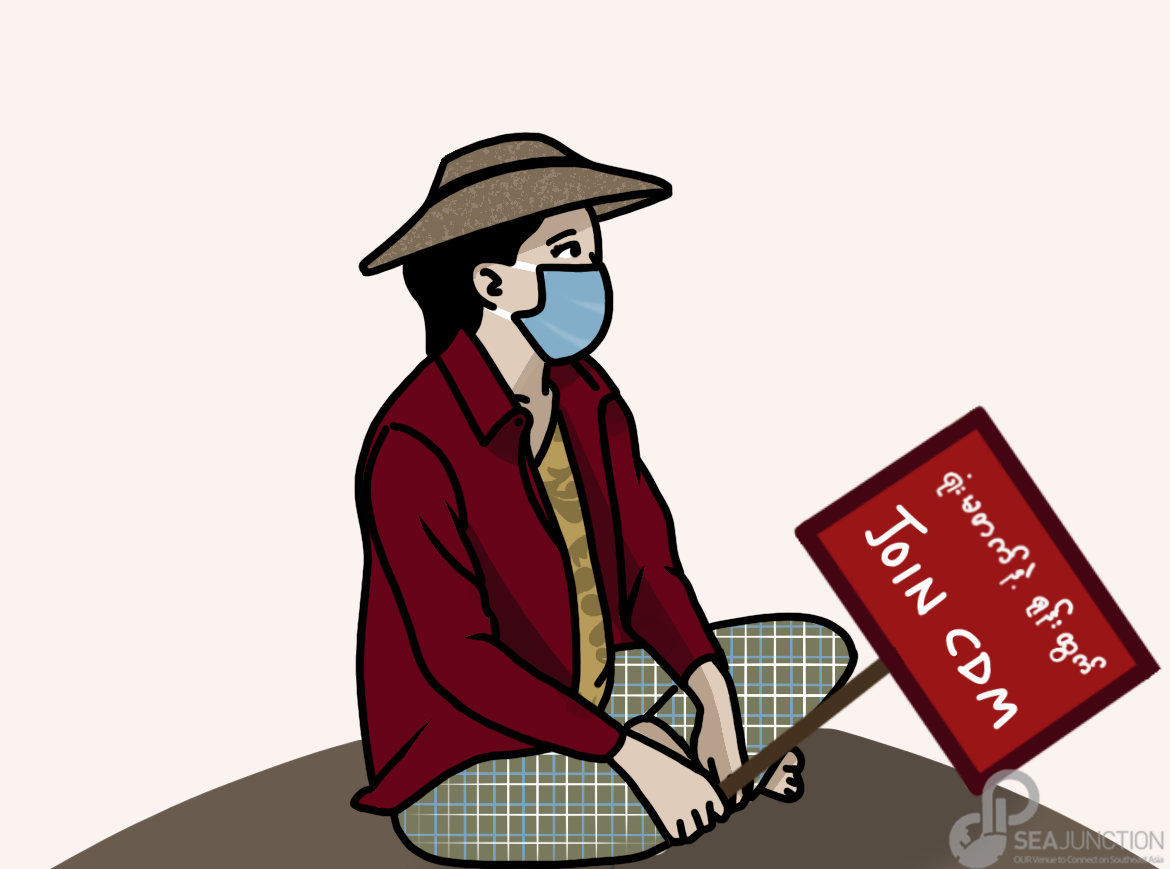 Written Story for the Special Initiative "Living the Coup: Collective Diary of Daily Life in Myanmar" by SEA Junction and Partners.
| | |
| --- | --- |
| Title: | One Year After the Coup |
| Storyteller: | Anonymous |
| Date: | 2022 |
Whenever my friends and I run into each other nowadays, we would greet each other by saying, "Hey, what are you doing these days?" It is a simple question. It is something we say during small talk. There is, however, a deeper meaning behind these words, and many words are left unsaid. We are afraid to check in how we are "really" doing. We are afraid to ask each other if we have enough food to eat at home. The elephant in the room is that all of us are struggling in our own ways, and we are in no position to help each other. They cannot help me with my problems, and I cannot help them with theirs so we agreed without saying that it is best not to talk about our troubles. We are civil servants who joined the Civil Disobedience Movement.
It has been a year since the military took over power in a violent coup. It is difficult to put into words the difficulties we have faced along the way. Trouble finds us everywhere, and a year has already gone by as we continue to live up to these challenges day in and day out. Some of us work as masons, carpenters, construction workers, gardeners, nannies, market vendors, trishaw drivers, and so on. These jobs are strange and unfamiliar for someone like us who used to work in management, but we are getting used to them. CDM civil servants are getting settled at their new jobs and in their new surroundings one year after the coup.
On days I do not have a job, I would get up early and head to the teashop. I would strike up a conversation with anyone I know to see if there might be a job opportunity for me. I would even ask people I barely know, and I would ask people who used to work as my subordinates in my previous job. I could not care If I might be looking too desperate. I would swallow my pride, divert my gaze to the ground, and implore them to take me along to their work if there is the slightest hope for me to get a job there. Many days have gone by where I would pack my lunch and follow my friends to their work not knowing what might happen next. Some of my friends would warn me that the work will be tough, and I would not get to work in an office like I previously did. They are genuinely concerned that I might not be up for physically demanding work. I do not mind at all. I will continue to participate in CDM until there is freedom and liberty for all.
Let's continue to be there for one another. Let's continue to lift each other up. More importantly, let's not forget that we only have ourselves to count on. We need to stay strong, and we need to keep moving forward. We need to show everyone who is betting against us that CDM remains strong one year later, and it is not going anywhere. I would appreciate it very much if anyone reading this would like to support us or join our cause.
To reiterate, it has been a year since the military took over power in a violent coup, and the situation continues to worsen as each day passes. We are facing many social problems, and our commitment to the cause is being tested every day through the use of psychological warfare from the opposition. However, we will carry on with unwavering determination, and we will not work for the administration appointed by the military junta. I would also like to urge all civil servants to join CDM if they have not already. Please show your solidary, and please continue to participate in CDM until the end.
To be honest, I am barely scraping by, but I have already made up my mind to carry on with CDM until the end. We need to remember all of the lives we have lost in the Spring revolution, and we need to keep moving forward bravely in their honor. In conclusion, We shall not stop until we get the freedom and liberty we all strive for.
This story is first published on the art4cdm Facebook page here. art4cdm is an online community that provides a system of care and a safe space for civil servants from Myanmar who joined the Civil Disobedience Movement. Their information could be found on WordPress here and also be found on Facebook, Instagram, and YouTube.
Organizers
"Living the Coup: Collective Diary of Daily Life in Myanmar" is a special initiative of SEA Junction in collaboration with Asia Justice Rights (AJAR) to document how people are living in present-day Myanmar and their coping with daily security, economic and health challenges. We are asking for short stories in the form of written, photo essays or art illustration, in Burmese Language (to be later translated into English) or in English. For more background and other stories click here.
SEA Junction
SEA Junction, established under the Thai non-profit organization Foundation for Southeast Asia Studies (ForSEA), aims to foster understanding and appreciation of Southeast Asia in all its socio-cultural dimensions- from arts and lifestyles to economy and development. Conveniently located at Room 408 of the Bangkok Arts and Culture Center or BACC (across MBK, BTS National Stadium), SEA Junction facilitates public access to knowledge resources and exchanges among students, practitioners and Southeast Asia lovers. For more information see www.seajunction.org, join the Facebook group: http://www.facebook.com/groups/1693058870976440/ and follow us on twitter and Instagram @seajunction
Asia Justice and Rights (AJAR)
AJAR is a non-profit organization, based in Jakarta, Indonesia, whose aim is to contribute to the strengthening of human rights and the alleviation of entrenched impunity in the Asia-Pacific region. Its work focuses on countries involved in transition from a context of mass human rights violations to democracy, where it strives to build cultures based on accountability, justice and a willingness to learn from the root causes of human rights violations to help prevent the recurrence of state-sanctioned human rights violations. For more information, see https://asia-ajar.org.